Kirin 980 powers the Mate 20 X
Huawei Mate 20 X, just like the rest of the Mate 20 family, utilizes the latest Kirin 980 chip by HiSilicon. This is the first chipset in an Android phone built on the 7nm manufacturing process and it's promising plenty of power and efficiency gains over its predecessor and other 10nm chipsets.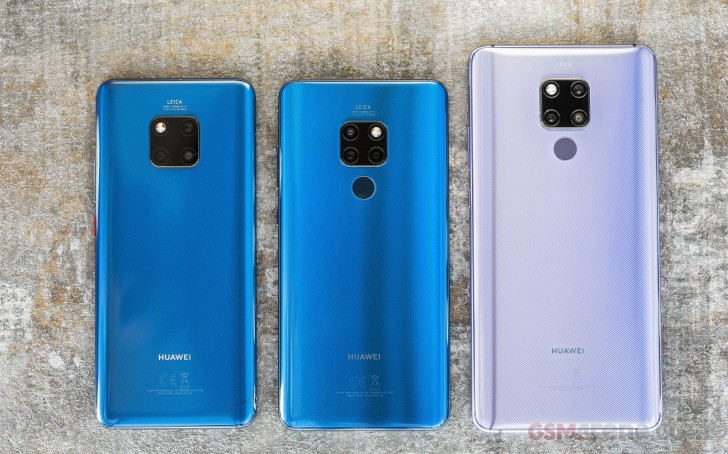 All Mate 20 phones use Kirin 980
The Kirin 980 uses an 8-core CPU design with 2x high-performance Cortex-A76 cores running at 2.6GHz and 2x Cortex-A76 cores clocked at 1.92GHz and 4x power-efficient Cortex-A55 cores that go up to 1.8GHz. The processor makes use of ARM's DynamIQ architecture, which is the evolution of big.LITTLE and allows any subset of cores (or all together) to work simultaneously depending on the workload.
Kirin 980 SoC has a Mali-G76 MP10 (ten-core) GPU, which should offer tremendous performance and efficiency gains compared to its predecessor Mali-G72 in the Kirin 970. This is the first time Huawei has a flagship-grade and competitive GPU to show off. And if someone is not convinced that Huawei was way ahead of the completion last October, just look at the newly announced Exynos 9820 chip by Samsung that will power the next generation of Galaxy S and Note - it has the same Mali-G76 GPU but instead of 10, it employs 12 cores.
EMUI 9's GPU Turbo 2.0 is supported by six games in total for the time being. It allows all those games to run smoothly and steady at 60 fps at full resolution. GPU Turbo 2.0 is new, but Huawei is also working with game developers to enable it in even more popular games though we won't be holding our breath.
The 7nm manufacturing process isn't the Kirin 980's only claim to fame. The chipset is also the first to support 2133MHz LPDDR4X memory and incorporates a dedicated dual NPU chip. Huawei calls the latter "Dual-Brain Power" and can help recognize up to 4,500 images per minute, which is around 120% faster than last year's single NPU chip on the Kirin 970 SoC.
And now it's time to run some tests.
Benchmarks
Benchmarks scores have been driving the industry for quite some time. Many Chinese makers try to impress with higher and higher (AnTuTu) results, leading to tampering with the phone performance in order to look favorable in the eyes of the users.
At IFA 2018 in Berlin Huawei officials confirmed that the manufacturer is using benchmark detection software to deliver the best possible results, only because its competitors are doing it and it wouldn't want to be at a disadvantage.
Huawei then promised to make this hidden Performance mode available to anyone and now it's live in the new Mate 20 phones. You can find the switch in the Battery settings. Previous Huawei phones are getting this option soon, too. The Performance mode offers a small speed boost at some occasions, but not for long as the device gets warm and the phone automatically reverts to its safe settings until it cools down.
The results - well, about 10-12% boost across all benchmark tests for the first run. Yes, that's it. You can get a sustainable 5% boost from the regular mode over time, while the 10% bump is for the first few minutes only. So, we are not sure if the extra heat and battery drain are worth the hassle.
The Mate 20 X, no matter regular or performance mode, is on top of the whole Android pile in, when it comes to multi-core processor performance. You can see the 10% gain from the performance mode quite clearly here.
GeekBench 4.1 (multi-core)
Higher is better
Apple iPhone XS Max
11432
Huawei Mate 20 (perf.)
10138
Huawei Mate 20 X (perf. mode)
10118
Huawei Mate 20 Pro (perf.)
10110
Honor Magic 2
9887
Huawei Mate 20 X (normal)
9851
Huawei Mate 20
9793
Huawei Mate 20 Pro
9712
ASUS ROG Phone
9230
Xiaomi Mi Mix 3
9065
Samsung Galaxy Note9
9026
Razer Phone 2
8923
Samsung Galaxy S9+
8883
Sony Xperia XZ2 Premium
8509
Samsung Galaxy S9+ (Snapdragon)
8349
Huawei P20 Pro
6679
The single-core result of the Mate 20 X CPU comes short of the Mongoose cores of the Galaxy Note9. The performance mode helps a bit, but still not quite enough.
GeekBench 4.1 (single-core)
Higher is better
Apple iPhone XS Max
4777
Samsung Galaxy S9+
3771
Samsung Galaxy Note9
3642
Huawei Mate 20 X (perf. mode)
3404
Huawei Mate 20 (perf.)
3401
Huawei Mate 20 Pro (perf.)
3390
Honor Magic 2
3316
Huawei Mate 20 Pro
3291
Huawei Mate 20
3284
Huawei Mate 20 X (normal)
3277
ASUS ROG Phone
2514
Xiaomi Mi Mix 3
2429
Razer Phone 2
2424
Sony Xperia XZ2 Premium
2419
Samsung Galaxy S9+ (Snapdragon)
2199
Huawei P20 Pro
1907
The Kirin 980 chipset has Mali-G76 10-core GPU in charge of graphics. The performance, while an improvement over the previous Kirin 970, wasn't that impressive on the Mate 20 Pro because of the higher 1440p resolution. The Mate 20 X, on the other hand, has a less needy 1080p display and should offer better, if not chart-topping performance.
In terms of sheer power, the Mate 20 X is as powerful than the Snapdragon 845's Adreno GPU.
GFX 3.1 Manhattan (1080p offscreen)
Higher is better
Apple iPhone XS Max
99
Samsung Galaxy S9+ (Snapdragon)
61
ASUS ROG Phone
60
Xiaomi Mi Mix 3
60
Sony Xperia XZ2 Premium
58
Huawei Mate 20 (perf.)
55
Huawei Mate 20 X (perf. mode)
55
Huawei Mate 20 Pro (perf.)
54
Huawei Mate 20 Pro
53
Huawei Mate 20
53
Honor Magic 2
53
Razer Phone 2
51
Samsung Galaxy S9+
47
Samsung Galaxy Note9
45
Huawei P20 Pro
40
The onscreen performance is top-notch as the Mate 20 X has an edge over the 1440p-boasting flagship crop.
GFX 3.1 Manhattan (onscreen)
Higher is better
Apple iPhone XS Max
60
Sony Xperia XZ2 Premium
57
ASUS ROG Phone
54
Xiaomi Mi Mix 3
52
Huawei Mate 20 (perf.)
51
Huawei Mate 20 X (perf. mode)
49
Huawei Mate 20
47
Honor Magic 2
45
Huawei P20 Pro
37
Samsung Galaxy S9+ (Snapdragon)
34
Razer Phone 2
33
Huawei Mate 20 Pro
27
Huawei Mate 20 Pro (perf.)
27
Samsung Galaxy Note9
25
Samsung Galaxy S9+
24
The compound benchmark AnTuTu confirms the flagship nature of the new Kirin 980 chipset. If performance mode is enabled, both Mates score 10% higher and come on top of both charts beating the rest of the Android gang.
AnTuTu 7
Higher is better
Apple iPhone XS Max
353210
Huawei Mate 20 (perf.)
308307
Huawei Mate 20 Pro (perf.)
308050
Huawei Mate 20 X (perf. mode)
304403
Xiaomi Mi Mix 3
292353
ASUS ROG Phone
290975
Razer Phone 2
285051
Honor Magic 2
274466
Huawei Mate 20 Pro
273913
Huawei Mate 20
273913
Huawei Mate 20 X (normal)
267358
Sony Xperia XZ2 Premium
264734
Samsung Galaxy S9+ (Snapdragon)
264044
Samsung Galaxy Note9
248823
Samsung Galaxy S9+
246660
Huawei P20 Pro
209884
The Mate 20 X is not only as powerful as Huawei advertises it to be, but one of the most powerful Android smartphones right now. The chip offers the fastest processor on the Android market, as usual, while its GPU punch is on par to that of the most current Adreno by Qualcomm and is quite future-proof given the fact that the next generation of Galaxy flagships will be utilizing the same GPU.
The Kirin 980 is manufactured on the cutting-edge 7nm process, but if you expected it not to heat up - you'd be wrong. The chip does release a reasonable amount of heat and the Mate 20 X does have one hot warm spot around its camera when you subject it to a lot of pressure. The phone won't go as hot as the previous Mates though, not even as the most recent Mate 20 and 20 Pro, probably because of its larger body. Some throttling may occur after running consecutive benchmark tests but only then.
The performance mode unlocks the full potential of the Kirin 980, which gave us a 10% boost in benchmark scores. Running the phone at room temperature in this mode makes the phone quickly heat up, then it throttles things down a bit, and you only get about 5% of sustainable benefit after that.
The Mate 20 X runs buttery-smooth its operating system and there is not a single game that won't run flawlessly at 1080p resolution. Overall, the Kirin 980 is one of those chipsets worth having in your phone and bragging with its speed. And while we can't consider the Mate 20 X as better than Nintendo Switch, it's not because it lacks the punch - it's simply not an (optimized) gaming console but a brilliant all-in-one device.