Portraits
In typical Huawei fashion, the Mate 40 Pro has a Portrait mode and an Aperture mode and both let you do simulated bokeh. Portrait mode is the one meant for people and it offers effects like differently shaped bokeh balls, folding blinds, stage lightning and whatnot. There's also a simple 0-10 beautification slider - no granular eye enlargement or face thinning like you'd find on other Chinese phones, not that we're fans.
There are three zoom levels in Portrait mode - 1x, 2x, and 3x, or 27mm, 54mm, and 81mm equivalent focal lengths, and the phone defaults to the 2x magnification when you open Portrait mode. In any case all there zoom levels are captured with the main camera.
Subject detection is excellent - neither the usually problematic wooden wall panelling (sample 1), nor the blue sweater against a blue background (sample 2), managed to fool the Mate 40 Pro. The background blur is also remarkably convincing. Add to that the wide dynamic range and these are some seriously good portraits.
However... While all of the above holds true for all three magnifications, only the 1x zoom level results in truly sharp and detailed shots. If you stay in the default 2x mode, you'd get barely passable quality, and the 3x setting is, well, best avoided altogether.
Switching to aperture mode, you get the same three-position zoom selector and another control for the simulated aperture in the f/0.95 to f/16 range. There's no bokeh effects or beautification in this mode. We tried it on people anyway.
We got some surprising results too. While the subject separation appears the same as in Portrait mode at all zoom levels and so does the image quality at 1x zoom, shots at the 2x and 3x magnification levels are vastly superior in Aperture mode than in Portrait - what's that about? Perhaps the best balance comes in Aperture at 2x - you get the excellent image quality and a comfortable subject distance. The 3x zoom is usable too - it's sharper than what Portrait mode at 2x will get you.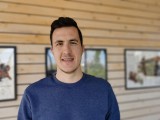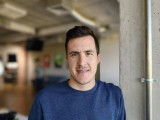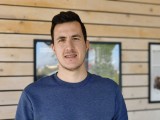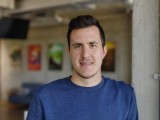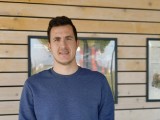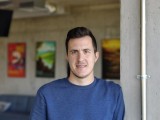 Aperture samples: 1x zoom • 1x zoom • 2x zoom • 2x zoom • 3x zoom • 3x zoom
Aperture mode works great for non-human subject too, after all. You can expect competent subject detection and convincing background blur, with excellent detail at 1x, very good at 2x, and decent at 3.
Selfies
Selfies on the Mate 40 Pro come at three zoom levels too, all sourced from the same 13MP camera that has an ultra wide lens with an 18mm equivalent native focal length. When you switch the viewfinder to selfies, the phone defaults to a 0.8x setting, which is at 22mm equivalent, while the 1x zoom level stands at 27mm.
Admittedly, the ultra wide setting is a bit much for just single-person selfies, though it does work miracles for putting context around you.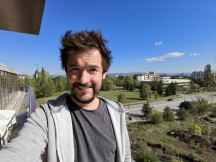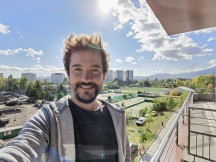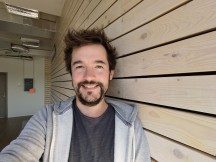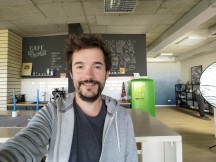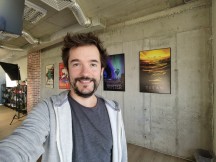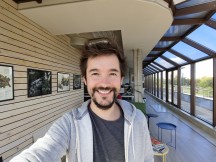 Selfie samples, ultra wide mode
The default 0.8x setting is still plenty wide, but it's admittedly better suited to general use. Here's how these shots would look if the Galaxy would have its way with cropping.
The 1x zoom level is the tightest of them all - it's kinda weird how the cropped in mode is called 1x, isn't it? In terms of coverage it's ever so slightly tighter than the competitors main (or only) selfie cams and with the Mate's triple-focal-length implementation you get versatility that's hard to match.
On a global scale, selfies have very pleasing colors with a flattering, slightly reddish and overall warm skin tones. Dynamic range is properly great, even in back-lit scenes and we'll easily forgive the flare in such cases. Per-pixel detail is excellent at the native zoom level and it drops slightly as you zoom in to 1x but you won't be starved for sharpness at either level.
Accessing the selfie Portrait mode happens in a somewhat roundabout way. That is to say, Portrait mode is right there in the mode selector, only you don't get the simulated bokeh option. To get that, you need to manually switch to the 1x zoom level and only then does it become available.
Subject separation is again very proficient and even the inevitable imperfections around messy hairlines don't stand out as particularly fake. There's no hit in dynamic range as on some other phones, and portraits have well developed tonal extremes. Detail is on par with the regular 1x selfies - good, but not spectacular.