The Huawei Mate 40 series announcement is scheduled for October 22 - that's next week, and details remain weirdly scarce. So far we know the phones will be powered by an in-house Kirin 9000 SoC that may have an integrated 5G modem, a chip that Huawei doesn't seem to have all that many units of. 66W charging is in the works too, and a competent camera system goes without saying, arranged in an unusually shaped cluster on at least one of the models.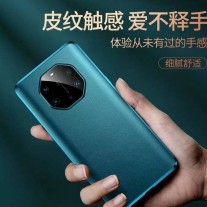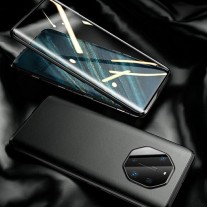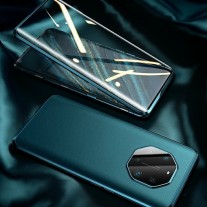 Upcoming Huawei Mate40 Pro+ in third-party cases
It's that camera setup that we're seeing today in more detail, courtesy of a set of case renders. Leaving no doubt as to the exact shape this time, the pictures show an octagonal glass window, behind it - at least 5 cameras. The one that's most easily recognizable is the periscope tele in the top right position. Judging by lens size, the one below it should be the main camera, though with Huawei's history of big-sensor ultra-wides, it could very well be that too.
Two more cameras are on the left, and we're wondering if one of them is a mid-range zoom to bridge the gap between the main shooter and the periscope tele - which itself could be the P40 Pro+' 10x zig-zagging unit or, more likely, the 'plain' 5x module from the P40 Pro. In any case, we're speculating this is the all-out Pro+ model as opposed to a more mainstream Pro.
There's also a tinier module along the central axis of the phone, on the bottom of the octagon. That one could be a macro cam or depth sensor, or a ToF receiver module - that sort of a depth module itself, of course.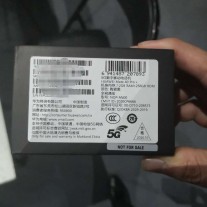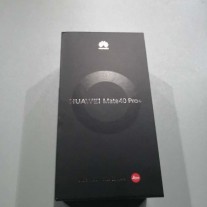 Huawei Mate 40 Pro+ retail package
From a different corner of the interwebs, we're also getting a couple of pictures of a retail box for the Mate 40 Pro+ - at least this one explicitly says 'plus'. It carries a model name NOP-AN00, supports 5G (duh), and comes with 12GB of RAM and 256GB of storage. 'Ceramic black' is the color, this one written in Chinese, and this is pretty much all the useful info we can extract from the box.
Certainly more details will be known next week - the launch is scheduled for Thursday and we'll be sure to cover it for you.
B
There's always gonna be issues, not to mention bank apps for example are not available in huawei app store etc and some don't pass safety net etc There are always problems, bugs maybe not for you but for general users who don't know ho...
g
after installing google services it works exactly as my old samsung, including banking apps, notifications etc and only took me 15-20 mins, time well spent for a phone (p40 pro) clearly superior to any samsung i had
A
It worked 99,99% on my P40 Lite, how ever like we all know Google Pay does not work which is the one thing I am refering to as the 0,01% and in my country people just use Apple Pay and a Banking App that works with ALL phones with GMS which my P40 Li...
ADVERTISEMENTS