Introduction
The Huawei Mate 8 is the latest phablet by the Chinese phone manufacturer. It's a premium device all around and it surely doesn't come cheap. But for the price you pay for it, you are certainly treated to an excellent user experience and some of the best specs in the industry.
Following in the footsteps of the Mate7, the new phablet is also one seriously good-looking smartphone. It's like a tuxedo in a world of jeans and sweaters. It clearly means business.
Design and build quality
The Mate 8 has an unmatched high-end vibe, thanks to precision-machined metal and glass components, and sharper, bolder edges.
The Huawei Mate 8 is very compact for a 6-inch smartphone. It is, in fact, 4.2mm shorter than the 5.7-inch Huawei-made Nexus 6P, and a millimeter shorter than the iPhone 6s Plus, which only has a 5.5-inch display.
The Mate 8 features an aluminum unibody, well befitting its flagship status (and price, too). The back has been sandblasted for a fine satin finish. However it's not removable and you have no access to the battery.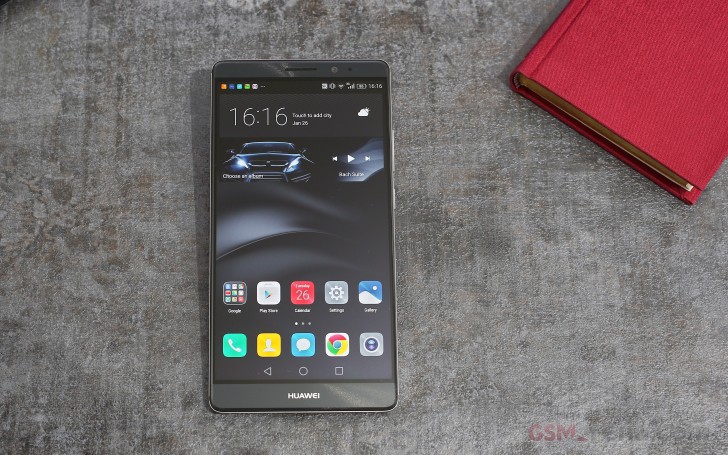 The Mate 8 comes with what has become known as a hybrid DualSIM/microSD card slot. What it means is that there are two card slots on the phone - the first one is for your main SIM card and it can connect to LTE networks. The second slot however can either be used as a secondary SIM slot (2G-only) or for a microSD card. Depending on your needs, this can be a good or bad thing.
One of the best aspects of the Mate 8 is its fingerprint sensor on the back. It's is one the best implementations on the market, always on, blazing fast, and rarely erring. The sensor is always on, and it will unlock the smartphone and take you to the homescreen in what can be described only as a 'mere instant'. You can also set it up to take photos, answer calls or turn off your alarm.
Display
The 6-inch display on Huawei Mate 8 has FullHD resolution, which equals 1080 x 1920 pixels. At 368ppi, it's comfortably above what Apple coined as Retina resolution, and should be less taxing on the battery and graphics chip.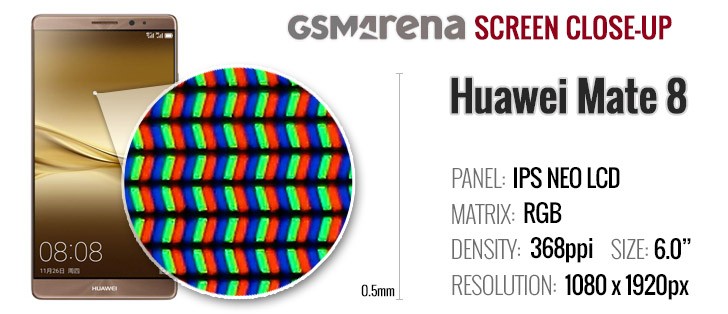 The Huawei Mate 8 uses an IPS-NEO LCD panel by JDI, which delivers deeper blacks. The blacks don't look spectacular when compared to those on an AMOLED display, but they are still noticeably better than on any regular IPS LCD.
The maximum brightness level achieved by the screen when displaying white is 471nits, which while not award winning is plenty to go by. The offered contrast ratio, however, is excellent - 1361:1. The Mate 8's solid performance in our display tests continues into sunlight legibility.
Regarding color reproduction accuracy the Mate 8 screen is less than stellar with an average deviation (DeltaE) of 6.1 a bit higher than what we would ideally like. We've seen worse even in flagship devices, so this one sits somewhere in the middle. For a screen to be considered properly calibrated it needs to have a maximum DeltaE of 4.
Battery life
The Mate 8 battery comes with an extra large capacity - 4,000mAh. The phone supports fast charging and can recharge the 9V/2A fast-charging technology can recharge that large battery in 2.5h. There is no wireless charging support. A mere 30-minute charge is rated to provide a full day of use.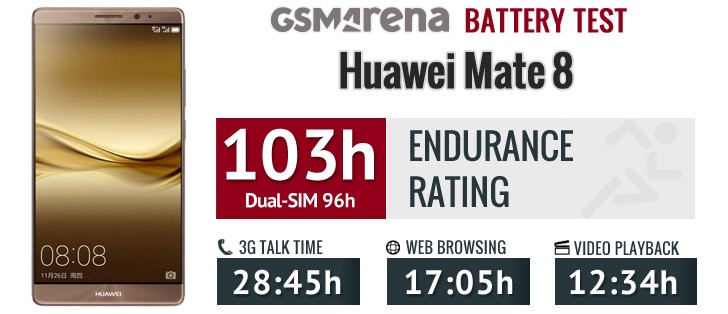 Through our dedicated tests the Mate 8 scored an endurance rating of 103h in single SIM mode, which is an estimation of how long the phone would last if you use it for an hour each of calling, browsing and video playback a day.
Such usage pattern may not be relevant to your own usage scenario, but we've established it so our battery results are comparable across devices. You can adjust the formula to better match your own usage pattern, by visiting our dedicated battery test results page.
The 103h rating of the Mate8 is a splendid performance. There aren't many phones that can pull off a triple digit score in our test. What's more important is that no current competitor in the high-end segment can come anywhere close to its longevity when surfing the web, even if there are those that outlast it in video playback.
Audio
The speaker on Huawei Mate 8 unfortunately, scored a Below Average mark in terms of loudness. The Galaxy Note5 and the LG V10 are only slightly louder, but the Lumia 950 XL excels in this respect.
The Huawei Mate 8 however did marvelously in our audio output quality via the 3.5mm audio jack.
While connected to an active external amplifier, the smartphone's output was clean, while its loudness was well above average, making up for one of the best showings out there.
Even more impressively, plugging in a pair of headphones causes next to no distortion - even the hike in stereo crosstalk we've come to expect is very minor and the end result is excellent. None of the other readings are affected either and volume levels stay high for an impressive showing.
Photo camera
The Huawei Mate 8 camera uses a 1/2.8" sensor with 16MP resolution made by Sony. There's optical image stabilization too and phase detection auto focus. A dual-tone LED flash can help out in the dark and will also produce more realistic flash photos.
The camera outputs noticeably soft images, which lack the detail and texture we've come to expect from high-end smartphones. There also was an awful lot of noise in all but the brightest portions of the images.
Colors are rendered on the conservative side - punchy is not what they are. In broad daylight, the Mate 8 exposes consistently accurately, without variations from shot to shot. Dynamic range is decent, with only a slight tendency to clip the highlights.
The front camera of the Mate 8 is an 8MP unit. There is enough detail, little noise, good dynamic range and pleasing colors. There is also a nice-looking background blurring.
Video camera
The Huawei Mate 8 is capable of recording videos in up to 1080p resolution - in either 30 or 60 frames per second. Strangely, the Mate 8 misses on 2160p (4K) video recording, while most of the competition already offers that.
At least video recording makes use of the Optical Image Stabilization system and videos come out nice and steady even when handheld. The videos taken by the Galaxy Note5 , however, are better stabilized.
When it comes to video quality, however, there isn't much room for praise. Videos lack the detail you'd expect from that resolution and have limited dynamic range. At least, there isn't an annoying focus hunting and they are smooth and steady.
Software
The Huawei Mate 8 runs on Android 6.0 Marshmallow, skinned with Huawei's own EmotionUI, in its v.4.0 iteration. Skinned might be putting it mildly, though, as the interface has less in common with stock Android than it does with iOS.
There's plenty of stuff going on on the lockscreen, starting with the alternating cover images - every time you wake up the device, you're greeted by a different awesome looking wallpaper.
As is customary for Chinese-made Android UIs, beyond the lockscreen there is no app drawer like there would be on vanilla Android, or on other manufacturer's overlays.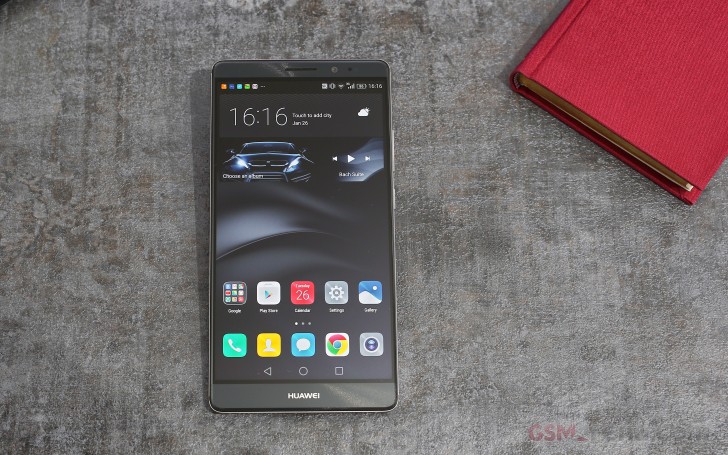 Motion control also plays a significant role on the Huawei Mate 8. There are flip gestures, as well as picking up, tilting and even things like knuckle detection and drawing. All of those are extensively customizable to your liking as well.
The Mate 8 has a potentially handy, put in practice limited multi-window feature. Launched with a knuckle swipe (or a much more logical press-and-hold on the recent apps button), it lets you view two apps at once. You can resize the windows, and swap the two. The app selection is very limited, though, and is strikingly missing a browser.
Update, Mar 12: We've decreased the score in this section after the publishing of this review as we discovered a technical mistake has caused the initial calculation to be incorrect.
Update, Mar 12: We would like to make it clear that the score in this section is based on a number of factors such as how recent the version of Android is, how likely the phone is to get frequent updates to future major versions, how well the built-in biometric security feature works for unlocking the phone, as well as on the amount of meaningful extra features and customization options offered by the manufacturer on top of the vanilla Android. This comes to clarify that if you consider yourself to be an Android purist who likes their clean stock Android, the scores in this section most probably won't be completely relevant to your preferences.
Benchmark performance
The Huawei Mate 8 is powered by the Kirin 950 chipset, made by HiSilicon, a Huawei subsidiary. It's not the first in-house chip the company uses, it's been an ongoing Huawei effort to produce its own SoC's. Kirin chips have all traditionally had a common issue and that's been their graphics performance, but with the Mali-T880 GPU inside the Kirin 950, the Mate 8 has no issues on the graphics front.
Our benchmarks proved that the Mate 8 is one of the fastest smartphones on the market. It topped quite a few of our charts against phones such as the Galaxy Note5, the Nexus 6P, the iPhone 6s Plus and the V10.
Wrap-up
The Huawei Mate 8 may very well be the best 6-inch smartphone you can pick up today, but that's only if you are after a 6-inch smartphone specifically. The phone certainly makes a very compelling case for itself. It starts with the display, which boasts high contrast and exceptional sunlight legibility for an LCD panel. Battery life is nothing short of amazing either. Its processor packs all the punch you need and then a lot more.
Unfortunately, the image and video quality offered by the camera is only okay. Not everyone will love EmotionUI either regardless of the fact it offers class-leading app permissions control.
Huawei Mate 8
Pros
Cons

A 6-inch phablet that has the footprint of a 5.7-inch device and a fine metal build quality
Amazing battery life
Great, always-on fingerprint reader
DualSIM capabilities on a flagship phone
Class-leading fine grain control over the information and rights each mobile app gets
Amazing audio output quality

Camera and camcorder are less than stellar (and there is no 2160p 4K video recording)
Also consider
The Samsung Galaxy Note 5 has a slightly smaller AMOLED screen, a pressure-sensitive S-Pen stylus and an excellent camera and camcorder.

The LG V10 has a slightly smaller LCD screen, a secondary status screen but a duo of front snappers and a superior main camera. Not to mention its increased sturdiness.
Great as it may be, Huawei's high-end phablet is not perfect, and you'd better be aware of its flaws, even if you choose to ignore them. The camera could use plenty of improvement, and the Android overlay is a love-it-or-hate-it affair. However, the Mate 8 is an exquisitely built smartphone with killer looks, superior battery life, and a powerful chipset. If only we could have it all.
Huawei Mate 8
Total GSMArena score
4.0 / 5
| | | |
| --- | --- | --- |
| Design and build quality | | 4.0 |
| Display | | 4.5 |
| Battery life | | 5.0 |
| Audio | | 3.5 |
| Photo camera | | 3.5 |
| Video camera | | 2.0 |
| Software | | 4.5 |
| Benchmark performance | | 5.0 |
| Coolness | | 4.0 |
?
Somebody teach me how to insert sim cards in Huawei mate 8
?
Can I use a 128GB memory card in Mate 8 hp?