Huawei Mate 9 hands-on
Huawei Mates are great at our favorite math homework - doing screen to body fractions. The Mate 8 had an expansive screen and thin bezels, the Mate 9 aims to outdo it. It also steps up the camera game, the prominent Leica branding on the retail box should tell you as much.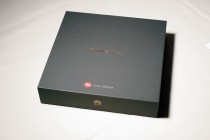 The Mate 9 retail box has prominent Leica branding
Pulling the Mate 9 out of its box is an experience - unique nano-level ink lenses create a special glare effect that makes the phone look good under any light.
The curve on Huawei Mate 9 is a bit of staple of the line and for good reason - it makes holding the large phone more comfortable. Not that large, Huawei addressed concerns of its users and shaved off the bezels and now the Mate 9 is narrower than the 8 (78.9mm vs. 80.6mm).
We're sure the slightly smaller screen helped - 5.9" for the new model, 6.0" for the old one. Anyway, the sides of the phone feel "softer" (that is, there are no metal edges that dig into your palm).
The phone is no lighter (actually, 5g heavier - 190g), which is virtually the same weight as the 5.5" iPhone 7 Plus (which has a smaller battery to boot).
Huawei has ideological objections to above 1080p resolutions on a mobile screen - they see it as a vanity that wastes battery (the Porsche Design seems to be an exception). Indeed 1080p is enough for 373ppi pixel density, which is higher than the small iPhone 7 gets.
The company is more concerned with other numbers. For the Mate 9, it promises a high-contrast image (1,500:1 typical contrast) with accurate colors (96% coverage of NTSC).
From a more practical standpoint, the screen is covered with 2.5D glass, meaning its edges are beveled to make the transition smoother.
This is Huawei's first phone to launch with Nougat and among the earlier offerings in general. The custom EMUI skin is at version 5.0, which pretties up the visuals and minimizes the number of taps it takes to launch an app - Huawei claims you can launch 92% of apps in three taps or fewer.
Knuckle gestures familiar from the Mate 8 are back. You drag your knuckle (not the tip of your finger) across the screen to launch split-screen multitasking. Tapping with your knuckles either takes a screenshot (single) or starts recording a video of the screen (double tap).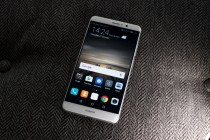 EMUI 5.0 built on Android 7.0 Nougat
The Huawei Mate 9 comes with 4GB of RAM at a time when competition is switching over to 6GB. As the iPhones show, RAM management can often have a bigger impact and Huawei's new system automatically frees up unused memory and uses compression to fit more stuff. A Machine Learning Algorithm has 1,000 application acceleration functions and promises to noticeably improve responsiveness.
The fingerprint reader takes its traditional place on the back. The official stat is that it gets 0.4 second response time, which is not the fastest shot in town - an HTC 10 or a OnePlus 3 can do it in 0.2 seconds.
With its recent high-end devices, Huawei has moved to USB Type-C and the Mate 9 is no exception. It appears to support USB 2.0 speeds (not 3.0) and it definitely supports fast charging - the appropriately called Super Charge tech pushes a massive 25W (5V @ 5A) to the phone. Combined with the phone's lengthy battery life (20 hours of non-stop video playback!), this means you only need 20 minutes to charge the phone for the day.
The Mate 9 is a dual-SIM phone with all the wireless connectivity you could wish. However, using two SIMs locks you out of expanding the built-in storage. You get 64GB, though, that should be plenty.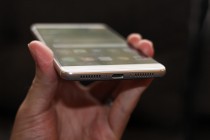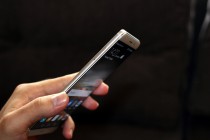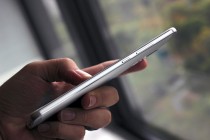 USB Type-C and loudspeaker • Dual SIM slot (SIM2 can be replaced with a microSD) • Volume and power keys
The connectivity includes an IR blaster. There's a pre-installed apps that can take control over your digital equipment at home. Our good friend, the 3.5mm headphone jack, is still here and going strong.