Software
Few makers have a good reputation of launching with the latest Android version and while Huawei isn't the best in this regard, it's certainly better than Xiaomi, which is yet to release (or update) a phone with Nougat.
The Huawei Mate 9 launches with Android 7.0 (not the latest, but 7.1 and 7.1.1 are relatively minor improvements). It is heavily customized, we'd say it's a 50/50 mix of Android Nougat and Emotion 5.0 (Huawei's custom software).
The lockscreen features a "magazine" wallpaper slideshow and an iOS-style menu with toggles. There's no app drawer on the homescreen by default, but this is an option.We found the fingerprint reader fast and accurate and it can secure apps and files with the Private space feature.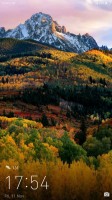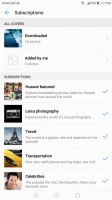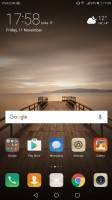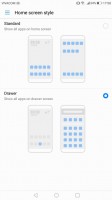 Huawei Mate 9: Lockscreen • Magazine slideshow • Homescreen • Look, it's an app drawer!
Another neat thing is that you can install two copies of an app - say one WhatsApp account for work use and one for personal.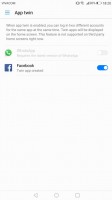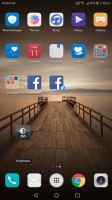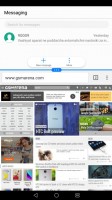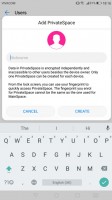 Huawei Mate 9: Doubling apps • Two Facebooks • Split-screen multitasking • Private space
We feel that MIUI has been around for longer than Xiaomi. That's not the case, of course, but the two are inseparable and for many the MIUI version is more important than the Android version. Xiaomi backports many features and enables one that Google bailed on, so describing the Mi 5s Plus as running "Android 6.0" isn't entirely accurate.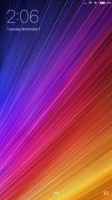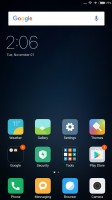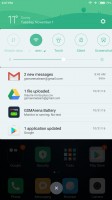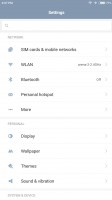 Xiaomi Mi 5s Plus: MIUI 8 has its distinct look and feel
Much of the software has been geared towards a Google-free existence, but units sold outside of China come with the full Google package.
MIUI also borrows quite liberally from iOS, ignoring the app drawer completely. It also lacks the split-screen multitasking feature that's native to Nougat, but available on many maker-customized ROMs prior to version 7.0.
The fingerprint reader on the Xiaomi Mi 5s Plus is very fast as well, but it cannot be used to secure files. The Dual Apps feature is available, though, again allowing you to have two instances of an app. The things we must use because some developers refuse to give us proper multi-account support.
There's a more global option - Second Space - that splits the software in two. It's similar to Android's usual multi-user feature, but unlike it, apps and files are kept completely separate.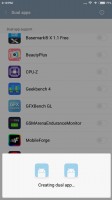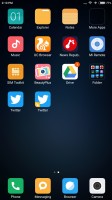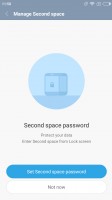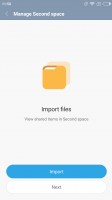 Xiaomi Mi 5s Plus: Configuring Dual Apps • Two Twitters • Configuring Second space • Importing files
Half the price, just as good: It depends. We think the Huawei Mate 9 software is closer to what western audiences are accustomed to, but then there are many fans of MIUI.
Performance
The Xiaomi Mi 5s Plus is one of the cheapest phones that use the Snapdragon 821 chipset. And it's the fast version, clocked at 2.34GHz, not even Google's Pixel phones have that one! In Huawei's corner, is HiSilicon's best chip yet, the Kirin 960.
It has the distinction that it's the first Kirin that can record 2160p video. It's also the first one to have a good GPU, so not a great pedigree. But it is a next-gen GPU like no one else on the market uses - ARM's Mali-G71, based on a brand new architecture.
Let's start with general performance. AnTuTu 6 gives the lead to the Xiaomi Mi 5s Plus by a healthy 25% margin. Basemark OS 2.0 begs to differ and awards the win to the Huawei Mate 9.
AnTuTu 6
Higher is better
Xiaomi Mi 5s Plus
155185
Huawei Mate 9
122826
Basemark OS 2.0
Higher is better
Huawei Mate 9
2637
Xiaomi Mi 5s Plus
2434
Okay, we need to dig in deeper. Qualcomm's custom designs focus on few but powerful cores like the Kryo cores inside the Snapdragon 821 . This approach gives priority to single-core performance instead of counting on many slow cores to add up to great performance. It's a strategy that works great for Apple.
However, ARM's Cortex-A72 core is quite speedy itself and Geekbench 4 found very little difference in single-core performance. Since utilizing more than 2-3 cores is usually a difficult task, it's usually software developed by big companies that does it well. Indie devs often don't have the resources and for their software "few but powerful" works better.
GeekBench 4 (single-core)
Higher is better
Huawei Mate 9
1898
Xiaomi Mi 5s Plus
1815
With the right software, the Huawei Mate 9 can outperform the Xiaomi since besides the four Cortex-A72 cores there are four A53 too.
GeekBench 4 (multi-core)
Higher is better
Huawei Mate 9
6112
Xiaomi Mi 5s Plus
4333
"Vulkan" is a gamer's favorite buzzword - it's a new 3D technology that sits just above the GPU but it promises better performance for users and more features for developers. It's a mandatory part of Android 7.0, as is OpenGL ES 3.1.
Huawei picked ARM's latest GPU architecture (Bifrost) and the biggest cores that use it (G71), eight of them. In previous outings, Kirin chipsets only had four GPU cores, which wasn't nearly enough. For comparison, contemporary Samsung Exynos chipsets used eight or even twelve cores!
Even so, Qualcomm has often had the best graphics performance this side of the Android/iOS divide. Their mid-range Adreno 510 was competitive against the flagship Huawei P9 and the Xiaomi Mi 5s Plus comes with the big dog, the Adreno 530.
Again, we see a split decision. GFX Bench (in both OpenGL ES 3.0 and 3.1 modes) shows the Xiaomi is faster by a long shot. Basemark ES 3.1 / Metal shows differently, giving a wide lead to the Huawei instead. The less demanding Basemark X found no difference between the two.
GFX 3.0 Manhattan (onscreen)
Higher is better
Xiaomi Mi 5s Plus
47
Huawei Mate 9
28
GFX 3.1 Manhattan (onscreen)
Higher is better
Xiaomi Mi 5s Plus
32
Huawei Mate 9
23
GFX 3.1 Car scene (onscreen)
Higher is better
Xiaomi Mi 5s Plus
19
Huawei Mate 9
14
Basemark X
Higher is better
Huawei Mate 9
36519
Xiaomi Mi 5s Plus
36062
Basemark ES 3.1 / Metal
Higher is better
Huawei Mate 9
794
Xiaomi Mi 5s Plus
538
Half the price, just as good: Quite true. Despite diverging benchmarks in some occasions, it's clear that the Xiaomi Mi 5s Plus is an equal to the Huawei Mate 9.
Speaker & audio quality
The Huawei Mate 9 has two loudspeakers, even if one of them is the earpiece. They are quite powerful - it's one of the few recent phones to earn an Excellent mark in our test. The loudspeaker performs great across the board, sound is clear and without distortion.
The Xiaomi Mi 5s Plus only managed an Average mark with a relatively weak performance for human voice. Sound is rich and crisp, bassy too, just not all that loud.
| | | | | |
| --- | --- | --- | --- | --- |
| Speakerphone test | Voice, dB | Pink noise/ Music, dB | Ringing phone, dB | Overall score |
| Xiaomi Mi 5s Plus | 65.0 | 68.2 | 70.8 | Average |
| Huawei Mate 9 | 83.1 | 74.5 | 85.0 | Excellent |
The audio quality is also going in favor of the Mate 9. The Xiaomi Mi 5s Plus is actually louder when attached to an active external amplifier, but the Mate 9 produces clearer output in the more important scenario - when headphones come into play.
| | | | | | | |
| --- | --- | --- | --- | --- | --- | --- |
| Test | Frequency response | Noise level | Dynamic range | THD | IMD + Noise | Stereo crosstalk |
| Huawei Mate 9 | +0.03, -0.01 | -92.2 | 93.0 | 0.0026 | 0.0093 | -93.3 |
| Huawei Mate 9 (headphones attached) | +0.06, -0.05 | -91.1 | 91.8 | 0.016 | 0.056 | -63.5 |
| Xiaomi Mi 5s Plus | +0.06, -0.02 | -83.9 | 83.0 | 0.0033 | 0.047 | -84.9 |
| Xiaomi Mi 5s Plus (headphones attached) | +0.95, -0.10 | -82.0 | 83.3 | 0.245 | 0.564 | -48.0 |
Half the price, just as good: No, not in this case. Side by side, the two phones sound very differently whether you're using the loudspeaker or headphones.