Just yesterday we saw a huge leak regarding the upcoming Huawei Mate 9, showing us that the Chinese company's phablet will come in two different designs. One will have a flat screen, while the other will opt for a dual-curved display akin to Samsung's "edge" handsets. That leak, however, only portrayed the front of the Mate 9.
Well, helpfully another leak arrives today to complete the picture, allegedly showing us renders of the device's back. Or backs, to be specific, since we're looking at slightly differing designs on the rear too.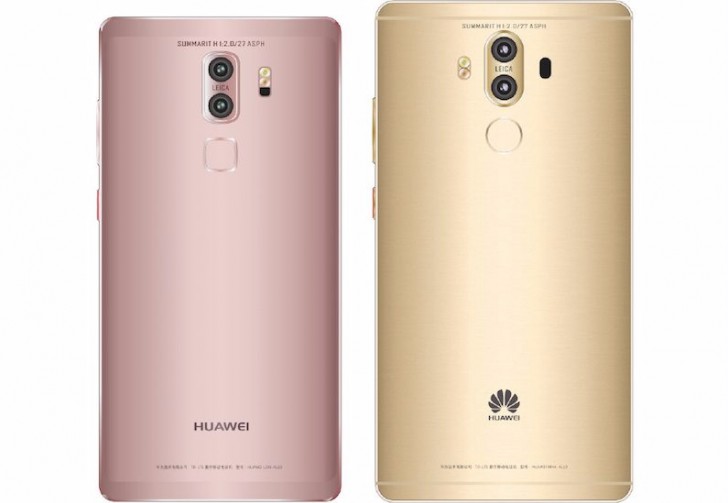 The one on the left is said to be the Mate 9 codenamed Manhattan, which will get a worldwide release (including the US), while to the right is the Long Island prototype which could only be sold in China. The latter is the one coming with the curved screen, and it's obvious from this render that its back will be curved towards the sides too.
What's interesting to note here, if these renders are properly scaled, is that the Manhattan is smaller than the Long Island. We have heard they'll get different screen resolutions (1080p for the international model, QHD for the China-only one), but we were working under the assumption that the display size will be identical at 5.9". That's still the most probable outcome, mind you.
As you can see, the Mate 9 will have a Leica-branded dual rear camera arrangement, with laser autofocus and dual-tone LED flash. The camera sensors will both have 20 MP resolution and f/2.0 aperture, past rumors have said. These renders show fingerprint scanners on the backs of both iterations, which conflicts with the renders of the Long Island from yesterday, as that had a button underneath the screen.
The Mate 9 is set to become official at an event on November 3, and leaks about it will only intensify up until that point. So these confusing aspects are bound to be clarified soon.
D
I doubt if the screen resolution will stay at 1080 as rumours are suggesting. I Believe both versions (the Manhattan and long island will have QHD screens) The only difference being that the curved screen and the fact that the Long island will only b...
D
The kirin 960 will use a Mali G-71 GPU in a MP8 configuration with support for full 4k video. It currently outperforms other chips except the Apple A-10 fusion chip which is to be expected as nobody outperforms Apple chips. The real question tho is i...
R
Cortex a72 more powerful or the same as kryo core