Disappointing 5MP camera
The Huawei MediaPad comes with a 5MP auto-focus camera, beating most other 7" tablets. It has a fixed-focus 1.3MP front-facing camera too.
The UI is very generous with the padding around its controls - a good thing, considering holding a tablet to take the shot is not very comfortable and tiny, cramped controls would have made it even worse.
All the controls are packed in the right side of the screen. You get white balance effects and settings, with the virtual shutter centered between those. Then there are zoom controls on top along with a front/back and still/video camera toggles. A thumbnail of the last photo taken is placed on the viewfinder and obscures the lower left part of it.
Image quality is very disappointing - there's plenty of color noise and the photos looked washed out (low contrast, bland colors). The MediaPad is pretty bad in the camera department, even for a tablet.





Huawei MediaPad camera samples
Photo quality comparison
In the simple black-on-white chart, the MediaPad didn't do all that bad, but there's a hint of a pink spot. In the second chart, you can see how much the ineffective noise reduction takes away from the gravel and grass patches. The final chart shows decent detail but also a bluish tint under artificial lighting.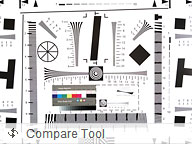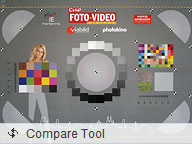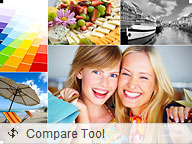 Huawei MediaPad in our Photo Compare Tool
Decent HD videos
The camcorder interface is not much different, really. It does have a Time lapse option, which can be used to create some interesting videos.
The 720p videos suffer from much less noise than the stills. Contrast is better, without oversaturating the colors. There's not a whole lot of fine detail in the videos, but they are smooth (recorded at 24-25fps) and are actually usable.
The sound that goes with the videos is mono, recorded at 100Kbps bitrate and 16kHz sampling rate.
Check out the 720p sample that we captured with the Huawei MediaPad.
And here goes a 720p video sample from the slate that we uploaded to YouTube.
The front camera shoots 720p videos too, but as you can see from the sample below, they are 720p in name only.
Video quality comparison
The Huawei MediaPad shoots 720p videos. As the synthetic resolution chart shows, resolved detail in the videos is nothing spectacular. Up close and with good light, videos do look good enough to use. In low light, however, the framerate drops noticeably (as does the amount of detail).