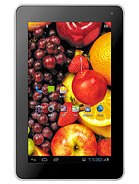 b
please huaweui give it excellent cpu & gpu this one is my last hope to find the perfect 7 inch tablet ... cuz the nexus 7 failed me .
J
Not enough 3G frequencies. What about HSDPA 850 for Australia. It nothing to do this so manufacturers sure just do the 4 3G frequencies from the beginning. Cannot buy for this reason.
A
According to official specs, the display is:

Size
7" WSVGA Capacitive Multitouch

Resolution
WSVGA(1024 X 600)

Please correct.
G
manish, 26 Jul 2012samsung galaxy tab 2 is best then this tablet Did u miss the 3G?
A
In terms of price, I guess it should be same or lower than Nexus 7.

Await Huawei MediaPad 7 FHD ;p
d
Resolution is WSVGA(1024 X 600):(
CPU CortexA8 1.2GHz

Competition to Nexus by price, but bad competition...
Total of 473 user reviews and opinions for Huawei MediaPad 7 Lite.