Budget extravagance
Huawei MediaPad 7 Vogue review: Budget extravagance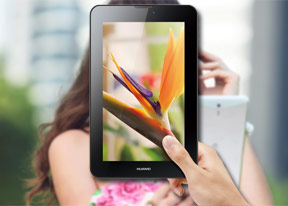 Google Now
Google Now gives you a short overview of information it believes is relevant to you right now. It can interpret a lot of things from your search history as well.
If you've been searching for, let's say, your favorite football team, Google Now will prepare a card showing you the next match the team is playing and will provide you score updates once the game begins.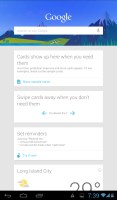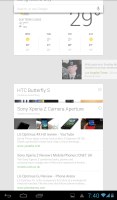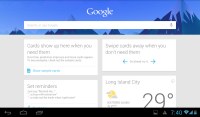 Google Now on the Huawei MediaPad 7 Vogue
Voice Actions can handle stuff like sending messages (SMS or email), initiating a voice call, asking for directions, taking a note or opening a site. Google Now can also launch apps, check and manage your calendar and look for nearby places of interest and stuff like movie openings in theaters.
Google Now on the Huawei MediaPad 7 Vogue gets activated with an upward-swipe from the virtual navigation bar.
You can either type or talk to it and the app will give you one of its info cards (if available) and read you its contents aloud (you can disable this in the app settings). If there's no card to help with the answer to your question Google Now will simply initiate a Google web search instead.
Synthetic benchmarks
The Huawei MediaPad 7 Vogue is powered by Huawei's own K3V2 chipset. There are four 1.5GHz Cortex A9 cores, a 16-core GPU and 1GB of RAM. The Cortex A9 processor is already a dated piece of tech, but it's still more than capable of keeping Android running smoothly on the 1024 x 600 pixels screen. The Samsung Galaxy SIII, for instance, uses a similar processor and it still gets the job done.
Starting off with BenchmarkPi and Linpack, the MediaPad 7 Vogue posted pretty good scores, on par with the original ASUS Nexus 7 Of course, it wasn't able to match the more high-end rivals in our database.
Benchmark Pi
Lower is better
Samsung Galaxy S4 mini
166
Sony Xperia Z
264
HTC Butterfly
266
Oppo Find 5
267
HTC One X+
280
LG Optimus G
285
HTC One mini
293
Samsung Galaxy Express
346
Sony Xperia M
400
Samsung Galaxy S II Plus
409
Samsung Galaxy Note 10.1 351
Huawei MediaPad 7 Vogue 411
Samsung Galaxy Note 420
Google Nexus 7 421
Samsung Galaxy Tab 7.0 Plus 470
Samsung Galaxy Tab 2 7.0 499
Samsung Galaxy Tab 7.7 520
Sony Xperia L
435
Samsung Galaxy S III mini
499
Sony Xperia go
543
HTC Desire 600 dual sim
554
Samsung Galaxy Core
578
HTC Desire X
639
Sony Xperia E dual
800
Samsung Galaxy Young
831
Linpack
Higher is better
Samsung Galaxy S4
788
HTC One
646
Sony Xperia Z
630
HTC Butterfly
624
LG Optimus G
608
Samsung Galaxy S4 mini
413
Sony Xperia SP
348
HTC One mini
320
Nexus 4
213.5
Sony Xperia L
191
HTC One X+
177
Samsung Galaxy S III
175
Sony Xperia M
168.3
HTC One X
160
LG Optimus 4X HD
141
Samsung Galaxy Note 10.1
185
Huawei MediaPad 7 Vogue 134.2
Google Nexus 7
124.3
Samsung Galaxy Note
105.2
Samsung Galaxy Tab 7.7
86.5
Samsung Galaxy Tab 7.0 Plus
76.8
HTC Desire 600 dual sim
107.7
Samsung Galaxy Core
85
When it comes to the multiple-core perfromance, the Huawei MediaPad 7 Vogue behaved similarly to its quad-core Cortex-A9 powered rivals.
Geekbench 2
Higher is better
Samsung Galaxy S4
3227
HTC One
2708
Sony Xperia Z
2173
HTC Butterfly
2143
Samsung Galaxy S4 mini
1937
Sony Xperia SP
2105
LG Optimus G
1723
LG Optimus 4X HD
1661
iPhone 5
1601
HTC One mini
1417
Huawei MediaPad 7 Vogue
1292
Sony Xperia L
1073
Sony Xperia M
973
HTC Desire 600 dual sim
970
Samsung Galaxy Core
678
AnTuTu
Higher is better
HTC One
22678
Sony Xperia Z
20794
Huawei MediaPad 7 Vogue
15931
Oppo Find 5
15167
Samsung Galaxy S4 mini
14518
HTC Butterfly
12631
HTC One mini
11434
HTC Desire 600 dual sim
11203
Sony Xperia M
9902
Sony Xperia L
9746
Nokia Lumia 620
9140
Samsung Galaxy Core
7408
Samsung Galaxy Xcover 2
6650
Quadrant
Higher is better
Samsung Galaxy S4 mini
7153
HTC One mini
6048
Sony Xperia V
5816
HTC Desire 600 dual sim
5053
Samsung Galaxy Express
4998
Huawei MediaPad 7 Vogue
4433
Sony Xperia L
4279
Sony Xperia M
4147
Samsung Galaxy Core
3152
We've added some GPU benchmarks for good measure to test out the undisclosed 16-core graphics chip inside the tablet. The MediaPad 7 Vogue didn't do all too well here.
GLBenchmark 2.5 Egypt (1080p off-screen)
Higher is better
Samsung Galaxy S4 (Octa)
43
Samsung Galaxy S4 (S600)
41
Google Nexus 4
32
Sony Xperia Z
31
Sony Xperia SP
31
Apple iPhone 5
30
LG Optimus G
21
Samsung Galaxy Mega 6.3
17
Samsung Galaxy S4 mini
17
HTC One mini
15
Huawei MediaPad 7 Vogue
13
Sony Xperia M
12
HTC One X
11
GLBenchmark 2.7 T-Rex (1080p off-screen)
Higher is better
Samsung Galaxy S4 (S600)
17.1
Samsung Galaxy S4 (Octa)
17.1
Samsung Galaxy S4 Active
16
LG Optimus G
13.9
Sony Xperia Z
13.5
Samsung Galaxy S4 mini
6.4
Samsung Galaxy Mega 6.3
6.3
HTC One mini
5.6
Sony Xperia M
3.8
Huawei MediaPad 7 Vogue
12
Epic Citadel
Higher is better
Samsung Galaxy S4 (Octa)
59.8
Samsung Galaxy S4 (S600)
57.1
HTC One
56.4
HTC One mini
56
Sony Xperia Z
55.6
Samsung Galaxy Mega 6.3
55.5
Samsung Galaxy S4 mini
54.7
Nexus 4
53.9
Asus Padfone 2
53.4
Sony Xperia M
53.2
LG Optimus G
52.6
Huawei MediaPad 7 Vogue
41.5
Samsung Galaxy S III
41.3
SunSpider is based on JavaScript performance and the two browsers available on the MediaPad 7 Vogue (the stock one and Chrome) scored similar results.
SunSpider
Lower is better
Samsung Galaxy S4 mini
1185
Samsung Galaxy S4 Active
1196
Samsung Galaxy Note 10.1
1194
Google Nexus 7
1703
new Apple iPad
1722
Samsung Galaxy Tab 7.7
1953
Samsung Galaxy Tab 7.0 Plus
1992
Galaxy Tab 2 7.0
2253
Samsung Galaxy Note
2867
Huawei MediaPad 7 Vogue
1098
HTC One mini
1237
HTC 8S
1413
Nokia Lumia 620
1435
Samsung Galaxy Express
1654
HTC Desire 600 dual sim
1660
Sony Xperia M
1867
Samsung Galaxy Core
2197
HTC Desire X
2259
Sony Xperia L
2539
Sony Xperia E dual
2824
Sony Xperia J
2853
Samsung Galaxy Young
3578
Vellamo focuses on JavaScript and HTML 5 and is where the MediaPad 7 Vogue did quite well to match the likes of the Samsung Galaxy S III and the Oppo Find 5.
Vellamo
Higher is better
Sony Xperia SP
2497
HTC One
2382
HTC One mini
2252
Sony Xperia Z
2189
Samsung Galaxy S4
2060
Samsung Galaxy S4 mini
2019
HTC Butterfly
1866
Sony Xperia M
1800
Sony Xperia L
1640
HTC Desire 600 dual sim
1572
LG Optimus 4X HD
1568
LG Optimus G
1522
Huawei MediaPad 7 Vogue
1510
Samsung Galaxy Core
1366
Nexus 4
1310
Samsung Galaxy Fame
1234
Samsung Galaxy Young
1072
Sony Xperia E dual
1065