The post-PC world never came - instead laptops started adopting tablet features. In response, tablets started adopting laptop features. The Huawei MediaPad M5 10.8" does just that.
The tablet is powered by a Kirin 960 chipset, which was used in the Mate 9 last year and P10 early this year. It has plenty of oomph to run EMUI 8.0, which modifies its base (Android 8.0) by adding a taskbar for multitasking similar to a desktop. Better yet, the bottom of the tablet has pogo pins for a hard connection to a QWERTY keyboard.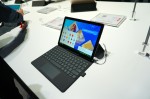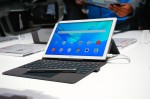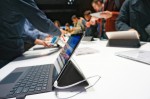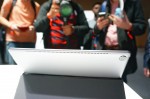 You can use the MediaPad M5 as a 2-in-1 thanks to its (optional) keyboard
The keyboard has surprisingly comfortable keys and an enormous trackpad. Windows has the Surface tablets, Android has the MediaPad M5, it really makes for a solid 2-in-1 experience. Huawei suggests you can add a Bluetooth mouse to the mix if you prefer it over the trackpad.
The more artistically-inclined will want to get the MediaPad M5 10.8" Pro model. It's essentially the same as the non-Pro model, but it adds the M-Pen. It's an active stylus, meaning you have to charge it from the tablet's USB-C port. Once charged, you're good for 100 hours of drawings, sketching and writing.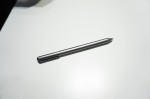 The M-Pen stylus is comfortable to hold, feels just like a pen
The M-Pen looks like a regular pen (that is to say, it's comfortable to hold) and is sensitive to 4,096 levels of pressure. It has a couple of buttons on it, which can be used to trigger shortcuts in apps.
The screen on the tablet is a pleasing IPS panel (10.8" big as mentioned previously) and it renders a sharp image with its 280ppi pixel density. That's comparable to an iPad Pro 10.5, though the Apple tablet boasts some special screen features (True-tone and 120Hz) while Huawei kept it simple.
The MediaPad M5 10.8" also challenges the iOS slab in the audio department. It has 4 speakers tuned by Harman/Kardon and they are powered by dedicated amplifier chips. Huawei also loaded its in-house Histen tech for immersive 3D audio.
Road warriors should appreciate the tablet's 7,500mAh battery, which promises 12 hours of 1080p video playback. It's also quick to fill back up with the include 9V/2A charger - it takes just under 3 hours to go from zero to full (Huawei says this is the best among tablets, according to internal testing).
The MediaPad M5 is a fairly beautiful piece of kit too, it has the first 2.5D curved glass. And the reinforced edges of the metal unibody will protect the glass by keeping the tablet from bending.
The 10.8" tablet weighs about as much as you expect of a slab of this size - 498g.
If you want to go more compact, Huawei also has an 8.4" version of the MediaPad M5. It's essentially the same thing, except smaller. There are a few key differences, though.
The screen is smaller (obviously), but keeps the same resolution. The battery is smaller too, it has 5,100mAh battery capacity - good enough for 11 hours of video and it takes just under 2 hours to charge fully.
Pro version of the M5 8.4", meaning no version with an M-Pen. No keyboard either, this one is strictly a tablet. And you only get two speakers, but they still have amps and Histen tech.
m
instead of improving, they are going backward by losing some functionality like the jack.
N
3.5mm jack is the only thing missing in this piece of art. still a no buy for me. :( put 3.5mm jack!!
H
there is more than normal wireless signals around. yes, wireless is great. I don't like use my modem with cable or for playing madia in tv it is great. but for headphones ! why?! what is problem! the mobile corporations are solving a problem th...