Huawei MediaPad M7 renders show a metal tablet with slimmer bezels and optional stylus and keyboard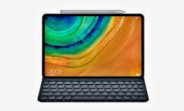 OK, to be fair, straight off the bat, the leaked MediaPad is clearly not an iPad clone. In fact, even though most people's first associating when seeing it might be one of Cupertino's current tablets, the look and feel of Samsung's Galaxy Tab S6 really isn't all that different. So, the correct way to describe what is allegedly going to be the MediaPad M7 and is design would definitely be trendy and contemporary.
That, of course, means slim bezels and what looks to be a metal body. As per the original source of the leak, the device is internally know under the codename "Marx". But given that it has support for both Huawei's smart magnetic keyboard and the M-Pen stylus, it is likely a successor to the MediaPad M6.
Unfortunately, all we have on the new tablet for now are these renders and they alone are not enough to identify whether Huawei went for a display diagonal closer to 8.4 inches or 10.8 inches. The rest of the specs are a mystery as well. Although, we can probably stipulate safely that the M7, or whatever its name might be, will be a flagship offer. Hence it will likely be rocking the HiSilicon Kirin 990 SoC and at least 8GB of RAM.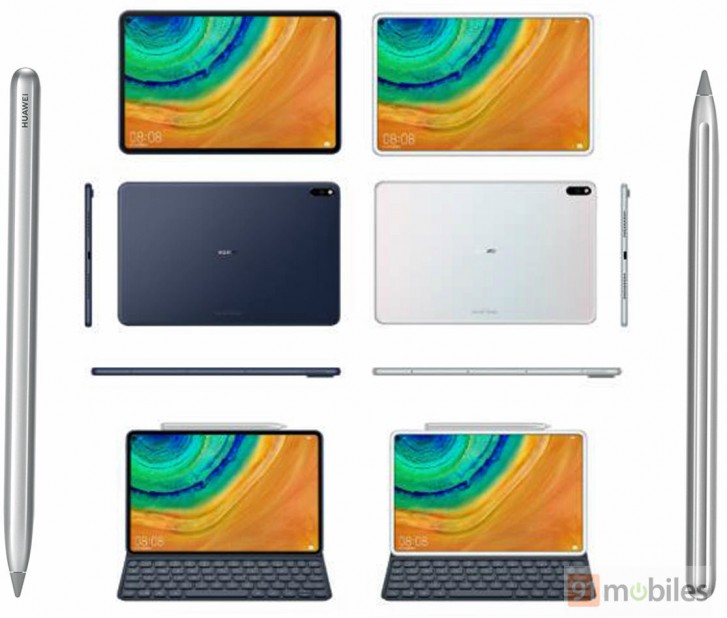 Looking at the pictures themselves, we instantly spot a rather odd bit - a punch hole in on of the corners. Obviously meant to house a selfie camera. A rather unorthodox choice on a tablet. In fact, it might just be the first time we are seeing such a setup on a tablet device. At least in the mainstream. This alone is sure to spark some controversy.
As for other hardware bits on the device, we can clearly see the dual camera module protrudes, just like on the current MediaPad M6. On the bottom, a USB Type-C port is flanked by two speaker grills. Perhaps one is a microphone, or perhaps both are actual speakers. Unfortunately, there is no shot of the opposite bezel where the 3.5mm jack would likely reside. That is to say, we can't confirm if there will be one.
Also, we don't really get a clear view of how the keyboard accessory attaches to the tablet, but it does appear to use a familiar pogo pin arrangement in a typical location. The situation with the M-Pen stylus is a bit less obvious. We do see it on top of the tablet, likely suggesting magnetic attachment. Meaning that the possibility of an internal storage compartment within the tablet is a lot less likely.
Unfortunately, there is no info on availability or even a rough announcement time frame for the MediaPad M7. One optimistic possibility is that it could be joining the Huawei nova 5z at its October 21 unveiling event. Then again, the current MediaPad M6 tablets are just about 4 months old at this point in time, so it might be a bit too early for a successor.
No i comparing premium device to crap. With Latest Kirin and 8GB ram this will beat everything. But i understand that lousers will honor a dead brand.