Huawei is holding a special event in Barcelona this coming Sunday, on February 21, as are many other companies. Yet it's still unclear what Huawei is going to announce on the eve of MWC.
That said, one possibility could be a hybrid laptop. With a stylus. This has been rumored before, and it will apparently be called Huawei Matebook. Richard Yu, the Chinese company's CEO, has published the invite you can see below on his Weibo account.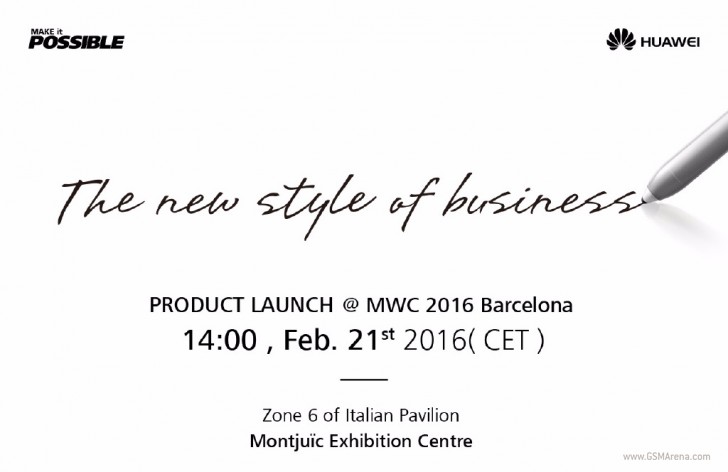 That stylus can't be part of the package for a high-end phablet, since the Mate 8 has been unveiled only around three months ago. So given the past mumblings about the Matebook having both a detachable touchscreen and a stylus, it would make most sense for it to be the product under the spotlight at MWC.
The Matebook will allegedly come with a 12.9-inch display, an Intel processor, Windows 10 on board, a focus on business customers (which once again fits well with the teaser above), and premium pricing.
S
Let's just agree to disagree shall we.. You show me one thing that a Windows tablet can do better than Android or iOS and I will show you a dozen things it's awful at in comparison. Kudos though, don't think I've ever come across a Windows fanboy ...
?
Market share only means that the said product is popular. (i.e. most popular cars in Europe = cheap Volkswagen, Renault, Opel. Best cars in Europe? Definitely not these. Same thing with Android: it's popular, but it's basic) Anyway, Android for ...
S
Ate you mistaking personal opinion as fact again? As combined Android tablet sales easily outstrip the iPad and Microsoft's support for both platforms for productivity, then not only is what you say factually inaccurate, it's also a bit foolish. Als...
ADVERTISEMENT