Huawei at MWC 2015
MWC 2015: Huawei MediaPad X2, Watch, Talkband N1 and N2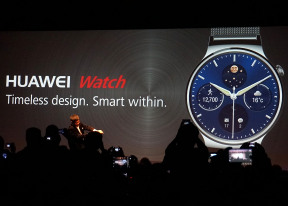 Huawei TalkBand B2 hands-on
Huawei revealed the Talkband B2, a successor to the Talkband B1 revealed at last year's MWC. The TalkBand 2 is in a different styling league in comparison and is available in black, silver and champagne. The band itself is passive, as the earpiece module separates and turns into a Bluetooth headset for when you need it.





Huawei Talkband B2 with a strap
The charging port is also on the Talkband B2 hands-free module, which makes it a bit inconvenient for when you need to charge it. By Huawei's estimations, the smartband can last 5 days, while the Bluetooth headset is good for 6 hours of talk time. Charging time takes 1.5 hours.
At the front of the TalkBand B2 is a 0.73" PMOLED touch screen, which is quite bright, but don't expect wonders from it. It's good enough for when you need to view your pedometer data. The band can also measure calorie intake, sleep duration and has stopwatch functionality.





Huawei Talkband B2 earpiece and strap
The band is compatible with Android 4.0+ and iOS 7.0+, which is good enough coverage for now. A Windows Phone and BlackBerry OS apps will be more than welcome, though.





The Huawei TalkBand 2 in action
Finally, the band measures 62mm x 20.6mm x 11mm and measures 16.8 grams, while the earpiece is just 9.4 grams. The TalkBand B2 will retail for €179 with the choice of black, white and brown straps.
Huawei TalkBand N1 hands-on
In addition to the smartband, Huawei also debuted the TalkBand N1 Bluetooth headphones. The headset is oriented towards fitness users and is water and sweat resistant.
An interesting features of the headphones is that they'll give you voice notifications for the number of steps you've taken and how much left you have towards your set goal. At 18 grams, the TalkBand N1 is very lightweight and can stay 108 hours in stand-by mode, lasts 4.5 hours of talk time and plays music for 7 hours.
Built-in storage is 4GB, which equals to 1000 songs by Huawei's estimations. It connects to your phone over Bluetooth 3.0 and supports remote control of songs via an additional App. Supported music formats include MP3, WMA, FLAC, WAV, APE and ACC. Frequency range is 20Hz - 20kHz and there's a built-in APTX for better sound quality.
Available in champagne, silver and pink, the TalkBand N1 will likely retail between €100-200, but exact pricing information isn't available yet.