Huawei Watch 2 hands-on
When it comes to Android Wear, Huawei pretty much won the specs race pretty early with the original Huawei Watch. That, however, was all the way back in 2015 and the Google-powered Android realm has been rather docile even since. For quite some time, major market players like LG, Motorola and Huawei themselves decided to keep a low profile and wait things out. However, now that the smoke has finally cleared on Android Wear 2.0 and the future of the OS is looking bright once again, the Chinese titan decided to strike and strike hard.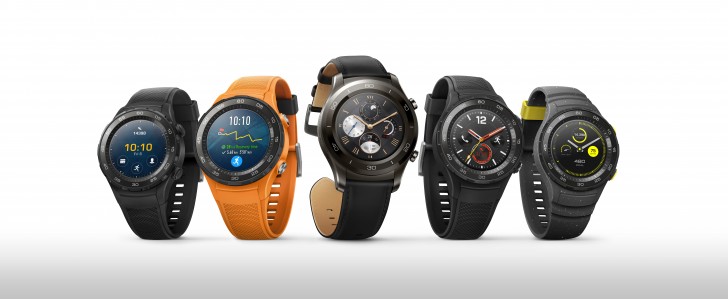 The Huawei Watch 2 was unveiled at MWC 2017 in two distinct flavors - a 20mm basic one and 22mm Classic. Going by specs alone, the Huawei Watch 2 looks to be out to set another yardstick in Android Wear territory.
There are at least a few interesting concepts in the Huawei Watch 2 worth noting. Starting off with design, Huawei has opted for a pretty clear segmentation between its sporty and elegant offers. The basic Watch 2 is made from mixed plastic materials. This, coupled with a selection of bright and vibrant colors and rubberized rugged straps, does help create a wearable that begs to be a part of your active lifestyle.
Dynamic Orange, Carbon Black, Concrete Grey won't really go well with a suit. This is clearly a conscious step on Huawei's and it has all the potential to break any prejudice future buyers might have for taking their shiny new wearable out on a jog. This also ties in well with Huawei's new dedicated Training mode, which enables real-time heart-rate tracking and GPS and can keep them going for up to 10 hours of activity at a time.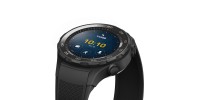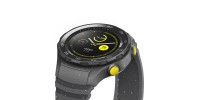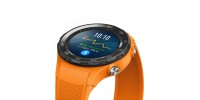 Huawei Watch 2 official photos
The basic Huawei Watch is also smaller, with a lug width of 20mm and naturally cheaper - staring at EUR 329. It can easily go up from there as well, depending on the hardware variant. The main differentiating factor is 4G LTE support. You can get the plastic Huawei Watch 2 in a Wi-Fi only version or an LTE one (But not the Classic). Choosing one over the other naturally leaves its mark on battery life, as well as weight - 40 grams for the Bluetooth only and 43 grams for LTE.
The LTE version also has a new nifty trick worth mentioning. It can either be used with its embedded eSIM, or, alternatively, with a normal nano SIM card. The slot for the latter is hidden underneath one of the straps.
Other than that, most of the internals are shared withing the entire Huawei Watch 2 range, the Classic included. You get a perfectly round, 1.2-inch AMOLED panel, with a resolution of 390 x 390 pixels. This adds up to a pixel density of 326ppi - a pretty sharp panel, indeed. Fans might notice this is a slight downgrade from the original Huawei Watch and its 1.4-inch, 400 x 400 pixel display.
In contrast, most other specs have been improved. The Huawei Watch 2 uses the Qualcomm MSM8909W Snapdragon Wear 2100 chipset. Like the name suggests, it is specifically designed for smartwatch use, with many improvements to efficiency, thermals and size. It is paired with 768MB of RAM and 4GB of storage, around 2.3GB of which are user accessible.
Other notable specs include Bluetooth 4.1 + LE, Wi-Fi b/g/n, built-in independent GPS + GLONASS for tracking, a continuous heart rate monitor and a slew of other sensors: Accelerometer, Gyroscope, Barometer, CAP capacitance sensor, ALS/ambient light sensor, geomagnetic sensor. It is all powered by a 420 mAh battery, which is rated for around 2 days of normal use and charges via exposed pins on the back on the unit.
So, if you are in it for the activity tracking, the basic Huawei Watch 2 is definitely the right choice. However, Huawei isn't ready to give up on its elegance and high-style reputation either. That is where the Huawei Watch 2 Classic comes in. Its body is a bid bigger, with a lug size of 22mm, although the display is the same. It is also made of 316L stainless steel with a few plastic bits here and there.
Its lines are slicker, the chronograph double-crown design promptly on display, as well as the ceramic bezel. Its straps not only use a wider attachment point, but also go for elegant leather and stitching, in place of hardened rubber.
Besides the optional LTE, the Watch 2 Classic packs everything its sporty sibling does. If you are up for it, you can just as easily take it out for a run as well.
On the software side of things, both versions of the Huawei Watch 2 come with Android Wear 2.0. This is pretty exciting as well, since the latest iteration of Google's wearable OS is now more phone-independent than ever. Dedicated Wear apps can function on their own, accessing the watch's hardware directly. A double microphone and speaker setup, also gives developers the software freedom to utilize the Huawei Watch 2 as a fully-fledged connected smart device, capable of multimedia and communications.
To top things off, you won't have to wait too long to get your hands on a shiny new Huawei Watch 2. It will go on sale in Spain, France, Portugal, Italy, Germany and China this March, staring at EUR 329. A wider release will follow in April, including the US, UK, India, Australia, South Africa and most of Europe, to name a few.
Oh and one last thing. Huawei did extend its ongoing partnership with Porsche Design to wearables as well. The Huawei Watch 2 will also be offered in an exclusive Porsche tier.
The new Huawei Watch 2 series are another well-done job and worthy successors. Beautiful, powerful, and independent is what describes them best, but they are also packed with various features which may tip the scales in their favor. Watch 2 has every chance to become the yardstick in the Android Wear segment if Huawei plays its cards right.