The Huawei Nexus has cropped up in another benchmark database, this one gives more detail about the upcoming Google phablet. GFX Bench 3.1 detected 5.7" screen with QHD resolution (1,440 x 2,560px).
The chipset is the expected Snapdragon 810 with 3GB of RAM and 32GB of storage. It will be running Android 6.0 Marshmallow, naturally.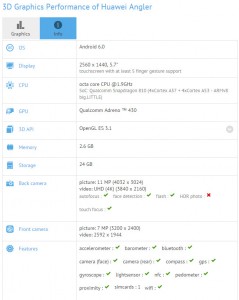 The main camera is only a 12MP shooter with 2160p video, nothing extravagant. The selfie camera has an 8MP sensor that maxes out at a 4:3 version of QHD for video.
We expect Google to unveil both Nexus phones – Huawei's 5.7" model and LG's 5.2" one – on September 29, with pre-orders starting two weeks later.
n
Why does everyone moan about 1mp camera? mp is only the resolution. it does not say how good the quality will be, that is up to the lens and sensor
D
They do suck and there are plenty of Android phones with 20+ MP cameras out there for you to choose from. Nexus isn't the be-all end-all.
ADVERTISEMENTS