Huawei announced the nova 5 family of smartphones yesterday, with the vanilla model ushering in a new in-house chipset - the Kirin 810. Sure enough, the folks over at Antutu got a hold of a nova 5 and tested it, with the charts painting a pretty nice picture of the midrange Kirin.
The comparisons against the Kirin 710 and the Snapdragon 730, Qualcomm's current best midrange SoC, show that the new Kirin is both a significant leap for the in-house middle tier, and also a cause for concern for Qualcomm's grasp on the segment.
The nova 5 scored 237,000 points overall, some 13% higher than the average Snapdragon 730 results in the database (around 210,000). It's also about a 70% improvement over the old Kirin 710. The new chip's GPU is particularly powerful, posting 25% higher scores than the Snapdragon's and a nearly 3x improvement over the Kirin 710's.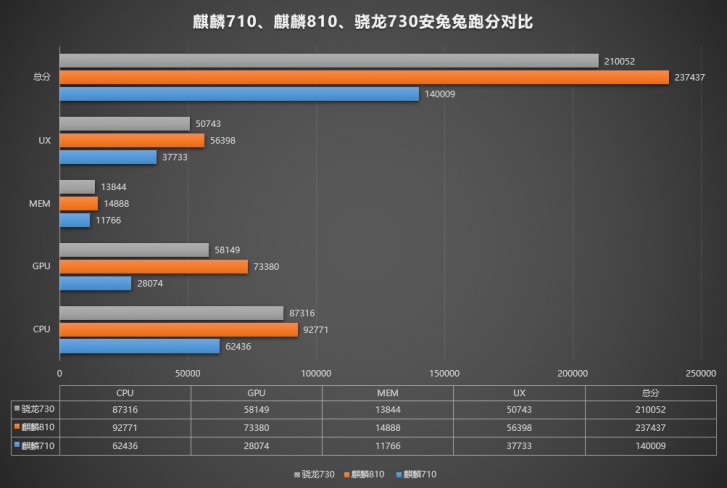 Of course, we'd like to have a nova 5 in our office for some testing of our own - we'll see how that works out.
d
Official numbers? No, i haven't seen any. Huawei's slice numbers yes, and based on those is why im saying its on par with 821. How it will behave in actual games will be another story. __ Oh you meant GB renderscript? No i havent seen tho...
Z
We all know how the Chinese rig the Benchmark for their devices.. let's wait a while for the real Score
J
I guess you haven't seen the results from Geekbench GPU test, now that is a joke.