Huawei overtakes Apple to become world's second-largest smartphone company
According to a new report from market research firm Counterpoint, Huawei has surpassed Apple to become the second largest smartphone company in the world. The Chinese firm achieved the feat consistently for the month of June and July.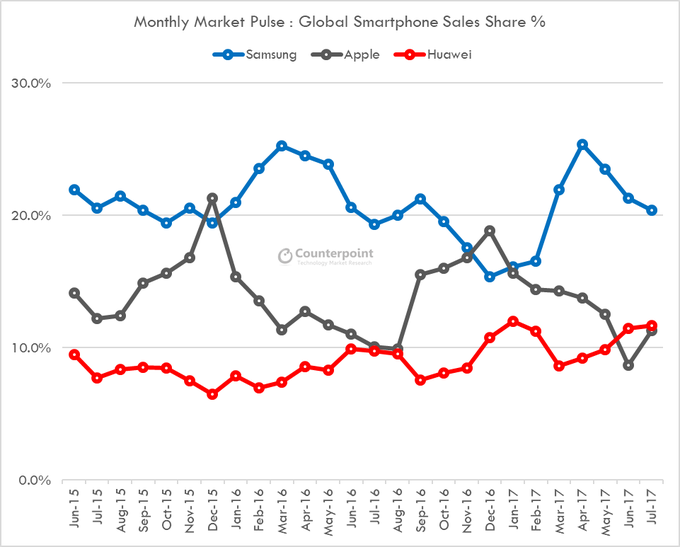 The first spot was retained by Samsung. The report also notes that August sales for Huawei are looking strong as well, so it won't be a surprise if the company completes a hat-trick.
The report also revealed the best selling models in the month of July. While the iPhone 7 and 7 Plus captured the first two spots, Oppo's R11 and A57 came in third and fourth. Other devices that made it to the list include the Galaxy S8, Xiaomi Redmi Note 4X and Samsung Galaxy S8+.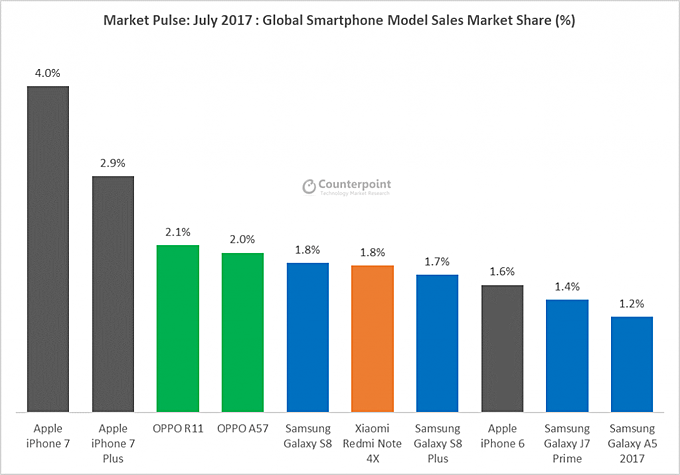 "While Huawei climbed to be the world's second largest brand overall, it is surprising to see none of its models breaking into the top ten rankings," the report said.
"This is due to a multiple SKU portfolio that currently lacks a true hero device. While having a diverse portfolio allows Huawei to fight on multiple fronts, it does little to build overall brand recognition; something Huawei badly needs if it is continue to gain share."
D
That won't make much difference because it is not that popular.. people are going crazy over iPhone 8
M
Chinese don't care about google services. Unless something unexpected happens (ban of chinese smartphones in us, Europe, india, etc for example), at the rate of huawei growing and samsung stagnating, we might finally get a new marketshare king.
?
Ha ha ha ha ha ha hohoho ho hohe hahohoho maaaaaasive bezells ha ha hoho why doncha copy Samsung and bring out a bezelless Samoled screen...wait. Ha ha ha ha ha hohohohojo
ADVERTISEMENTS