Huawei P20 and P20 Plus show off their notches in leaked press renders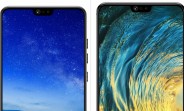 While Samsung's Galaxy S9 and S9+ are set to dominate Mobile World Congress this year, Huawei has decided to sit this one out and instead launch its P20 family at its own special event on March 27. This means we're still in for quite a wait before handsets such as the P20, P20 Plus, and P20 Lite become official.
In the meantime, however, to help get your mind off Samsung's wares, here are the upcoming Huawei P20 and P20 Plus standing side by side, in a couple of leaked press renders that showcase their screen notches up top.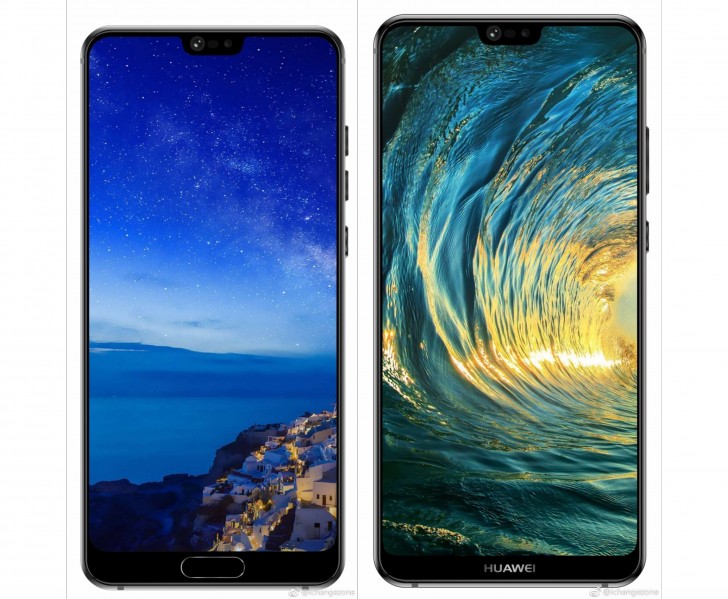 The timing of this leak is incredibly convenient for Huawei, and doesn't seem coincidental at all. With hours to go until its biggest competitor reveals its flagships for 2018, here's a look at two P20 family members... with small bezels and futuristic looks of their own.
As you can see, the P20 will have the fingerprint button on its front, while the P20 Plus moves it to the back in order to cut the bottom screen bezel ever so slightly more. This design of the P20 was confirmed by what we've seen from TENAA yesterday.
The P20 Plus seems to be the only phone in the line to actually sport the much-leaked tri-lens rear camera, unless we're also getting a (sometimes rumored) P20 Pro. To add to the confusion, it's entirely possible that the Plus and Pro are one and the same device.
A different leak talks about the specs of the model it calls P20 Pro, which should come with a 6" 2,160x1,080 touchscreen, the Kirin 970 SoC at the helm, 6/8GB of RAM, 128/256GB of storage, and a 4,000 mAh battery.
Its triple rear camera system will comprise of a 12 MP color sensor, a 16 MP black and white sensor, and a 16 MP telephoto lens. An aperture of f/1.8 is quoted, but it's unclear which of the cameras it refers to, and the same goes for OIS.
On the front you'll get an 8 MP shooter with f/2.0 aperture. The P20 Pro (or Plus) with 8GB of RAM and 256GB of storage will apparently be sold in China for CNY 5,899, which at the current exchange rates means $930 or €757.
a
please write about TWRP FOR A2
?
Looks like an iPhone, and I just so sad about this. I hate iPhone, I hate companies who copys iPhone. No own ideas, own design, own corporate identity. Looks like a 20 dollars chinase iPhone clone. :( Big mistake.
J
Look's interesting! I just hope they also make a better AOD for the P20 launch with more support for third-party applications and I do hope that they include also keep the IR Blaster and the place the fingerprint sensor on the back with the Pro model...
ADVERTISEMENTS