Software
EMUI 8.1 based on Android 8.1 is among the best software packages you can get today. Yet it is far away from vanilla Android. The extra features over Android are a lot, and we eventually grew fond of it.
First, there are rich security features on the P20 Pro. Fingerprint unlock is the obvious choice - you can register up to five fingertips, and you can use it as an authenticator for various apps that operate with your money. You can also use it for app lock, private space, and for the file safe. The sensor is always on and really fast to react.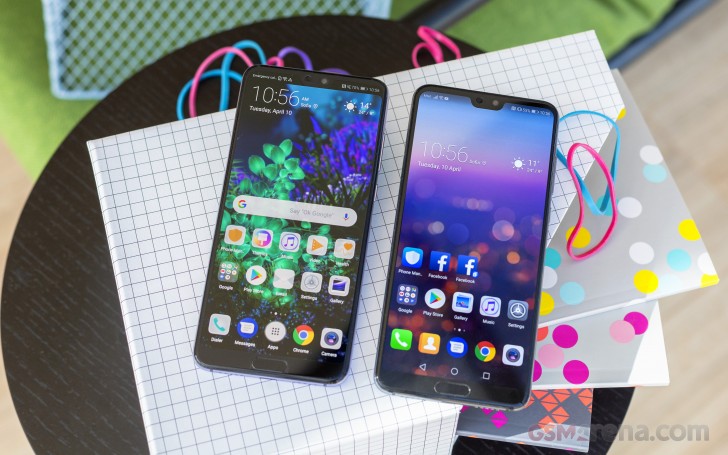 Face Unlock is available, as it is another trend to follow these days, but it's not among the best implementations and can be fooled with a picture of you. It's easy to setup face unlock, and it can work side by side with the fingerprint unlock.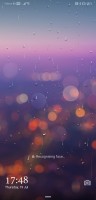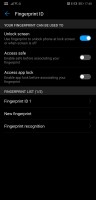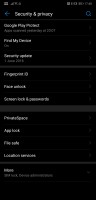 The lockscreen • Fingerprint security • Security options
You would expect face unlock to speed up unlocking, but it is so trigger happy that it unlocked the phone all the time even when you didn't need it too. Say, you receive a notification, the screen lights up, the camera searches for your face, you are nearby sitting on a chair or a couch - and the phone gets unlocked. Nope, that's not what we wanted, yet half of the unlocks happened this way. So, if your privacy is of any concern, we'd recommend sticking to using only the fingerprint scanner.
EMUI just like iOS puts every app on your homescreen. You can opt for an app drawer, but we didn't. Folders are enough for organizing all those apps. The notification area and its toggles are as Android-like as possible, nothing to talk about here.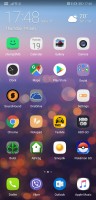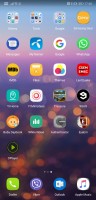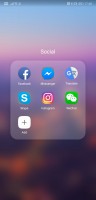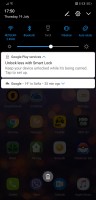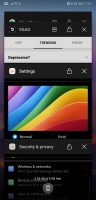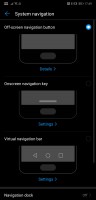 Homescreen • Homescreen • Folder • Notification area and toggles • Recent apps • System navigation
What we love in EMUI is the one-key navigation, which we already mentioned in our hardware section. It's one of the most intuitive ways to control the OS, and we got used to it in mere minutes. Tap for back, hold for home, swipe for recents. That's it, and it works flawlessly.
EMUI's Themes is another place where one ends up at some point. Once the icons, color scheme, and wallpapers get boring, you can spice the whole UI with different themes. Pair those themes with the Magazine Unlock, which puts a different picture on your lockscreen each time you lock the P20 Pro, and you will never be bored again by the how UI looks.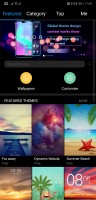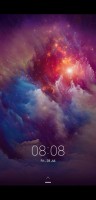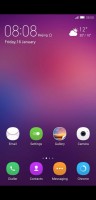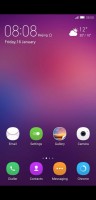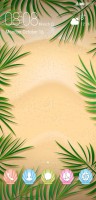 Theme store • Different themes
There is a ton of different customization options within the Settings menu, and even more in the Phone Manager app. But we never really dug in those unless it was a prompt for a power-intensive app and we needed to see which app drains the battery.
Having so many settings is a double-edged sword though, as bugs are inevitable. For example, to this very day we can't see the notifications' content on the lockscreen, even though we have enabled this option from every place we could find it (and believe us, it was buried quite deep).
Coming from iOS, it will take some time to setup everything, but it can happen. Things work in a similar way and while there are a lot more customization options, you can easily ignore them if you can't be bothered.
Coming from any other Android phone, the Huawei P20 Pro and its EMUI will feel as flagship as possible. All contemporary features you may expect are covered, there are even some advanced settings for the power users. But if you are one (a power user, we mean) - you would already know how to add whatever you may find missing.
Android and EMUI complete the Huawei P20 Pro experience and we had no issues with those. Sure, some apps needed updates in the beginning, other crashed or slowed the phone down, but those weren't phone-related bugs, the fault is in the Play Store, its app quality and the gigantic Android fragmentation.
Performance
Huawei's Kirin 970 is not exactly the latest system-on-chip around. Since its introduction within the Mate 10 series last October, we've seen newer Snapdragon and Exynos chips come out and top the benchmark charts. This was to be expected, as Huawei has a different hardware cycle, which doesn't necessarily coincide with the competition.
But regardless, it all comes to the real-life performance. And it's buttery smooth as you could expect from a flagship phone in 2018. Android and EMUI work together flawlessly, there were no hiccups, lag, crashes or stutters whatsoever. The native EMUI apps are great.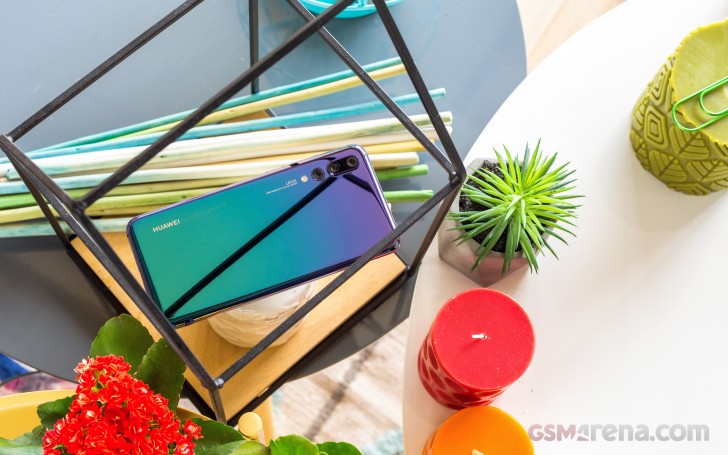 The Kirin 970 is packing an octa-core processor with 4x Cortex-A73 cores clocked at up to 2.4GHz and another 4x Cortex-A53 cores capped at 1.8GHz. The GPU is a twelve-core Mali-G72 MP12. There's a generous 6GB of RAM.
Six gigs of RAM are more than enough to fill the Android Recents rolodex with running apps and not to worry about anything. Even apps that continue to work in the background aren't a problem for the Huawei P20 Pro.
It's Android and there are apps, which could cause the whole phone to stutter, or even crash the system. But that's not Huawei's fault - once again - this concerns the Store and its app quality, often affected by the huge Android fragmentation.
We tried various games, they all ran perfectly. Even though the 12-core Mali G72 isn't the most powerful GPU on the market, the 1080p resolution makes up for the performance gap pretty well. We couldn't find a single app or game that wouldn't run smoothly and worthy of the cash you've paid for a P20 Pro.
Heating isn't an issue for the P20 Pro, unless it's a very stressful benchmark that will run a couple of times. In theory the phone could apply some throttling, but would you really do this all the time? Nope.
So, even after hours of gaming, or shooting, or navigating, the P20 Pro kept its cool and ran everything as a flagship is supposed to do - hiccup-free.
It may take couple of days for a new Huawei P20 Pro to learn your behaviour before optimizing the apps, the background refresh, and even the garbage collector to adjust to your work style (Huawei calls that AI), and before this process goes through, you may encounter some longer than usual loading times with apps. We know for sure this would bug any iOS user. But once it picks up your routine, the P20 Pro will become as fast and smooth as the latest iPhone. Or close enough anyway.
Battery life
We have a standardized battery test here in GSMArena that will spit a specific number. It does have a meaning behind it, but its primary purpose is help you compare the phone's battery performance against other phones.
But for our long-term reviews we focus on how a phone performs in real life. Of course, these impressions would depend entirely on the editor's pattern, but should shed some more light on the actual battery life.
Here is what our Huawei P20 Pro usually did each day over the course of this review.
1 hour or so of Pokemon Go gaming.
2-3 hours of music streaming with Bluetooth headphones.
2 hours of social networks or web browsing.
About 1 hour of calls.
With this usage pattern, the phone was usually at about 50% battery charge come bedtime. As you can imagine, it provided two full days of use on a single charge. Even more on weekends. This would naturally change when we used it for navigation or used the camera actively.
The supplied charger is super-fast, but we usually charged overnight with a generic charger so we barely used it. Still, if we had just 15 minutes to charge an almost flat battery, we'd gladly plug the Huawei's Super Charger - it's among the best solutions we've used so far.