Kirin 980 chipset with improved cooling
Huawei P30 Pro, just like the entire Mate 20 series, utilizes the latest Kirin 980 chip by HiSilicon. We are already well familiar with the 7nm chipset, which while no longer the single most efficient in the Android world - the Snapdragon 855 is also built on 7nm, while Exynos 9820 SoC is on the 8nm node - is still amazingly capable.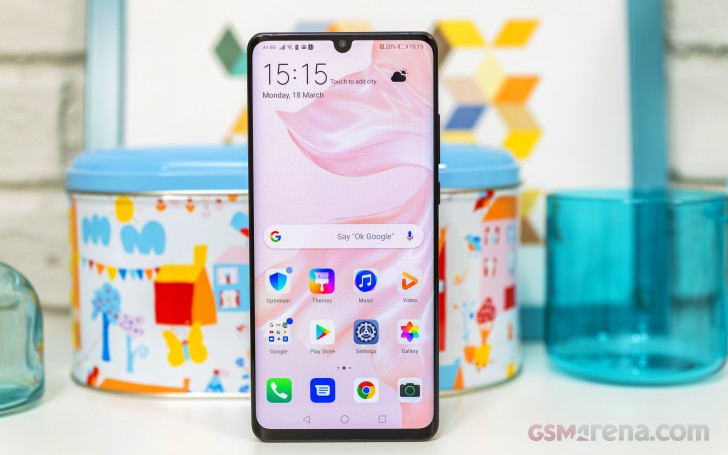 The Huawei P30 Pro has an improved cooling system with a combination of graphene film and a heat pipe with vapor chamber.
So, the Kirin 980 uses an octa-core CPU design with 2x high-performance Cortex-A76 cores running at 2.6GHz, another 2x Cortex-A76 cores clocked at 1.92GHz, and 4x power-efficient Cortex-A55 cores that go up to 1.8GHz. The processor makes use of ARM's DynamIQ architecture, which is the evolution of big.LITTLE and allows any subset of cores (or all together) to work simultaneously depending on the workload.
Kirin 980 SoC has a Mali-G76 MP10 (ten-core) GPU, which offers tremendous performance and efficiency gains compared to its predecessor Mali-G72 in the Kirin 970 (P20 Pro).
EMUI 9's GPU Turbo 2.0 is supported by six games in total for the time being - PUBG Mobile, Mobile Legends: Bang Bang, NBA 2k18, Rules of Survival, Vainglory, and Arena of Valor. It allows all those games to run smoothly and steady at 60 fps at full resolution. Huawei is also working with game developers to enable it in even more popular games though we won't be holding our breath.
The chipset also supports 2133MHz LPDDR4X memory and incorporates a dedicated dual NPU chip. Huawei calls it "Dual-Brain Power" and can help recognize up to 4,500 images per minute, which is around 120% faster than last year's single NPU chip on the Kirin 970 SoC.
Benchmarks
Benchmarks scores have been driving the industry for quite some time. Many Chinese makers try to impress with higher and higher (AnTuTu) results, leading to cheating software bring run in order to look favorable in the eyes of the users.
Huawei has made its Performance mode available to anyone and you can find the switch in the Battery settings of the P30 Pro. The Performance mode offers a small speed boost in some instances (mostly in raw CPU power), but not for long as the phone gets warm quickly and the phone automatically reverts to its safe settings until it cools down.
The net result is about 10-12% boost across all benchmark tests for the first run. Yes, that's it. You can get a sustainable 5% boost from the regular mode over time, while the 10% bump is for the first few minutes only. So, we are not sure if the extra heat and battery drain are worth the hassle.
The P30 Pro is on par of the whole Android pile in, when it comes to multi-core processor performance. You can see a small gain from the performance mode quite clearly here. While the latest Exynos and Snapdragon have a minor point advantage over the Kirin 980, for all intents and purposes it will be indistinguishable real life.
GeekBench 4.1 (multi-core)
Higher is better
Apple iPhone XS Max
11432
Xiaomi Mi 9
11181
Samsung Galaxy S10+
10387
Huawei Mate 20 X (perf. mode)
10118
Huawei P30 Pro (perf. mode)
10014
Huawei Mate 20 X
9851
Huawei Mate 20 Pro
9712
Huawei P30 Pro
9649
Xiaomi Mi Mix 3
9065
Google Pixel 3 XL
8088
The single-core result of the P30 Pro CPU comes short of the fourth-gen Mongoose cores of the Galaxy S10+. Apple and Samsung's latest custom cores are far superior to what the rest of the makers can offer to date.
GeekBench 4.1 (single-core)
Higher is better
Apple iPhone XS Max
4777
Samsung Galaxy S10+
4522
Xiaomi Mi 9
3503
Huawei Mate 20 X (perf. mode)
3404
Huawei P30 Pro (perf. mode)
3323
Huawei Mate 20 Pro
3291
Huawei Mate 20 X
3277
Huawei P30 Pro
3270
Xiaomi Mi Mix 3
2429
Google Pixel 3 XL
2363
The Kirin 980 chipset has Mali-G76 10-core GPU in charge of graphics. The raw performance, while an improvement over the previous Kirin 970, ins't wasn't par with what the latest Apple, Qualcomm and Samsung chips offer.
GFX 3.1 Manhattan (1080p offscreen)
Higher is better
Apple iPhone XS Max
99
Xiaomi Mi 9
70
Samsung Galaxy S10+
69
Xiaomi Mi Mix 3
60
Huawei P30 Pro (perf. mode)
56
Huawei Mate 20 X (perf. mode)
55
Huawei P30 Pro
54
Huawei Mate 20 Pro
53
Google Pixel 3 XL
44
GFX 3.1 Car scene (1080p offscreen)
Higher is better
Apple iPhone XS Max
60
Samsung Galaxy S10+
42
Xiaomi Mi 9
42
Xiaomi Mi Mix 3
35
Huawei P30 Pro (perf. mode)
33
Huawei Mate 20 X (perf. mode)
33
Huawei P30 Pro
29
Huawei Mate 20 Pro
29
Google Pixel 3 XL
28
3DMark SSE 3.1 Unlimited
Higher is better
Xiaomi Mi 9
5816
Xiaomi Mi Mix 3
4945
Samsung Galaxy S10+
4632
Huawei Mate 20 X (perf. mode)
4368
Huawei P30 Pro (perf. mode)
4315
Huawei Mate 20 X
3622
Huawei P30 Pro
3522
The P30 Pro, on the other hand, has a less needy 1080p display and matches the performance of the headliners with 1440p, which is enough reason to be called flagship-worthy.
GFX 3.1 Manhattan (onscreen)
Higher is better
Apple iPhone XS Max
60
Xiaomi Mi 9
56
Xiaomi Mi Mix 3
52
Huawei P30 Pro
50
Huawei P30 Pro (perf. mode)
50
Huawei Mate 20 X (perf. mode)
49
Samsung Galaxy S10+
37
Huawei Mate 20 Pro
27
Google Pixel 3 XL
24
GFX 3.1 Car scene (onscreen)
Higher is better
Apple iPhone XS Max
47
Xiaomi Mi 9
35
Xiaomi Mi Mix 3
30
Huawei P30 Pro (perf. mode)
29
Huawei Mate 20 X (perf. mode)
29
Huawei P30 Pro
27
Samsung Galaxy S10+
23
Huawei Mate 20 Pro
17
Google Pixel 3 XL
12
The compound benchmark AnTuTu confirms the excellent skills of the new Kirin 980 chipset. If performance mode is enabled, the P30 Pro scores 10% higher and come very close to the Galaxy S10+.
AnTuTu 7
Higher is better
Xiaomi Mi 9
372006
Apple iPhone XS Max
353210
Samsung Galaxy S10+
333736
Huawei P30 Pro (perf. mode)
316156
Huawei Mate 20 X (perf. mode)
304403
Xiaomi Mi Mix 3
292353
Huawei P30 Pro
290189
Huawei Mate 20 Pro
273913
Huawei Mate 20 X
267358
Google Pixel 3 XL
258244
The P30 Pro is just as powerful as Huawei advertises it to be. The chip offers one of the fastest processors on the Android market, as usual, while its GPU punch is on par to what the most current flagships can do under 1440p resolution. Sure, the P30 Pro GPU isn't the most powerful in the world, but it offers sustained and balanced performance and there isn't a single game right now that can challenge it.
The Kirin 980 is manufactured on the cutting-edge 7nm process, but if you expected it not to warm up - you'd be wrong. The chip does release some amount of heat and the P30 Pro does have a few warm spots, but they are not as prominent on the Mate 20 Pro and Mate 20 X. The new cooling system is indeed doing a great job at distributing heat across the rear glass and the metal frame and you can't really tell where exactly this heat is coming from. And because of this cooling solution the P30 Pro is one of the coolest Huawei flagships we've seen in a while. Some throttling may occur after running consecutive benchmark tests but only then.
The P30 Pro runs buttery-smooth its operating system and there is not a single game that won't run flawlessly at 1080p resolution. Overall, the Kirin 980 is one of those chipsets worth having in your phone and bragging with its speed.