The Huawei P9 is powered by an in-house Kirin 955 chipset. Not a full 10 more than the Kirin 950 inside the Mate 8, the designation leads you to believe than not much is changed, and that's indeed the case.
The Kirin 955 SoC features an octa-core CPU with four Cortex-A72 cores clocked at up to 2.5GHz (compared to the 2.3GHz of the Kirin 950's), and four Cortex-A53 cores ticking at up to 1.8GHz (same as Kirin 950). The GPU is again a quad-core Mali-T880 MP4.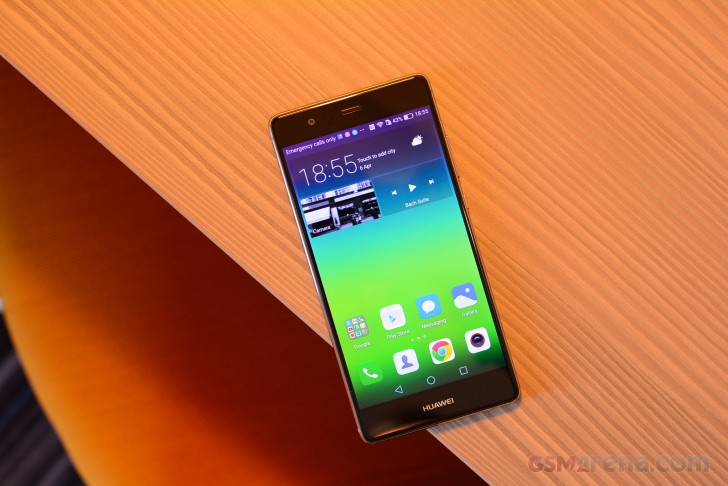 We ran a few benchmarks on the P9 and the results are in. Oddly enough, the Kirin 955 trails behind the 950 in multi-core CPU performance, as gauged by GeekBench. Where the Mate 8 benches on par with the Galaxy S7, the P9 is a few hundred points behind. That is probably explained by the yet-to-be-finalized software on the review units. We would have also suspected thermal throttling, but the unit remained cool through the test.
GeekBench 3 (multi-core)
Higher is better
Samsung Galaxy S7
6360
Huawei Mate 8
6323
Huawei P9
6071
LG G5
5362
Samsung Galaxy S6
5215
Apple iPhone 6s
4427
Sony Xperia Z5
4017
LG G4
3509
Huawei P8
3380
Single-core performance is good but not up to the current flagships' standard. There's not much of an improvement over the Mate 8 either, but it's not like a 9% increase in maximum clock rate was ever going to do miracles.
GeekBench 3 (single-core)
Higher is better
Apple iPhone 6s
2542
LG G5
2328
Samsung Galaxy S7
2170
Huawei P9
1699
Huawei Mate 8
1666
In Basemark OS II 2.0, the P9 posted a virtually identical result to the Mate 8. Last year's flagships are no match for Huawei's 2016 top model, while the G5 and its Snapdragon 820 are very slightly ahead. The Exynos 8890 Galaxy S7 is another notch up, within an inch of the iPhone 6s.
Basemark OS 2.0
Higher is better
Apple iPhone 6s
2195
Samsung Galaxy S7
2128
LG G5
2065
Huawei P9
2019
Huawei Mate 8
2017
Samsung Galaxy S6
1674
LG G4
1584
Sony Xperia Z5
1482
Huawei P8
1112
It's the graphics department where Kirins are often not quite up to par, and seeings as how nothing's changed over the Mate 8 in this respect, benchmark results are very much the same. The P9 is capable of 10fps in GFXBench 3.1 Manhattan in the offscreen test, same as the Mate 8.
GFX 3.1 Manhattan (1080p offscreen)
Higher is better
LG G5
30
Samsung Galaxy S7
28
Sony Xperia Z5
18
Huawei P9
10
Huawei Mate 8
10
Huawei P8
3.4
Both also yield a frame a second more when the test is carried out live on the display, and not just rendered in the background. However, the LG G5 and Galaxy S7 can push through onscreen Manhattan at 15fps, despite having to render 78% more pixels, which makers the P9's result all the more unimpressive.
GFX 3.1 Manhattan (onscreen)
Higher is better
Sony Xperia Z5
19
Samsung Galaxy S7
15
LG G5
15
Huawei P9
11
Huawei Mate 8
11
Huawei P8
4.3
In Basemark X the P9 scores close to 17K points, about a 9% bump compared to the Mate 8. While the improvement is welcome, the the results is nowhere near the best in the business, the Galaxy S7 being capable of nearly twice that. Even last year's Xperia Z5 with a Snapdragon 810 posts substantially better figures.
Basemark X
Higher is better
Samsung Galaxy S7
32345
LG G5
29456
Samsung Galaxy S6
27169
Sony Xperia Z5
23923
Huawei P9
16942
Huawei Mate 8
15593
LG G4
15090
Huawei P8
6307
To sum it all up, the Kirin 955 brings a marginal improvement in performance over the Mate 8's Kirin 950 and not necessarily in every respect. The flagship chips from Qualcomm and Samsung will remain undisturbed at the top for the time being.
j
p9 fails on gaming Thermal Throttling is happening way too often
L
Completely agree to your point. 4k recording is not a must as 80-90% of the uses will not use it on a daily basis. Also given the price point of the P9 our here in Dubai, it has to be one of the best phone to go for. The 32gb 3gb ram cost around AED ...
L
Must... maybe not. Nice to have - Indeed. As well considering that every flagship had it since 2013.