Although the new 2019 is already here, China is still preparing for its holidays in February. Huawei is joining in, and sources from China revealed the company is preparing to launch a Mate 20 Pro variant in Fragrant Red, as well as in Comet Blue, meaning the phone will be available in at least seven different colors.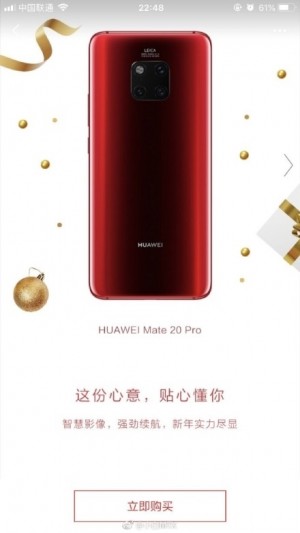 The red version appeared on Weibo with celebratory graphic ornaments around it, meaning it is highly likely to debut right in time for February 5, the Chinese New Year. While there is an image of the red option, the Comet Blue was only seen in source codes so far.
Huawei Mate 20 Pro is currently the flagship of the company with Kirin 980 chipset, UD fingerprint scanner and mighty triple-cam setup on the back. The company boasted about selling 5 million units of the camera phone and at the same time it celebrated 200 million sold smartphones in 2018.
P
Red one is exotic and even better than twilight color!
Easily the best meme to come from 2018
If I control rewind, I would want, Fork Knife, and Mark Ass Brownie (Don't mind me, it's a meme to remember xD)
ADVERTISEMENTS