We got an invite from Huawei today, which urges us to save the date, February 24, when the Chinese company will hold a press conference. This is the Sunday before this year's Mobile World Congress kicks off, so we can reasonably expect Huawei to unveil its latest smartphones at the event.
The invitation gives a very subtle clue as to what device will be unveiled. All we see is a glimpse of the smartphone's front frame design.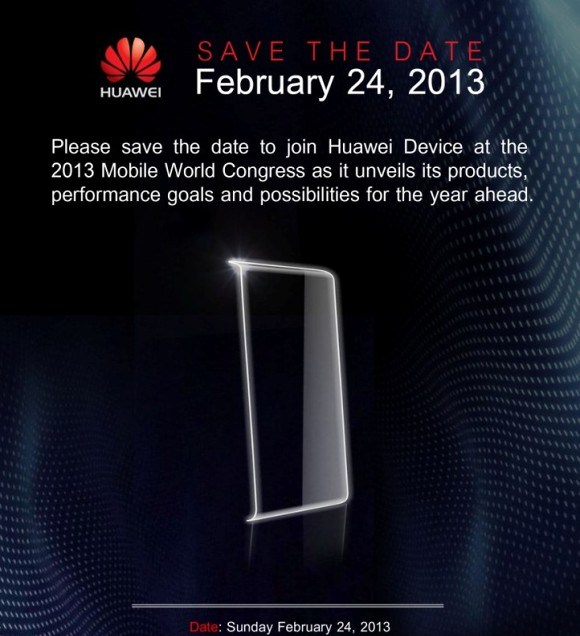 Huawei already made waves this year at the Consumer Electronics Show. The Chinese announced the 5" 1080p Ascend D2, the 6.1" 720p Ascend Mate and the low-cost Windows Phone 8-running Ascend W1.
We expect the February 24 event to feature the manufacturer's first flagship-grade WP8 device, the Ascend W3. It rocks a 4.5" 1280 x 720 display, an 8 MP camera and should run on a dual-core Krait processor with 1 GB worth of RAM. We've already seen the Ascend W3 in the wild so it going official shouldn't be a huge surprise.
Still there could be more in store for us on February 24, so you might want to check back with us when the time comes. We'll be on site covering the whole thing as it unfolds.
k
having same features like samsung galxy series but price is low only the thing is built in memery is less.
V
I hope that P2 will be 4,5"..if yes, I will buy it for sure..is amazing phone
d
6.1" WTF? dose anybody make a 4,3" smartphone really ! Who the fuck need a 6,1" display!!!!??????????? JESUS!!!
ADVERTISEMENTS