Huawei trademarks 'Cine Lens' and 'Matrix Camera' ahead of Mate 30 launch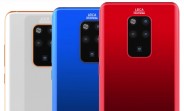 The whole world is watching Huawei as it gets closer to announcing its next flagship: The Huawei Mate 30 Pro. In the last few years, the Chinese smartphone giant has consistently pushed new camera technologies and hardware advancements in both function and aesthetic.
The Mate 30 Pro is going to have some killer new camera features according to the latest news. Huawei has trademarked both "Cine-Lens" and "Camera Matrix". We're not entirely sure what the latter refers to, but we have a pretty good idea what the former could be. The trademarks were filed on July 17 to the EUIPO (European Union Intellectual Property Office) via Munich.
Huawei has made some great advancements when it comes to photography, and with the Mate 30 Pro, we might be seeing some breakthrough with video recording on a smartphone camera. It is possible that one of the cameras on the Mate 30 Pro will be dedicated for recording video.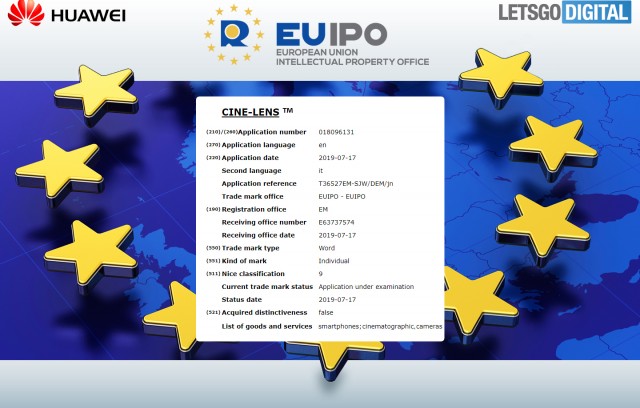 The trademark's description is "Cinema photography; optical lenses for recording, reproduction, and processing of sound, images, and/or data". A true cinematic camera lens is distinctly designed for shooting video.
Through Huawei's partnership with Leica, we might see Leica design a lens array optimized for video. We look forward to the possibility of a Huawei device with better video shooting capabilities and fine manual controls for video.
The other trademark could possible be the official name of the Mate 30 Pro's camera layout. "Camera Matrix" is the perfect way to describe the Mate's square camera layout arrangement. In mathematics, a matrix is defined as "a rectangular array of quantities or expressions in rows and columns treated as a single entity".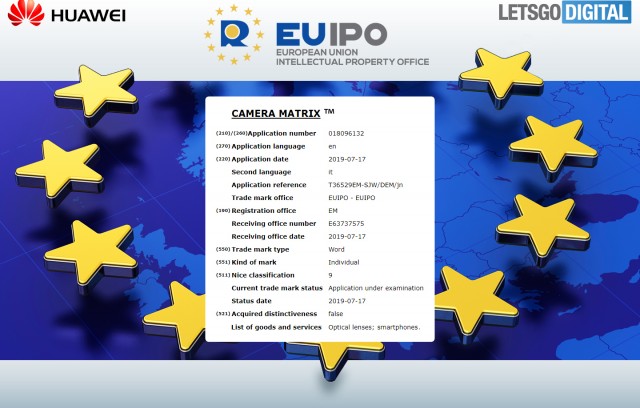 We don't know exactly how many cameras will be on the Mate 30 Pro, but if the leaked spy photos of the rectangular cutout are anything to go by, we might see either a four or five camera setup on the Mate 30 Pro. We don't think the Mate 30 Pro would have the same periscope zoom camera that the P30 Pro launched with. If it did, then there wouldn't be too much to differentiate the two flagships.
In any case, we've still got many phones to see before the Mate 30 Pro launches, presumably sometime in October. The Mate 30 Lite was recently spotted on TENAA but it won't give us too many clues on its higher-end sibling.
The Mate 30 Pro is rumored to have an extra curvy "waterfall" display – one that wraps around the two long edges of the glass. The glass spotted in some spy photos also point to the Mate 30 Pro having a notch identical to the Mate 20 Pro – complete with 3D facial recognition like the iPhone XS uses. There is also an in-display fingerprint scanner and we're expecting at least a 4,200 mAh battery with perhaps 55W Super Charge support.
Source (Dutch)
I don't think user should train the AI camera, people can just use the Snapseed to do some image edit, you can get whatever you want. Is the Huawei AI camera oversaturated image can be reverted? The oversaturated image looks so "China" style I have t...
C
Interesting questions. 1.) The manufacturers are the ones who should train their AI (or software), so their post-processing could be better (not too much, not too little). 2.) Users can still use their manual settings, and I vouch for this fea...
Why should Huawei user train their AI camera? Why not let user choose the option and settings just like manuals? One more question how to train the AI camera produce less oversaturated image? Some of the Huawei fans told me It is better use the manua...
ADVERTISEMENTS