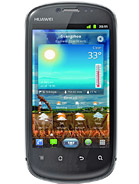 p
does it have any GPU like adreno 200/205 or tegra2 ? big no no. so i think the 1 ghz cpu will be exhausted when it comes to games with 3d processing. do any of you have any experience playing HD games with it?
D2
Well,i think that this smartphone awesome,but i think that it has a front camera and it's VGA.
k
I hope huawei will make a phone with qwerty slide out keyboard at the side..
J
dantez kenya, 25 Aug 2011One awesome phone, you miss this, you aint got no taste!!If you think plastic plastic is style then it is your phone.
It s a pity that they can´t make it in steel.

Seems good the videos I have seen but compare to the new Nokia 700 or 701 or even the N9 or E6,this phone can´t be regarded as stylish.

Thats a fact.
K
If I going to buy a new smartphone this will be the one. I have already a Huawei Ideos U8150 and love it. This one is probably even better than the one I have. Yesterday I use the GPS on my U8150 and had a lot of fun using it. I use to have S.E xperia x10mini. But after having a lot of trouble with it I bought the Huawei Ideos U8150 and I haven't had so much trouble with it. X10mini had the tendency of crasching to everything I did with. Like sending a SMS or answer a SMS. The wrost thing it did was crasching and couldn't start it for three hours. Never had that problem with my Huawei Ideos U8150.
Total of 248 user reviews and opinions for Huawei U8850 Vision.