Exquisite presentation
A lot has been written about the Huawei Watch' retail package and we'll reiterate - it's extraordinary as smartwatches go, and could just as well contain a luxury mechanical watch. A box inside a box, plenty of high-quality faux leather, a soft cushion to hold the watch itself - it all works together to make for a wonderful first impression even before you get to hold the timepiece.
Inside you'll find an AC adapter and a magnetic charging dock. We have a few issues with the dock, and they're so obvious that it's puzzling why Huawei decided to do things this way.
For starters, the dock and its USB cable are a one-piece affair, meaning you can't just use the same USB-to-microUSB cable to charge you're your phone and the Watch, and carry just the dock when going places - you'd be carrying the dock's cable as well.
Additionally, the one-piece solution means that should you damage the cable, the dock becomes useless, and at $40 a pop, replacement docks aren't exactly cheap (also not yet available). The cable is reinforced at its point of entry into the dock, but still. Huawei has also missed the opportunity to make the dock into a night stand like Motorola has done with the Moto 360 or Samsung with the Gear S2.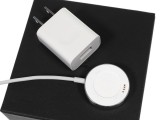 AC adapter and magnetic charging dock
Another gripe we have is that it's all too easy to put the watch on the charger, and it would magnetically lock into place but wouldn't charge. On more than one occasion we left the Watch on the charger, only to find it hadn't been charging at all. You need to make sure the contacts are properly aligned every time you put the watch on it.
Hardware overview
The Huawei Watch gas gotten a fair share of praise for being the most beautiful smartwatch there is right now, and subjective as it may be, we're inclined to agree. Classical mechanical watch looks are the route to mainstream smartwatch adoption and Huawei was first to get it right.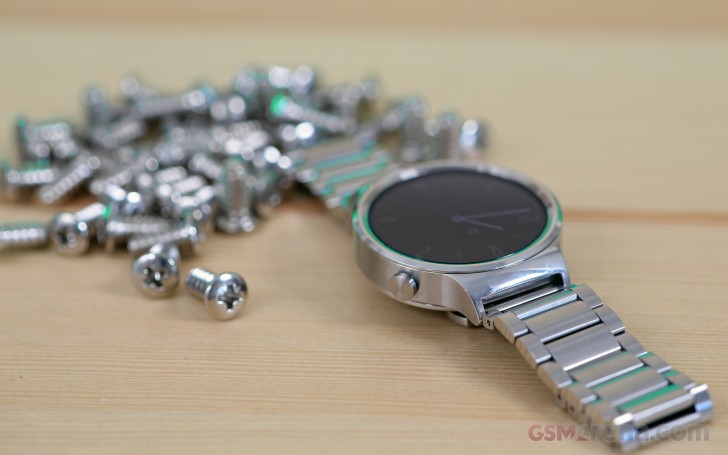 Obviously, in the time frame between the Huawei Watch announcement and market launch (a good 6 months), Motorola had caught up and updated the Moto 360. Still, Huawei's design remains a top pick if you're after a smartwatch with a regular wrist watch look.
The Huawei Watch comes in a choice of styles for its stainless steel case each paired with a specific bracelet/strap. Our review unit has the plain stainless steel case and a stainless steel bracelet, but the same case can be paired with a classic black leather band.
A different style of leather band without stitches comes with a black stainless steel case with hour markings - the same case goes with a black stainless steel bracelet too. Then there's the rose gold plated edition, with a choice of either leather (alligator patterned), or gold plated stainless steel.
Back to our unit we have here, which is one of the more affordable options (by comparison, not in any way cheap in absolute terms). The stainless steel case is brushed on the sides, while the lugs and bezel are polished.
There are two sides to this, the positive being that the two finishes give you more options for aftermarket bracelets. The down side is that previous experience on traditional watches has seen polished elements take dings and scratches with less grace than brushed ones. That said, we didn't manage to scratch either part during our use of the Huawei Watch.
The case itself is 42mm in diameter aiming to be a god fit for the majority of wrists. It's been often criticized for being too thick, and 11.3mm might sound like it at first. However, traditional mechanical watches aren't too thin either - the revered Omega Seamaster is 13mm thick in its most common versions (of which admittedly there's a huge number). Dress watches from the mechanical age are a couple of millimeters thinner, with only ultra-expensive specialty designs going into single-digit thickness.
Huawei has nonetheless taken measures to mask the Watch' thickness by making the bottom cover a millimeter smaller in diameter. Add to that the polished bezel and the side of the watch looks about 8mm thick.
The Sapphire crystal front glass, which is hard enough on its own, is also recessed a fraction of a millimeter below the bezel. Theoretically, that should help in keeping the glass in one piece and scratch-free. The downside to Sapphire is that it's very reflective, and while that's a non-issue for a mechanical watch, on a smartwatch it hinders outdoor visibility in bright sunlight.
The off-center crown is another polarizing feature of the Huawei Watch. Some insist that the classic 3-o'clock position should have been used, but at 2-o'clock it's arguably better suited for access with the forefinger of either hand, thus making the Watch equally comfortable to use on both wrists.
Either way, the crown clicks nicely when pressed, though it could have had a bit more travel. It also rotates, without any functionality tied to that.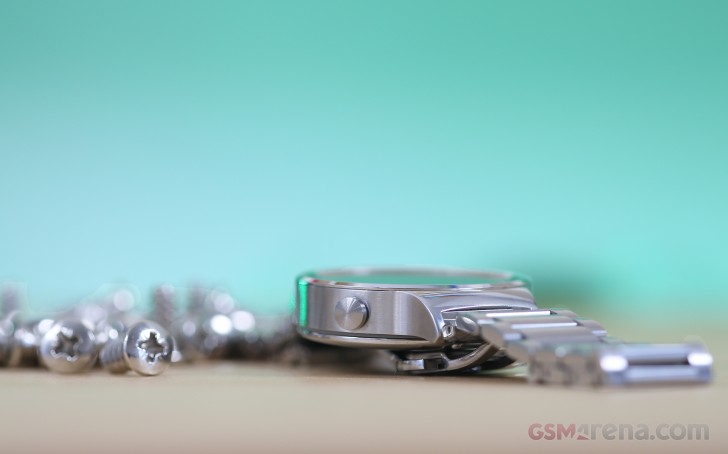 The back cover is made of steel as well, with a circular glass insert for the heart-rate sensor. There's also a cutout for the four-pin charging port. The whole thing is IP67 certified for dust and water resistance, but you need to make sure the charging port is dry before putting the watch on the dock.
The bracelet on our review unit features a push-button hidden clasp, which keeps it securely in place. The links are perhaps a touch too fine for our taste, but that brings the added benefit of precise adjustments. You can also swap the included piece with your choice of standard 18mm bracelets or leather bands - Huawei has also made the removal nice and simple without any tools required.
Weight is yet another subjective topic. Switching from a 130-something-gram (not a monster in its own right) stainless steel analog watch to the featherweight smartband-like Samsung Gear S2 required adjustment, but the Huawei Watch immediately fell into place. A leather strap version will obviously be lighter, but then an analog counterpart would be lighter as well.
Overall, the Huawei watch is one fine timepiece with craftsmanship on par with a similarly priced traditional watch. As such it looks and feels of higher quality than the majority of smartwatch offerings out there.