Huawei Watch 3 unveiled with HarmonyOS, eSIM, 3-day battery, 3 Pro follows with titanium body
It has been four years since the last time Huawei released a proper smartwatch – the GT series are limited in their capabilities. But it is now finally here and it is one of the first HarmonyOS 2.0 devices.
There are two models, actually – the Huawei Watch 3 and the Watch 3 Pro – the latter has a different body (built with premium materials) and better battery life. We'll start with the base model.
Huawei Watch 3
This generation features a 3D rotating crown that replaces the top button on the right. Huawei argues that this enables an intuitive way to navigate the UI that is also weather-resistant – it works with wet and even gloved hands, unlike touchscreens.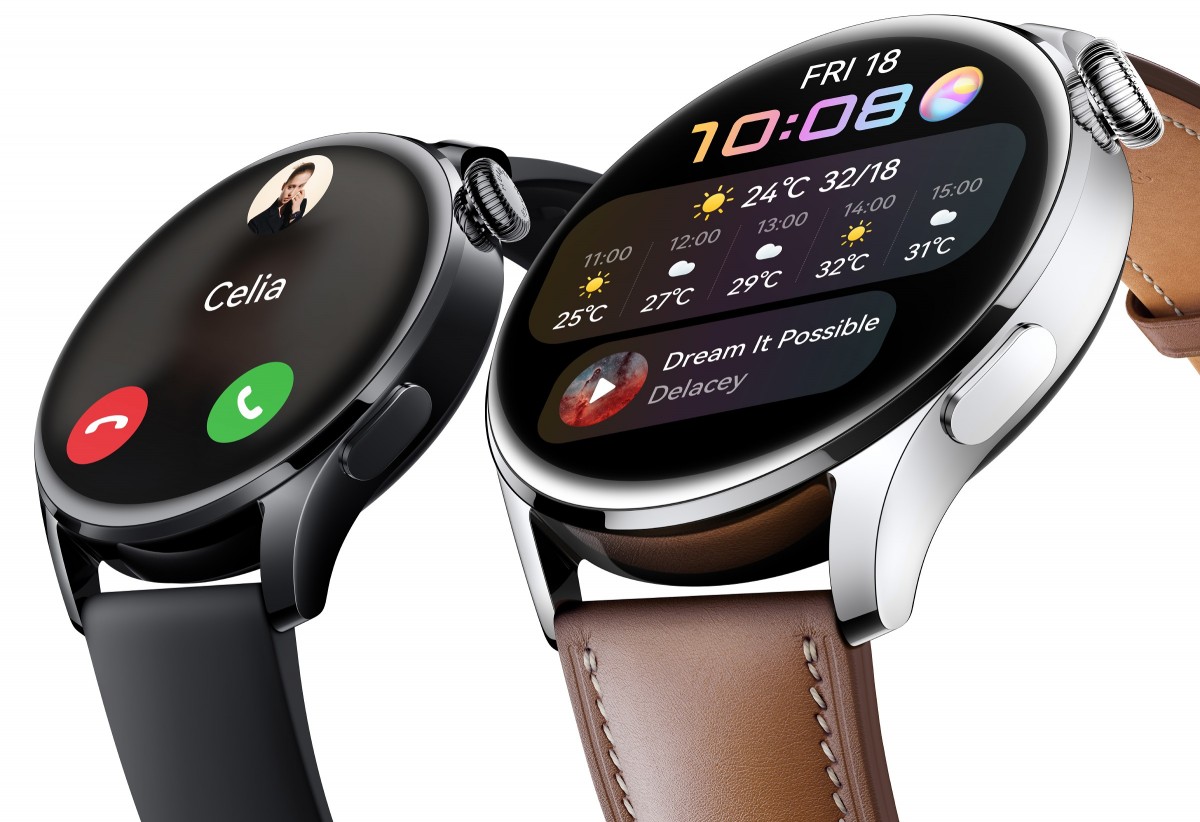 Another priority was to slim down the bezel around the display as much as possible. The 1.43" AMOLED panel is a tad larger than previous watches from the company, but still in the same ballpark. It is very bright and can reach 1,000 nits and it keeps the pixel density at 326 ppi.
The display is guarded by strengthened glass, the watch body is made out of high-quality steel and the back is made out of ceramic. The watch is water resistant up to 5 ATM and the body measures 46.2 mm in diameter and 12.15 mm in thickness, without the strap it weighs 54g. Huawei has created several different designs for the watch: Active (with a silicone strap), Classic (leather strap), Elite (metal band) and Classic (Milanese band).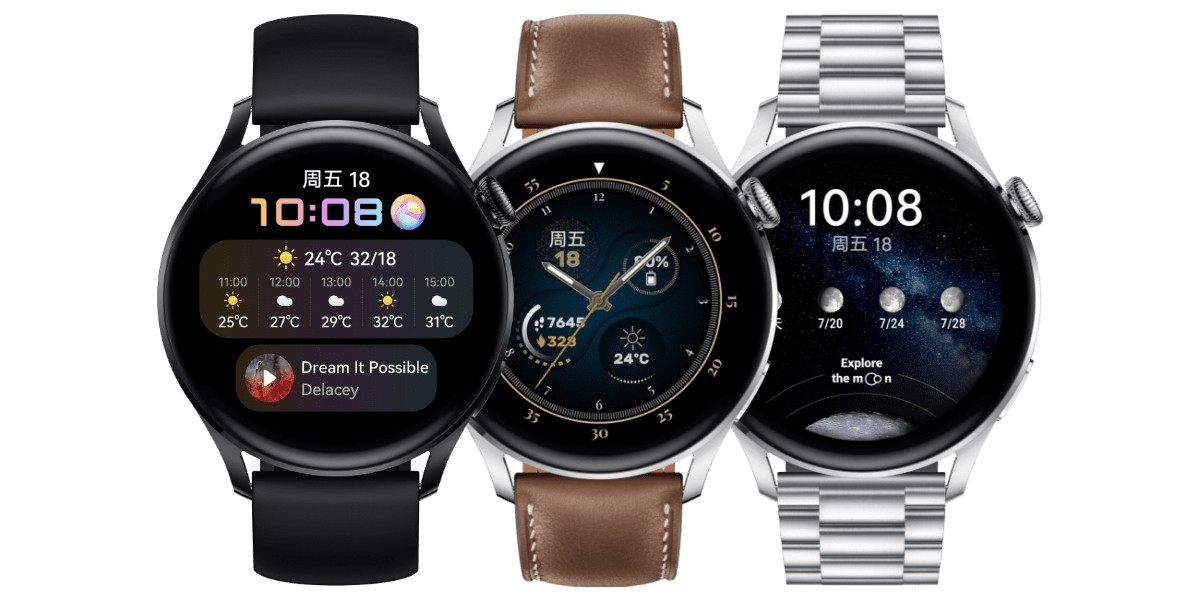 The sensor suite on the back includes the expected heart rate and blood-oxygen (SpO2) trackers, but also a skin temperature sensor. These work around the clock, the watch also features 24/7 stress and sleep tracking, all of which could help you spot health problems.
The Huawei Watch 3 can be used on its own too. It has an eSIM, which gives it a 4G data connection that can handle calls, of course, but also stream some tunes from Huawei Music and send it to your Bluetooth headphones. Interestingly, video calls are supported too, though with no camera on board they will be a bit one-sided (note: there is a built-in speaker).
Huawei is proud that it has brought the AppGallery to the watch. This means you can download and install HarmonyOS apps directly on the watch, no smartphone needed. The company has already partnered with several developers from outside of China who will bring their software to the new platform. Huawei didn't mention the chipset, but did say that the watch has 2 GB of RAM and 16 GB storage.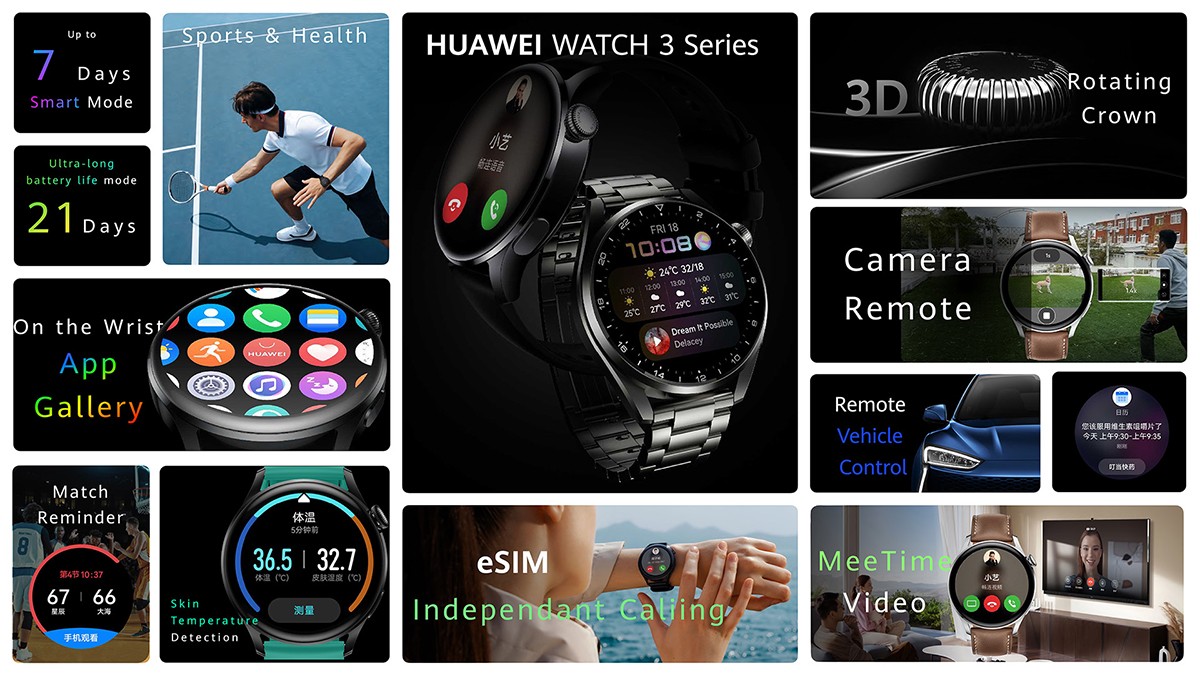 Since you'll be juggling a lot of apps, the UI now features a grid launcher. You can pan and zoom around, which is a quicker way to find the app you need than scrolling through a list.
The battery life in standard mode is 3 days with 4G enabled, quite good for a proper smartwatch. You can enable the Ultra-Long Lasting Mode, which can stretch the battery to 14 days while keeping important functionality enabled: SpO2 monitoring, 14 workout modes, Bluetooth calling and even animated watch faces. Charging is done wirelessly.
Speaking of workout modes, the watch supports over 100 modes, including 17 professional workout modes (outdoor and indoor). There is fall detection, which can use the eSIM connection to send out an SOS if you've been hurt. Positioning supports GPS, GLONASS, Galileo, Beidou and QZSS.
Pre-orders for the Huawei Watch 3 start today at a price of CNY 2,600 ($410/€335), proper sales start on June 11. Huawei will also start selling additional watch bands that let you customize your watch later this month, they will start at CNY 200 ($31/€26).
Huawei Watch 3 Pro
The Huawei Watch 3 Pro one goes for a more classic look, so it does have a bezel around the display. As we mentioned, it's the materials and battery life that set the Pro apart, plus an extra feature.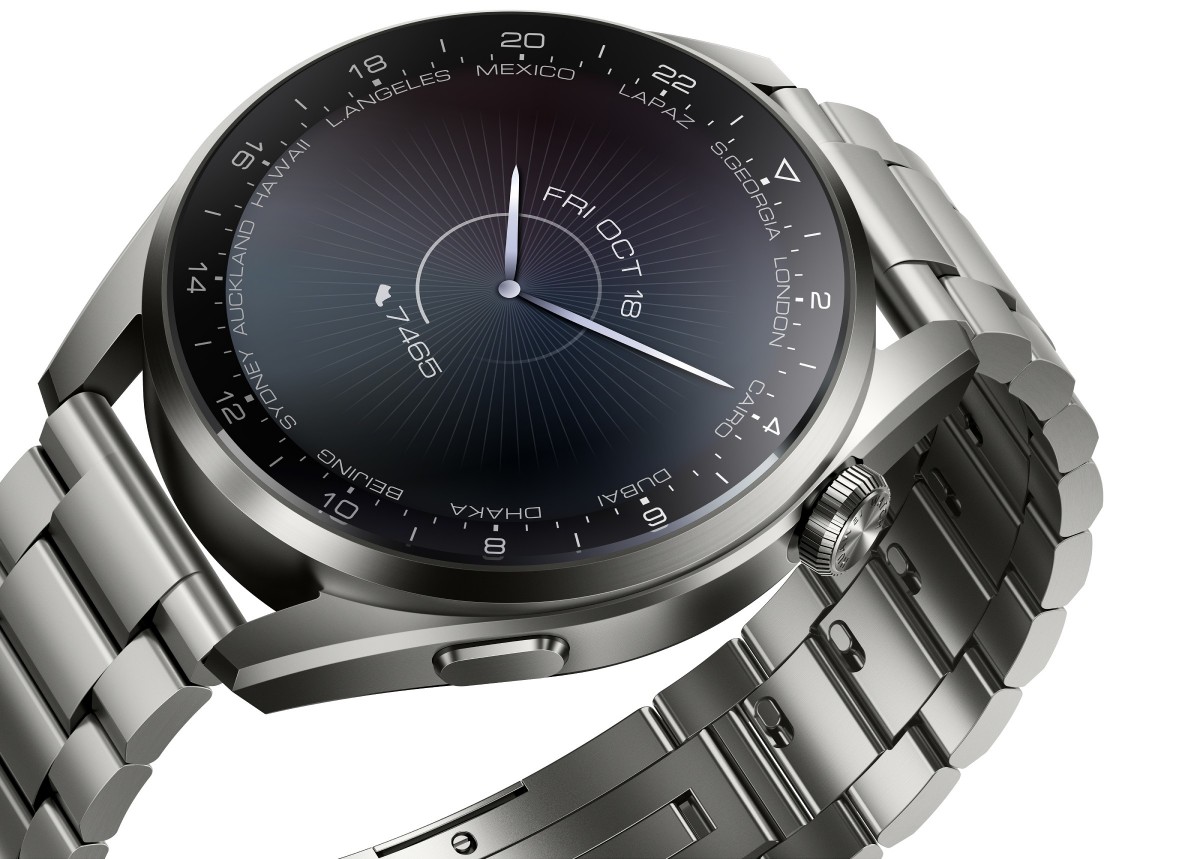 The watch body is made out of titanium (the back ceramic again), the display is protected by sapphire glass. This one is larger, measuring 48 x 48.6 x 14 mm and weighing 63g (without a strap). Battery life is bumped up to 5 days with 4G enabled and 21 days in the Ultra-Long Lasting mode.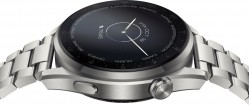 Huawei Watch 3 Pro, Elite and Classic versions
This is one of the first watches to feature a dual-band GPS receiver (bands 1 and 5), which will offer a more accurate and more stable position reading even in dense city environments.
Like its sibling the Huawei Watch 3 Pro can be pre-ordered in China today, sales start on June 11. Due to the premium titanium and sapphire materials, the Pro commands a higher price - it costs CNY 3,300 ($515/€425).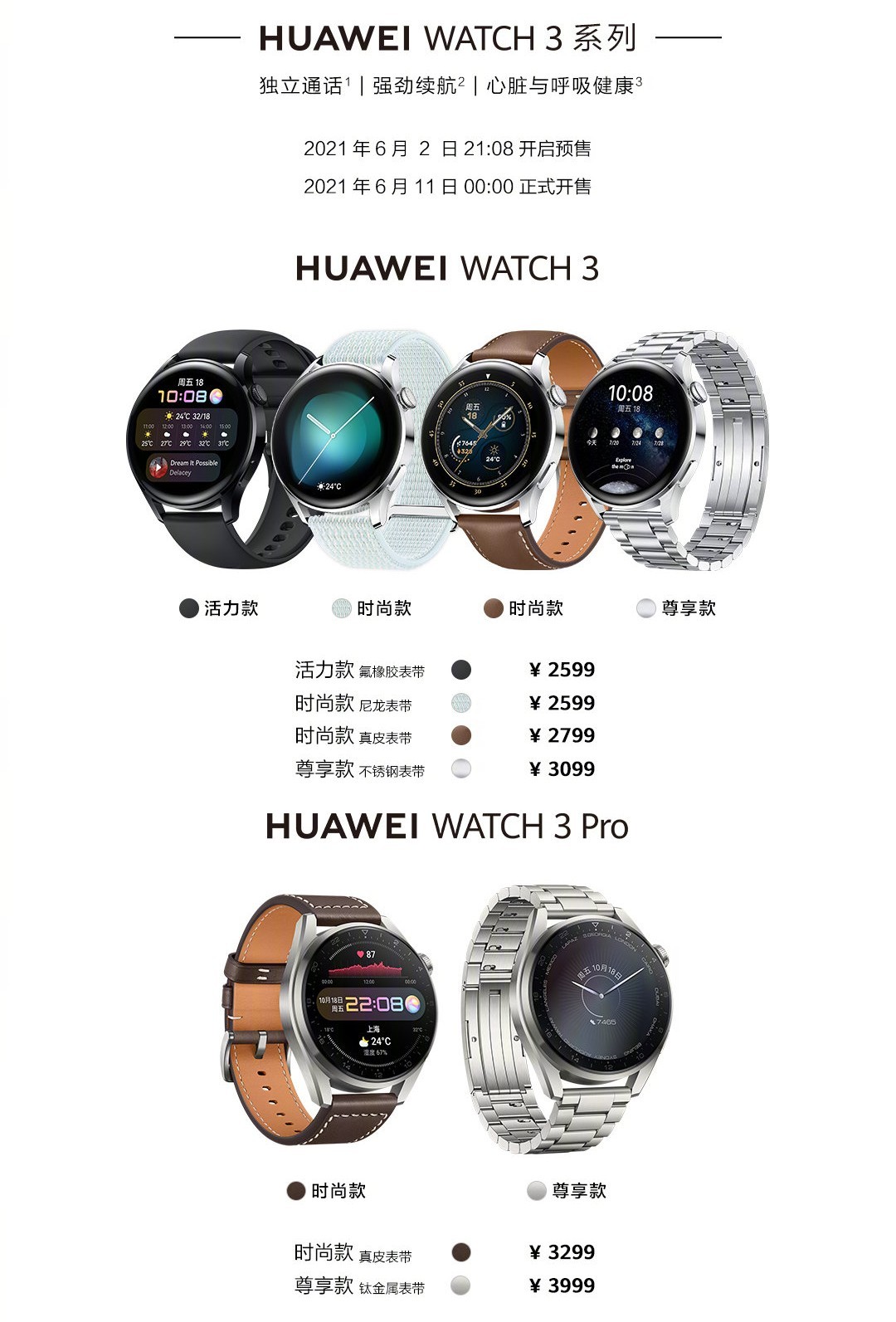 ?
Too expensive. If I am in the market to spend THAT kind of money, I will buy Garmin or Apple and get LOTS MORE value for money. Samsung don't seem to have any idea what they're doing.
?
You mean better than cheap Chinese watches... But Huawei's sensor implementation has never been very accurate and we'll see if this one is better. Generally, given the poor accuracy and incompatibility with major platforms make this a ...
ADVERTISEMENTS