The Huawei Watch GT 2 announcement was somewhat overlooked as it was part of the event that gave us the Mate 30 series. As things unfolded since the smartwatch got far wider availability so we decided to test if its two-week battery life claim materializes in real life and what else it has to offer.
Huawei Watch GT 2 specs
Body: 46mm: 45.9 x 45.9 x 10.7 mm, 41g weight 22mm strap; 42mm: 41.8 x 41.8 x 9.4 mm mm, 29g, 5 ATM water resistance; Stainless Steel frame, ceramic back
Display: 46mm: 1.39" OLED, Resolution 454x454, 326 ppi; 42mm: 1.2" OLED, Resolution 390x390, 326 ppi
OS: Huawei Lite OS
Memory: 4 GB storage (2.2 GB user available) - not user accessible
Battery: 46mm: 455mAh (14 days typical use); Magnetic charging base
Connectivity: Bluetooth 5.0 + BLE; GPS+GLONASS; NFC (China-only)
We also wore the Watch GT beside it, to see how much did progress you can expect compared to its predecessor. And yes, we did get strange looks on numerous occassions.
Design
We had the 46 mm version, but there is a 42 mm variant for those who want something less obtrusive on their wrist. The design of the Watch GT 2 is a certain step up over the GT - the bezel is slick and leans outwards without an extra edge. However, Huawei still engraved it with what appears to be a 24-hour scale (which it isn't), and we had a hard time finding a good reason.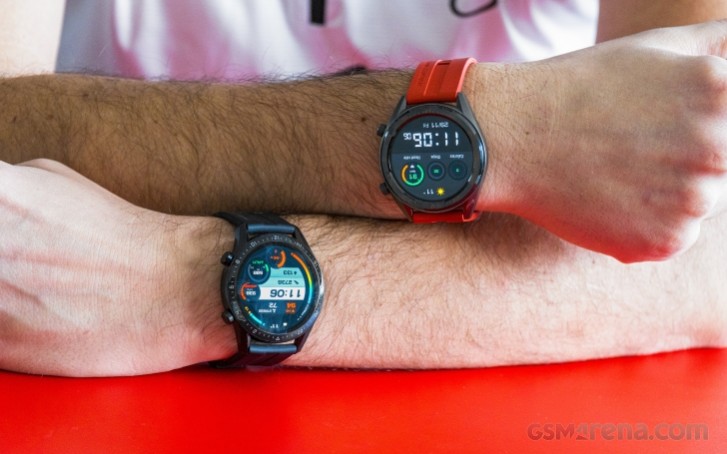 There are two buttons on the side, with the top one giving you instant access to the menu, and the bottom one being programmable - you can set it to invoke the activity tracker by a single press, for example. The 22-mm rubber straps are standard and easily interchangeable, and since we were lucky enough to have an orange pair in the office from the first Watch GT, we could swap them to match the outfit.
Huawei also offers Classic or Elite editions with leather or steel straps for the people that prefer a more formal look. They even have textured crowns, instead of the plain-looking buttons on the Sport, so choose wisely.
Battery Life
The Huawei Watch GT 2 arrives with an in-house Kirin A1 chipset, and that does wonders for the battery life. At first, we couldn't believe that a 455 mAh battery could live for two weeks, so we decided to test it.
The usage involved 24 hours wearing with constant heart rate enabled, sleep tracking and about one and half to two hours per week of running with the GPS on.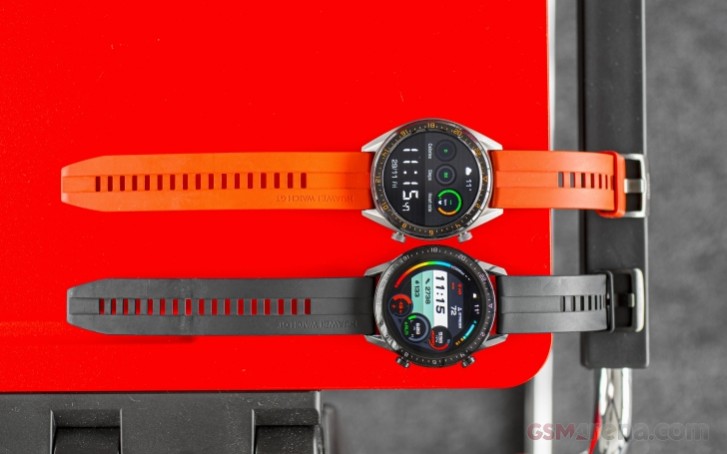 We didn't play music or talk through the Watch GT 2, but we kept the screen Always On feature. In two months Watch GT 2 went onto the charging pad five times, which while not quite what we were promised comes very close.
Speaking of charging, it's somewhat disappointing that you can't charge the Watch GT 2 wirelessly. You have to use the dedicated circular pad that aligns magnetically with the pogo pins on the back.
User Interface
The Huawei Watch GT 2 doesn't just tell the time, it is supposed to be your daily assistant. However, we found the user interface a bit dull and stripped of features compared to other smartwatches.
Don't get us wrong - it has all the key stuff covered - heart rate sensor, activity tracker, it also calculates stress levels and VO2Max, over a dozen sports activities with running courses for good measure. But that's basically where it ends.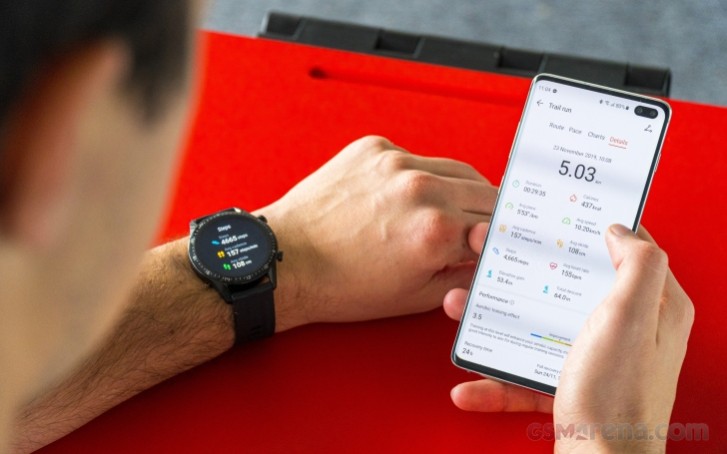 There is no Wi-Fi or LTE capability, meaning you have to link it with the Huawei Health app. It has NFC, but it is limited to China only. It connects instantly with Huawei devices like the Mate 30 Pro smartphone or the Huawei FreeBuds 3, but everything else needs the application for proper initial setup.
When it is finally ready, and it is time to get it personalized, you realize there is a limited set of watch faces - you can't add new ones, and you can't design one yourself.
Our biggest issue, however, is the lack of third-party app support. You can't link your Strava or Garmin account with the Huawei Watch GT 2. You can connect the Health app with the Google Fit app, but once again they don't play nicely.
Huawei Health
So that leaves the in-house application as the software to use when you want a proper read of the collected data. It is easy to work with and with plenty of visual queues. The Health tab offers a customizable home screen where the essential stuff like heart rate and exercise records are available. Then there is an Exercise tab that can start an activity right away, instead of bothering with the touch screen on the Watch GT 2 - make sure you are outside, so the GPS connects instantly.
The devices tab is a list of all wearables you ever linked, and that's your shortcut for personalizing the Watch GT 2. Everything you need is there, starting from a selection of watch faces, all the way to the toggles for continuous heart rate monitoring, automatic stress test, or raise wrist to wake screen.
The fourth tab is your account in a nutshell - all the data, all the achievements, Settings and plenty of virtual medals that you earned through the years of using Huawei gear.
Verdict
Huawei Watch GT 2 is a great looking smartwatch that is made to take you through the week without bothering with charging or over-complicated features that might confuse you. It sits on the wrist, makes an impression, measures everything that needs to be measured and brings your phone's notifications to your wrist.
Pros
Stylish looks with great build quality
Amazing, class-leading battery life
Pricing
Easy to use
Cons
Lack of Wi-Fi or LTE
Limited third-party availability
No NFC or Qi charging
Lack of variery of watch faces
Buttons/crowns rotate without doing anything
It's not the most functional around nor is it the cheapest - Huawei currently offers the Watch GT 2 for €229/£199. Whether or not it's good value greatly depends on your need for advanced features or your liking of the pre-installed watch faces.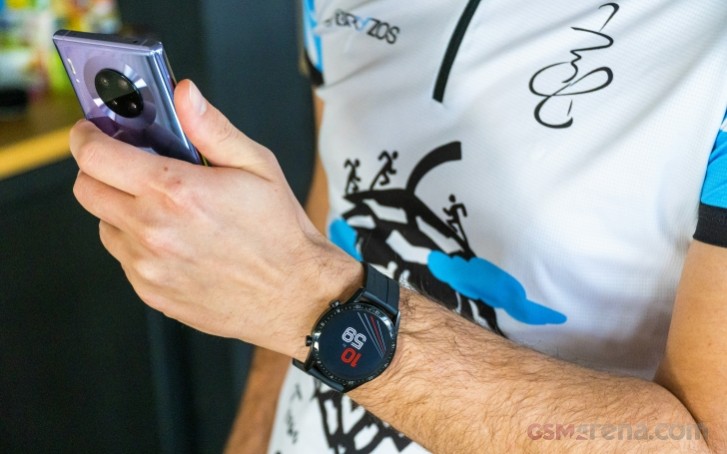 Those who want to a more proper exercise tool to play nicely with Strava or Garmin and their other accessories should probably keep looking. Yet those who like the aesthetics and would only use the core features of the watch without straying far away from Huawei Health will definitely find it a worthy upgrade over the original Watch GT.
F
Your version is 42mm for sure...
A
Works perfectly. Using it for about 3 months and i am very satisfied with it, everything works perfect with Xiaomi mi 9T pro with Huawei Health APP + Health Sync + google fit. Controls music on the phone like it's supposed to do. And also whe...
T
How can I set this up? When phone is ringing, the smart watch only gives option for rejecting /ending the call
ADVERTISEMENTS