In today's tech realm it's no longer enough to just make phones - brands need to have an entire ecosystem where their devices integrate seamlessly and augment each others' functionality. Huawei's "accessory" devices are of even higher importance seeing how the Shenzhen-based company needs to give people more reasons to stick with its platform as it builds up viable alternatives to the Google suite and find alternative revenue streams to make up for its shrinking overseas smartphone sales.
We are now about to review the Huawei Watch GT 2e, initially unveiled back in late March alongside the Huawei P40 flagship family. It is a sportier and more affordable version of the Huawei Watch GT 2, and we spent enough time with the wearable to tell you all about it.
Huawei Watch GT 2e specs
Body: 46mm watchface, 53 x 46.8 x 10.8 mm, 43 g weight (without the strap), 5 ATM water resistance, Metal + Plastic materials
Display: 1.39" OLED, Resolution 454x454, 326 ppi
OS: Huawei Lite OS
Memory: 2GB RAM + 4GB storage (2.2GB user available)
Battery: 455mAh, 5W charging through designated magnetic base
Connectivity: Bluetooth 5.0 + BLE; GPS+GLONASS; NFC (China-only)
The Watch GT 2e is the same as the Watch GT 2 on the inside. The outside is where the changes are, but we'll also be examining how the software progressed since we reviewed the GT 2.
Design
The Huawei Watch GT 2e arrives in only one version - 46mm - and there is no smaller variant. It is quite big on small hands and wrists but is extremely comfortable - the metallic curvatures on the top and bottom, complementing the rubbery straps, add to the aesthetics and looks exactly in place, when on the hand. Instead of using buttons that mimic rotating crowns, Huawei decided to go with plain ones.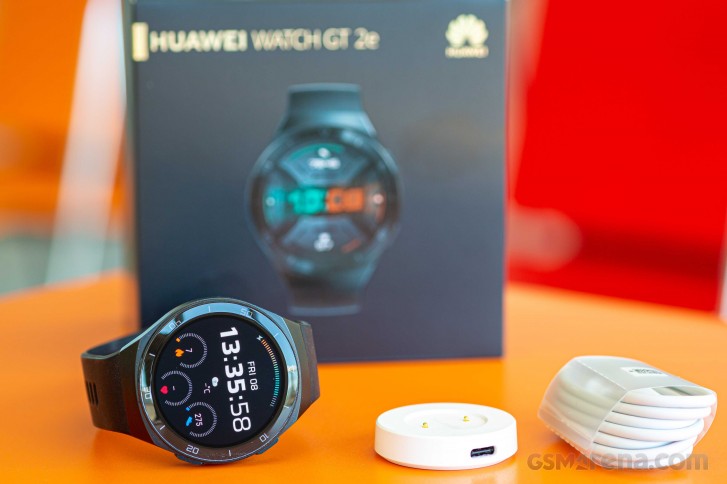 The top button opens the menu, while the bottom one is programmable - we set it up for trail running since there is one running junkie in our office that was willing to test that sporting mode the most. The 22mm standard rubber straps are easily replaceable, but the black ones we had perfectly complemented the black metallic body.
The smartwatch is also offered in White, Green, and Red that give it a bit more flashiness, but in the end, even if it's slightly boring you can't go wrong with the classic black look.
Battery Life
The Kirin A1 SoC was designed specifically for wearables - it is seen in the Watch GT 2 and in the Honor MagicWatch 2 (another smartwatch with identical internals). The chipset's job is to support all the features without wasting too much power, so the watch can go up to two weeks on a single charge.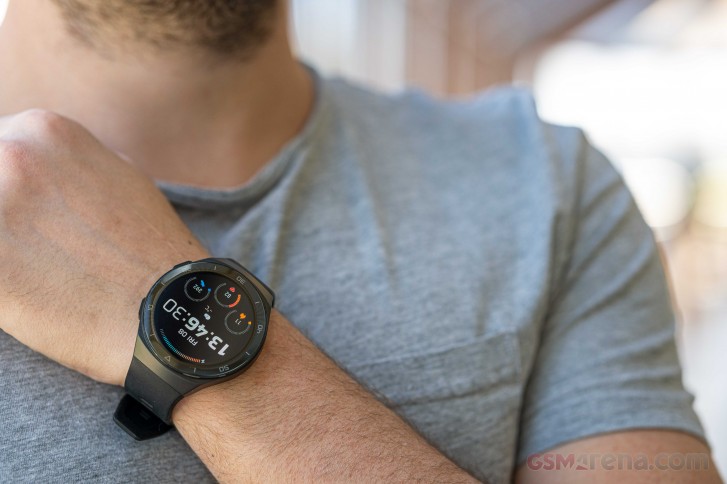 In the multitude of different use cases we tested we managed to achieve the advertised battery life only once - when the Always-On display was turned off, the heart rate sensor was set to Smart, while notifications and alarms were disabled. If you decide to keep the Always-On display, all the heart rate tracking, the Huawei TruSleep feature, the Automatic Stress Test, and the daily alarm or two - then you can expect six to seven days between charges.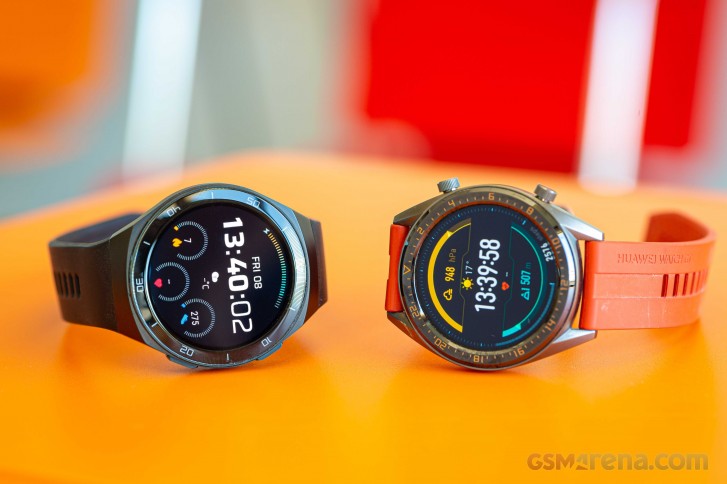 In even more active use, a 30-kilometer run with all the sensors turned on took about half the battery. That's actually impressive considering that the whole experiment lasted more than 6 hours. The GPS did its job and provided real-time data. Compared with smartphone GPS, there was practically no difference in the recorded tracks.
User Interface
Huawei's interface is everything you need from a sports-oriented smartwatch. Yes, it is a bit dull and stripped of features, and you can't export your data. However, it is designed to work in the Huawei ecosystem and it does a great job when we tested it with a Huawei smartphone.
There are heart rate sensors, activity trackers, and with an update arriving after you set up the watch, there is an SpO2 meter that calculates the oxygen in the blood - everything over 95% is healthy. The same sensors also measure the VO2Max where higher readings mean better capacity of the lungs, therefore better endurance.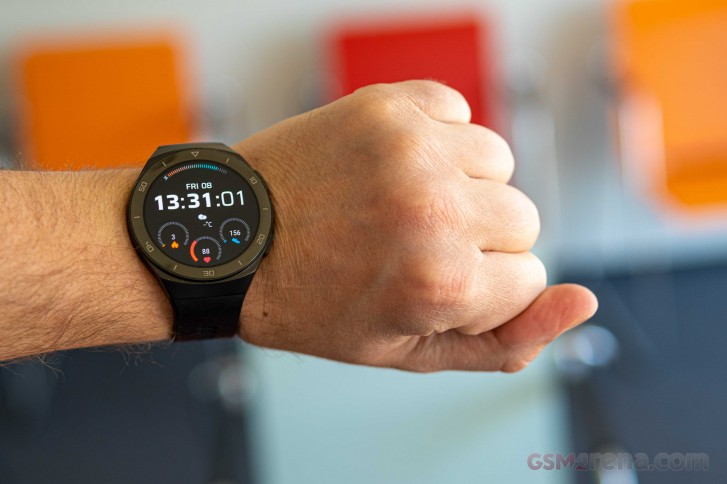 Since the Watch GT 2e is made to be your assistant and not the primary device, it has no Wi-Fi or LTE connectivity. Bluetooth is the only way to go, although you can link earphones for music that can be stored in the watch.
Huawei hasn't fixed the issue with a lack of third-party app support. While Huawei says that this is done mostly to protect your data, we would have appreciated the option to use a different companion app.
Huawei Health
Since there is no support for external sports-related software, all you're left with is Huawei Health. The most important thing to know before purchasing this device is that Huawei does not allow you to simply download the app from Google Play or App Store. In order to run properly, you need to have Huawei's own AppGallery for updates and you have to install the HMS Core unless you're using a Huawei device, where these are all preinstalled.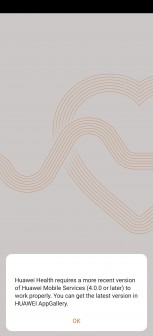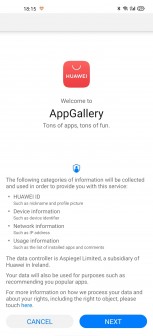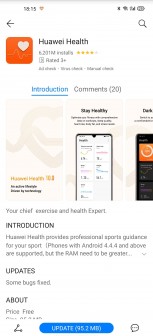 Pre-installing Huawei AppGallery on a non-Huawei phone
If you don't want to download all this stuff, you're left with a smartwatch that can't be used to its full potential. Everything will be stored in the smartwatch's memory, but since you can't link it with Garmin or Strava, you can't export anything.
And this isn't exclusive for the Watch GT 2e - if you want to use any Huawei or Honor wearable, you must go through the whole ordeal, or the app simply won't start.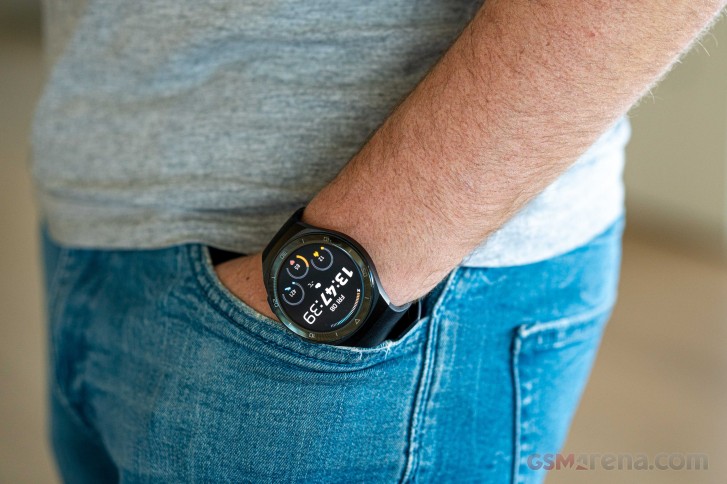 Also, Huawei Health's step tracker cannot be turned off. You can hide it from the Android menu, but it will always count the steps on your phone. On the upside, when the Watch GT 2e (or any other Huawei wearable) is linked, the platform goes through an elaborate algorithm to provide a more accurate step count.
Verdict
The Watch GT 2e is definitely a great smartwatch to have if you are already using a Huawei smartphone or at least willing to give its ecosystem a chance. It is quick, good-looking, easy to navigate - it covers all the essential features.
Having another ecosystem on the phone might be troublesome for a certain group of users, but with so many modern phones arriving with 128GB (or more) internal storage, this is far less of an issue.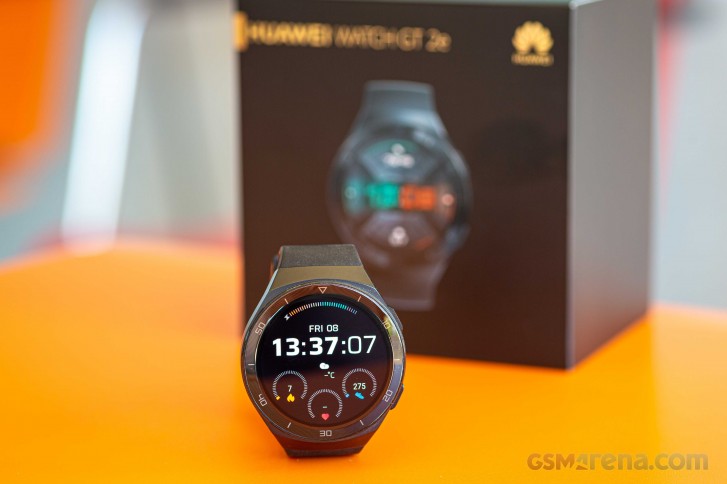 The initial setup is tricky on a non-Huawei phone, but once the process is over and you've spent a day or two with the watch, all the initial anxiety will be over and you'll be glad to have spent just €149 for this amazing-looking Huawei Watch GT 2e, even if it doesn't have a loudspeaker or a microphone.
A
How i reply a call with a message like in huawei band 6
?
No manufacturer will cover for salt water when advertising water resistant for 1m for an hour. Pools only supposedly, but splash resistant realistically.
d
I had it for 2 years, and than it died. The display panel was not glues well and water came in when swimming in the sea, the watch went crazy beeping and vibrating and than died. Pictures attached, I do not know if warranty cover it as 2 years pa...
ADVERTISEMENTS