Huawei will update around 100 Android devices to HarmonyOS, the first batch gets it today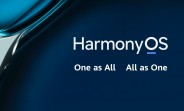 Huawei unveiled the second major version of HarmonyOS and several new devices that have it pre-installed – but those are two watches and two tablets, no phones. And yet as of today there are phones that can run the new OS.
It's a massive migration, the company plans to switch around 100 devices (phones and tablets) from Android over to HarmonyOS 2.0. Note that this will initially only be happening only in China, so Huawei owners in the West will have to wait – in fact, the company made no mention of when devices abroad will switch to the new OS.
At least doing a China-only rollout simplifies the question of what happens with apps that require the Google Play Services (the list includes some fairly old devices, from before Huawei was cut off). Those units sold in China never had Google services in the first place, so it's not an issue.
Here are the first two batches of devices that will be updated - the first can make the jump today, the second will be invited in Q3 (July-September).
HarmonyOS update schedule for current Huawei devices running Android (in China)
June 2
Q3 2021
First in line are recent flagship models, their users can sign up to receive HarmonyOS 2.0 starting today (using the My Huawei and Huawei Club apps). Well, not that recent, the Mate 30 series is on the list and that one came out in 2019. The P40 and Mate 40 series can also get it today, as can the original MatePad Pro.
Then in Q3 the older Huawei Mate 20 models, as well as the nova 6, 7 and 8 series, plus the non-Pro MatePad will get invited to the Harmony party. Note that when Huawei says "Mate 20 series" or similar, it means "except the Lite models".
Next up in Q4 a number of V and S series will be updated, as well as older flagships like the P30 Pro, the Mate 20 X models and several M6 tablets and more.
It doesn't end here – in the first half of next year some very old models including the Huawei P10 series (2017), Mate 10 series (also 2017), P20 and Mate 20 devices too. The oldest devices on the list are probably the Mate 9 duo from as far back as 2016.
Here is the full schedule, you will have to zoom in for a closer look as there are a lot of devices.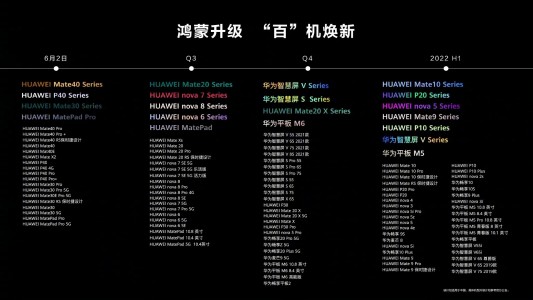 The full schedule of Android phones and tablets that will get a HarmonyOS update
By the way, users who are not comfortable installing the software on their own can visit one of 66 stores in China and have someone help them through the process.
z
I am using P40 Pro Plus. Awesome photography. However, I have been bored using Harmony OS. Most of the apps do not run. I planned to sale it.
?
If you wanna use Huawei, you have to let go Google, or else don't use Huawei if your are gonna find GMS anyways.
S
plz reply me . Can I huwawi Y7a convert to harmony os
ADVERTISEMENT