T-Mobile is preparing to launch an entry-level droid called Prism. It's manufactured by Huawei and will launch on May 6.
The Prism packs a 600MHz processor, a 3.5-inch HVGA display, a 3 megapixel snapper and a microSD card slot with a 2GB pre-installed card. The phone is Wi-Fi-enabled and will support 3G with HSDPA.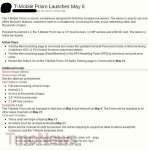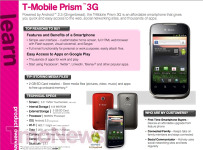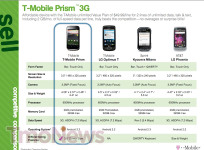 T-Mobile Prism leaked documents
The rumored launch price for the Prism is $50 on a T-Mobile contract.
?
very true. ima be asleep also. wake me up when either the nexus, or iphone comes to tmo.
?
"OH wait a minute is this 600 MHZ CPU and runs Android very well while WP only 1000 MHZ! So which OS is power hunger now Nokia/WP?" Run well? show me a video. Lumia 610 is 256MB ram and 800Mhz and it's more fluid than any highend An...
B
Yawn. Wake me when T-Mobile has something interesting to offer...looks like I'll be asleep for a while (unless they announce the Galaxy Note on Thursday). 9 years and counting since I bought a T-Mobile branded phone (SE T610)
ADVERTISEMENTS