Huawei's Harmony OS is coming to Europe on the Honor Vision smart TV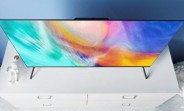 Huawei's in-house Harmony OS and all its cross-platform prowess and "Android alternative" perceived reputation will be coming to Europe. Just not on a phone. In fact, Vincent Pang, Huawei Senior VP already made it pretty clear that Harmony OS won't be coming to a smartphone this year at all. So, TV's and potentially smart wearables running the platform is all we can hope for in the immediate future. Remember, Harmony OS is a huge and timely undertaking. Plus, one that will arguably fair better in the current tech climate if it lays low for a bit, so to say.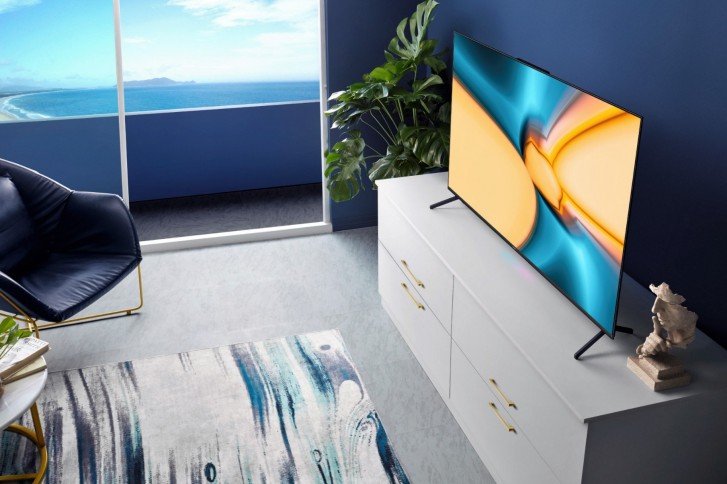 Still, beyond Harmony OS itself and the various smartphone prospects it may or may not hold, there is the Honor Vision smart TV itself to look forward to on The Old Continent - a pretty impressive piece of kit. More important still, a potential trendsetter for a new wave of increasingly more "smartphone-like" TV's as feature-rich hubs for a connected home.
As a quick reminder, the Honor Vision TV comes in a vanilla and a Pro flavour. The difference between the two being the smart retractable camera on the Pro, six 10W speakers, instead of four and different internal storage - 16GB and 32GB, respectively. Both feature 4K Quantum Dot (VA) panels, courtesy of Samsung. Initially, European markets will be able to choose between a 65-inch and a 75-inch variant, with 55-inch and 85-inch ones coming later.
At the heart of the Honor Vision TV lies an octa-core Honghu 818, with some smartphone-level performance figures to boast, as well as advanced image processing technologies including Motion Estimate and Motion Compensation (MEMC), High Dynamic Range Imaging (HDR), Super-Resolution (SR), Noise Reduction (NR), Dynamic Contrast Improvement (DCI), Auto Color Management (ACM) and Local Dimming (LD). Also on board is the HiSilicon Hi1103 chipset, which 2.4GHz, 5Hz dual-band and 160MHz bandwidth support for peek download rates up to 1.7Gbps. A lot more than what you would typically find on a smart TV.
The Vision TV even gets a dedicated HiSilicon Hi3516DV300 NPU for its built-in camera, enabling some interesting Ai capture features, mostly to be leveraged for video calls. Thanks to Harmony OS and HiLink, the Vision TV can also act as a central hub for your IoT connected home.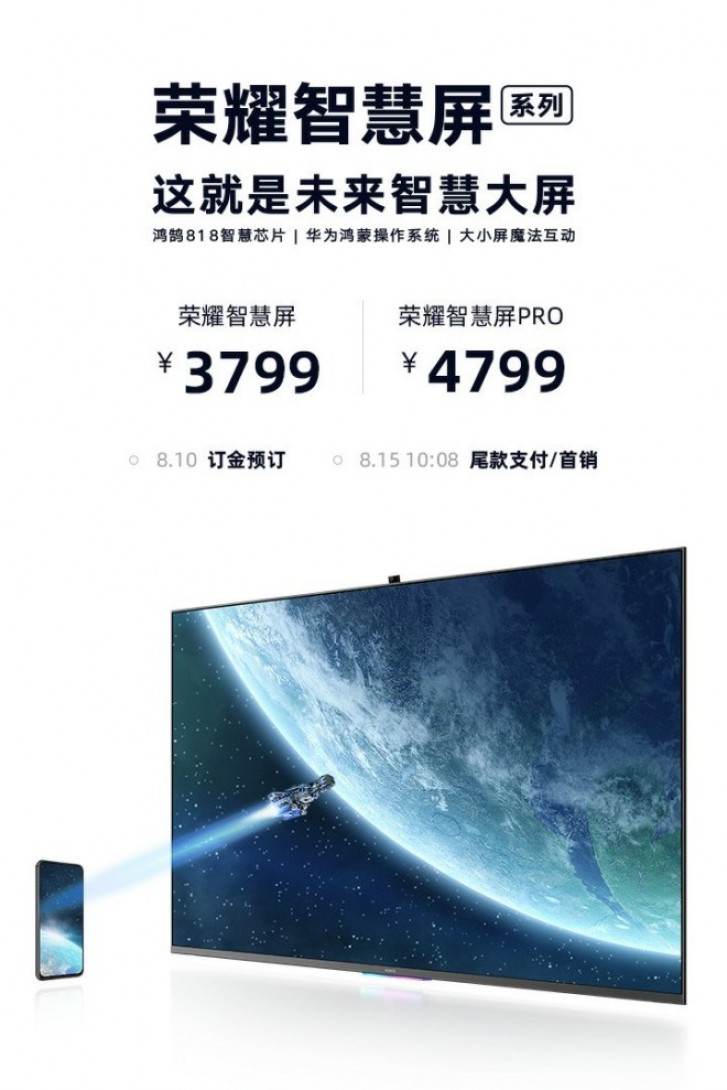 There is no real info on pricing or a time frame for Europe availability yet. It also remains to be seen whether both the Pro and the regular models will be entering the market. Perhaps more important still from a service standpoint, Huawei or rather Honor, in this case, needs to clarify its plans and intentions and potentially capabilities for various Western-friendly service integrations into Harmony OS. In the wake of the whole US and Google fiasco, software services really can't be taken for granted.
?
It seems you have been watching a lot of Agent American/EU Movies my friend. Well, do you think Chinese Government isn't doing it either? How can they counter terrorism if they don't have the means to get them with this evolving technology, and hey ...
M
The reason Microsoft failed hard is not because of lacking apps in their store, but because their Windows Phone UI (Metro tiles UI) was absolutely BRAINDEAD, and no even remotely sane person wanted to use it. Microsoft has never even remotely ca...
D
First of all, I was talking about bringing Chinese cars only. Generally I buy Chinese brands too.. Then may I ask you if you live in E.U.? If not, then O. K. you don't care and that's what I didn't know. If you do, then you must understand 1) what ...
ADVERTISEMENTS