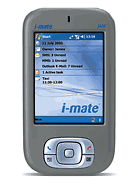 a
is cool and great features. However I think the size is still too big and the battery keep falling out when the device dropped cause all data lost.I discover a new device will be launch in Q4 2005 which is dallab brand are the smallest pocket pc.i will wait
to see this new heat....
j
imate jam black is excellent,it kills imate jam silver and o2 mini.i have been using this cool looking pda for a week now,no problems with anything,my navigation system works so well.128 mb ram memory helps a lot and makes much more faster.
i will not change my device unless imate makes another black with 2 or more mp camera or built in gps or does something very cool.
i am very happy with imate jam black :)
T
Apart from the cost of the handset of a Jam black or K-Jam, why would one choose one above the other ? I want to purchase one for using email (inbox & calendar) when out of the office - utilising GPRS for synchronisation. I am looking at a Cellular SP contract in South Africa to reduce the cost of the handset. Ant comments from owners of either type or perhaps the Jasjar ?
Thanks in advance.
s
Hi to all of u thanks to imate 4 making a very good pocket pc its really great..but i do have i question in my mind which is tht till how much imate JAM (black) does support memory i mean to say it can support 1 or 2 GB if does then it will be the best phones ever please let me know about this problem thanks
r
microsoft doesn't make phones.
btw which is usually cheaper
qtek or imate?
since they both have identical products

C
i have read much about the 1st jam. I hope jam-black will be much perfect than the 1st, as it has 128 RAM/ROM. I'll get rid of my current mobile and buy jam-black this month.
h
This phone is very dangerous. Making a call whilst driving takes about 2 mins to find the number and by that time you have already totaled your car. The Blackberry's and Sony P910 are alot more user friendly and provide all the functions of this phone. I took it back 3 hours after I bought it as it was so unfriendly to use.
k
i buy a jam-black yesterday (in iran)
i say thank to Microsoft for good mobiles
P
Why exactly does this phone go under so many names? The guys at ImportGSM.com list it under a lot of different names - they said that there are different manufacturers for the exact same phone, hence, different names. Still a sick phone, but why doesn't iMate get their naming right? ;)
R
Simply Outstanding pda phone.
Thousnads of 3rd party softwares.
It has never freezed.

A must for everyone

A
Everything is great about JAM series (i don't need wifi and life without keyboard is just fine). My major concern is that the pictures and video of my imate PocketPC (which is rated at VGA) comes out better than the JAM pictures & videos (which is rated at 1.3MP). This is especially true when taking pictures & video in-doors.
Does anyone else have seen this problem? Can anyone tell me if this has been fixed in imate JAM Black and/or K Jam? Thanks.
o
hey .. about wifi it support sd card with wifi .. u can buy it from ebay ..
Total of 155 user reviews and opinions for i-mate JAM Black.