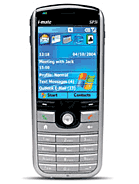 W
I bought this phone yesterday from businessmobiles@yahoo.co.uk for £179 on pay as you go. its the damn cuttest phone ive ever seen, small too and really powerful. i can use programs that are designed for pocket pcs and its fast too, 200mhz processor. the good part is they threw in a free 128mb card for storage. long live mp3's
?
whats the maximum amount of memory that this can take ?
V
I think its the best phone available as of today, beat the shit out of the Nokia's & Se's...what SE started doing to Nokia HTC/Imate/O2 will finish it, by giving beter products at cheaper rates...way to go HTC...
g
nice phone,
no flash thus, i wonder how windoz work on this set ...if it's like xp...then forget about it
Total of 146 user reviews and opinions for i-mate SP3i.