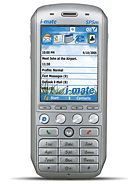 g
hi everyone whoever reads,
I got this phone and earlier i used I-mate smartphone2 you belive me the phone is excellent the performance is excellent i tried all connecting through ir,bluetooth,Wi-fi and even syncronise nicely wiht my PC ,but some difficulties faced is that i cant blew the wallpapers and select the required portion,it doesn't have sim manager , earlier the club imate support use to be very good but for the past few weeks nobody is picking up my queries. Rest is fine .ok bye for the momment.
E
Hi all,
I am a new user of SP5m (since yesterday...) and it works fine: Windows Mobile 5.0 is great, and wifi in my terminal...there are no words... I have WPA security in my home and it works without any trouble.
F
HELLO SP5M USERS!!!!

kindly tell me hows the navigation / joystic in this phone. is it easy to navigate? thanksss.
?
One question about the WiFi: Does it support WPA authentication or just WEP authentication?
J
The Orange-branded version, aka Orange SPV C600, will be the same but without WiFi, from what I have read.

One question: this phone having Bluetooth 1.1 instead of 1.2... will this affect using a bluetooth headset to a noticeable degree?

Also, is there much difference between 1.3 and 2 megapixels in terms of picture quality?
S
Umm Guys, I just nipped to Dubai last week and found it there without even looking!! Liked it, Bought it & now enjoying it.
Someone asked about the speaker and it is fantastic (I say this coming from a K750) which had a very poor ear piece!!
Screen is really nice!! So bright and easy to read! and the new Windows software is a breaze, much better than the iMate SP3. The phone it self does feel heavy (Heavier than the K750) but still more solid and quality than anything. Speaker phone is really nice & loud and it def has WiFi. Was connecting to every hot spot in Dubai only to find them requiring a Log in name and pass word!!
Anyways, Price there (Dubai) was 1,899 Dirhams which is about 280 pounds!!
Hope this helps!!
A
The features are excelant , but I want some one talk about the performance and the speaker is it clear or not ? Can you hear the caller very good or not !!!
any problems such as hanging ?Q?Q? what about the attachments in e-mails ?
catagories in contacts ?
L
How i can install a Certificate on iMate5m, i tried but tells that the security does't allow to proceed, can any one help? I need this certificate to access Exchange 2003 Mobile Services by Activesync.
h
hye cooooooooooool phone not heavy above average battery v.good design will not be so expensive
vv.good cammmmmmmmmm
Total of 151 user reviews and opinions for i-mate SP5m.