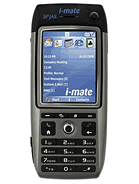 k
does anyone know that does this spjas have wireless internet connection.in the web site it writes not but i cant believe a windiws mobile 5.0 phone without wireless
k
Hi can any one tell me if you could skype on this phone or not & if sow how????
a
Is a stylish, slim-line, candy bar device. But!!
Is there anyone till me how it's receptions?


s
is anybody using the push e-mail feature of this phone. does this have MS - Outlook sync feature? please let me know if saomeone has this knowledge.
n
I did an extensive research before i buy my third WM smartphone, and i have to admit that after using it for 2 months now, this is the best and the fastest WM i have ever owned. Very Stylish, very reliable, fast and the build quality is amazing. I recommend this phone to anyone who wants to buy a WM phone.
j
I brought this last week,Good smart phone I like it, Exchange Push technology works great.. but the problem i can't make mp3 songs as ring tones... didn't tried the 3G technology i don't know where to make the change in that ... if any one knows this please post it
N
BEST CHOICE
to have a smartphone withe a windows platform that supports 3G technoligy is really something.
very handy, neat, and attractive.
just go for it , and you will never be sorry.
S
I just got myself the Asian version of this phone - Dopod 595. This phone is a marvel considering it's sleek size! The 2.2" display is much sharper than that of a Nokia N73. Alluminium-alloy casing. Supports 3.5G networks. The only problem is that some simple yet important features are missing with this SmartPhone edition of Windows Mobile...like creating SMS folders, and 'select all' of contacts or anything else. But I think it's way more stable than a Symbian phone :-)
S
The I-mate's best offer a new very smart complete and unique set SPJAS is still not available here, I have asked so many shops but it is yet to be launched by next week with an expected price of US$ 590 - 615 which would be an introductry price and the fall in price always depends on the demand of the phone, it is first phone of its kind here to be lauched so I hope that people would definitely like this phone because jamin,jasjar,jasjam some are heavier and large in size, it has 300 MHz processor a camera with 1.3 mp expected to produce best results , all the friends who have seen this much awaited (here) phone may please sned their opinion, how its looks like, Thank you
S
Hi All,

This is the best smartphone in the world, it is announced with JASJAM but SPJAS shall get the most of the market share of JASJAM.Windows media player is best for all videos with an enhanced memory card, really love to buy selling my Nokia N80 which I have used for a month. CAn any one tell me about SPJAS if he or she using this smart phone.
B
Just picked up one of these hush-puppies last week, what can I say.. IMAZING i could not believe the sound quality and the 1.3MP camera is more like 5.5MP !!! serious you have to check it out. A must for any true phone expert that needs satisfying.. dont miss out
Total of 73 user reviews and opinions for i-mate SPJAS.