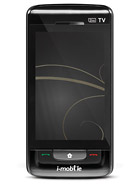 m
Anonymous, 20 Jul 2009I think that this phone is good enough for a price around 10 - 20 $yes
f
dude that mobile looks so owsome the only thing its features are pathetic
?
Anonymous, 16 Jul 2009eww QVGA resolution for 3 inch screen? FAILI think that this phone is good enough for a price around 10 - 20 $
?
First.

Wait, no, I'm a big fat loser like the first two "firsts" down the bottom.

Get a life guys.

On topic, this phone looks sweeeeeet
Total of 29 user reviews and opinions for i-mobile TV650 Touch.