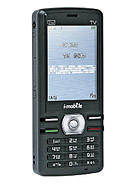 a
i have proved the excellency of this cellphone, but i am still not be able to get the place to find the spare-parts in yogyakarta-indonesia
m
I had this phone. it's great phone with great sound and my son drop it lot of times but it's still working good. also my son broke down TV antenna so i can't watch TV and FM. finally this phone good like as rock.
s
Indeed strong cellphone, dropped it several times and still alive... about TV... in Asia very good but in Belgium no reception... and dual sim doesn't work either. Maybe I have to change settings... but I don't know much about all this stuff... Any suggestions are welcome on sammypla@hotmail.com THANKS in advance.
e
it was the best handset ever
it has yamaha sound built in
clear tv
micro sd up to more than 2gb
quality great..i drop it several times
but i lost it..i miss yu
K
Its a great good mobile phone. but battery charge some low. others side very very nice. this is best phone.
a
it read my sim, added my contacts, tv works great, still playing, will keep updated
k
This phone can support up to 16gb and i have tried it. Sound fantastic even better than nokia or sony ericsson
r
man, 09 Jun 2009if this phone got java.. it will fantastic..but it's not java supported
T_T
A
I can't get contacts from the microSD, and the SIM card doesn't hold all the contacts from my other phone. Lots of manual editing required unless there's software to support importing contacts from the PC!
m
why don,t they make this phone support java? for muslim user some of them use pray time to conduct them to perform solat.
Total of 15 user reviews and opinions for i-mobile TV 533.