Due to a fundamentally flawed system the patent have become a synonym for trolling and suffocating innovation. Yet sometimes they also indicate a forward-driving spirit and amount of innovative ideas. The patent data experts from IFI CLAIMS published a Top 10 list of tech companies who filed most patents last year.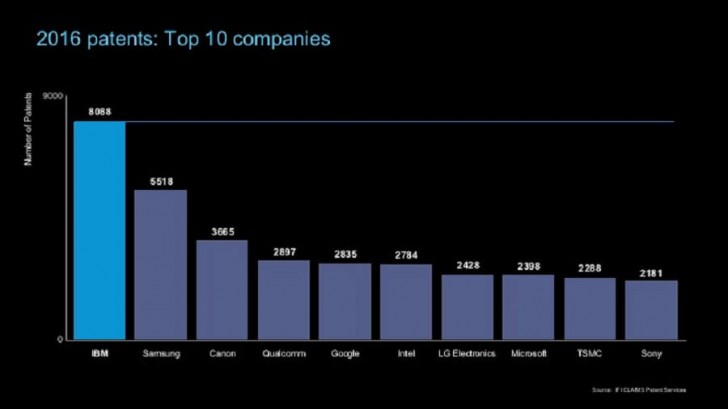 As you can see from the graph IBM is on top with huge lead ahead of Samsung. If we put it in perspective, IBM filed 22 patents a day, while the Korean company had 15/day. Following is a closely packed group featuring Qualcomm, Google and Intel with almost 8 patents per day while LG, Microsoft, TSMC and Sony are completing the top 10 with 5-6/day. Industry profit leader Apple didn't make it to the list.
There's an explanation for having so many patents. Companies don't always put all this technology in action in their devices - they just want to make sure that no-one uses an idea they came up with first. And, of course, this graph shows us all patents, which stretch far beyond mobile divisions.
h
We're talking dates here, which are perfectly accurate. And if ever in doubt, just follow the citations at the bottom or in rackets...
B
History tells us that Microsoft's founder, Bill Gates once worked for Apple under the leadership of Steve Jobs. However, after Gates and Jobs disagreed on whether Apple should lease OSs to PC manufacurers or have MacOS be proprietary to Apple compute...
D
I personally believe it will be the POTY but anything can happen, I'm still willing to bet all my chips though.