Screenshots of Ice Cream Sandwich, Google's next mobile operating system have been leaked, thanks to RootzWiki and Android Police, who received a couple each. Both the sources guarantee the authenticity of the images and any resemblance to older version of Android has been put down to the fact that it is still a work in progress.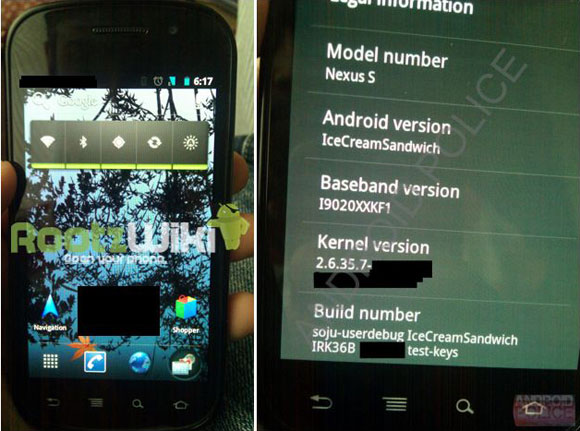 As you can see from the homescreen image above, both the notification tray and the dock have been revamped. The color scheme in Ice Cream Sandwich is teal instead of the radioactive green color seen in Gingerbread and dark blue in Honeycomb. The new dock is now clear and features four icons by default. The application drawer has been pushed to the left and on the extreme right we can see what appears to be a stack of icons. You can also see a honeycomb-style Google search option in the top left of the display. The wallpaper and the power widget are both from the previous version of Android.
In the second screenshot, we can see that the Android version is simply listed as "IceCreamSandwich" instead of a number, which suggests Google still hasn't made up their mind regarding that. One thing that struck as odd to us is that on the Nexus S running Gingerbread, everything below the "Legal Information" option in the About phone menu is grayed out but that's not the case in this screenshot.
Other changes that have been found (not pictures here) are:
Updated icons for some apps (they are mostly blue now)
Panorama mode in camera
Redesigned Gmail app
Application tray now lets you switch between apps and widgets
Revamped notification tray
Since most of the changes are cosmetic, the OS is expected to run on year-old Android devices as well. The Nexus S will be getting the update but the "Nexus Prime" will be getting it first.
You can check out the other two screenshots in the source links below and do let us know what you think about these images.
J
Understand about android ice cream sandwich http://technologyinmyveins.blogspot.com/2011/10/android-4-ice-cream-sandwich-what-u.html
D
Hoping To get Icecream Sandwich update on My Galxy S2.
K
well, the iOS and android has a different positioning strategy, so it's just normal that android looks more comical and iOS looks more clean.
ADVERTISEMENTS