In its latest report, market research firm IDC has revealed its numbers on the smartphone landscape in 2016. According to the firm, Android's market share for this year will stand at 85%, after achieving an year-on-year growth of 5.2%. iOS, on the other hand, will claim 14.3% of the market, having seen its shipments decrease by 11%.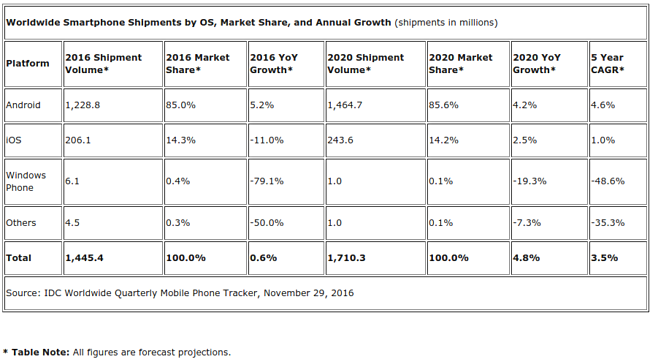 In total, Google's and Apple's mobile operating systems will claim over 99% of the market, leaving just 0.4% share for Windows Phone and 0.3% for others. The combined share for Android and iOS will reach nearly 100% by 2020, the report notes.
"It is no secret that Google's Android OS has been and will remain the majority share platform in smartphones for the foreseeable future," the report says. "It will also be at the core of the aforementioned 4G growth expected in emerging markets as low-cost Android players are not using newer, faster low-cost chips."
"All signs point to 2016 being the first full year of declining shipments for Apple's iPhone. The iPhone 7 and 7 Plus have done well, but three quarters of year-over-year declines, as well as a projected fourth quarter decline by IDC, will account for negative growth. By no means is this doomsday for Apple in this category and 2017 marks the tenth year of iPhone, so it is hard to believe Apple doesn't have something big up its sleeve."
The report also reveals that shipments of 4G smartphones is all set to hit the 1 billion mark this year. For more information, head to the Source link below.
3
Speaking of which, full fledged Windows' coming to the phone (x86 emulation on ARM) Go check out demos. Way smoother than I expected (even runs PC version PhotoShop)..this is going to be a huge deal. Even Android users might consider buying one of ...
S
2016 yoy Apple dropped 11% so as Android shared is Increasing it gained 5.2%. If Apple have 90% of the total profit by selling only 1 in every 7 phones clearly those it is those loyal fans who are repeat customers and DON'T mind adding to the A...
D
You must be really naive if you believe Apple doesn't do the same thing as all the other silicon valley giants.