Apple retained its position as the world's No.1 tablet vendor for the last quarter, although year-on-year sales saw a 24.8% decline, according to latest data from market research firm IDC. The Cupertino-based company shipped a total of 16.1 million tablets in Q4 2015, down from 21.4 million units shipped in the same quarter of 2014.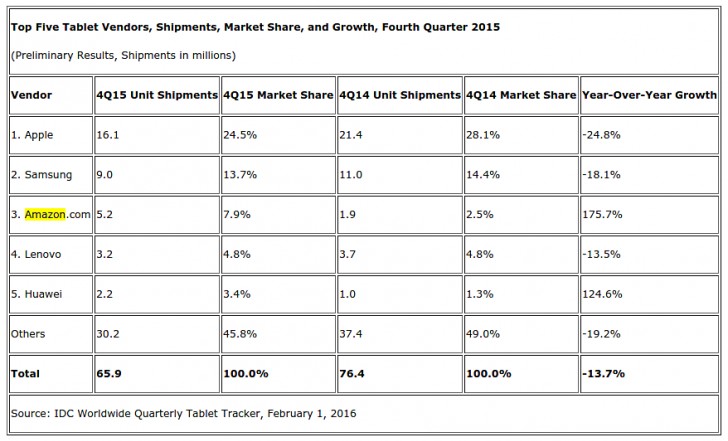 Samsung came in second with 9 million units shipped, down from 11 million units the company shipped in Q4 2014, which is an 18.1% decline. The South Korean company's market share stood at 13.7%, compared to 24.5% share of the market Apple claimed.
Amazon, Lenovo, and Huawei rounded up the top five with 7.9%, 4.8%, and 3.4% market shares, respectively. What's worth noticing here is the Amazon's annual growth of 175.7%, something the report attributed to the company's latest Kindle iteration, which it said was a runaway hit this holiday season.
Talking about 2015 as a whole, while Apple and Samsung retained the top two spots with 24% and 16.2% market share, respectively, Lenovo climbed to the third spot with 5.4% share. Asus and Huawei rounded up the top five 3.4% and 3.1% of the market, respectively.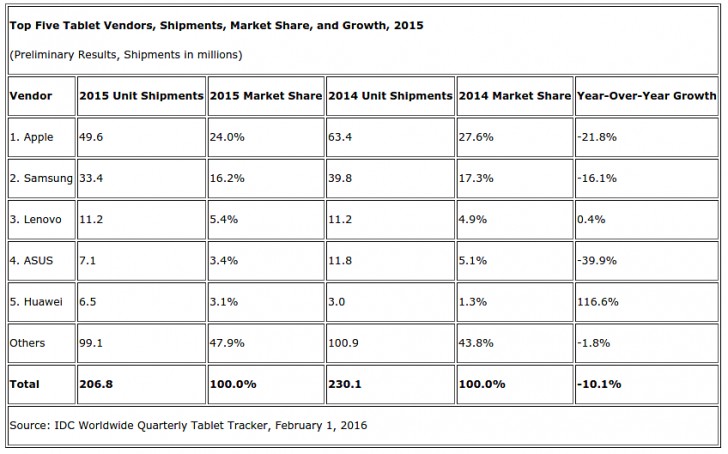 Overall, the worldwide tablet market - which includes slate tablets as well as detachable tablets - continued to decline, with a negative year-on-year growth of 13.7%. However, separately, the market for detachable tablets was up, with shipments reaching an all-time high of 8.1 million devices.
"This quarter was unique as we had new detachables in the market from all three of the major platform players," said IDC's Senior Research Analyst Jitesh Ubrani. "Despite lukewarm reviews, the iPad Pro was the clear winner this season as it was the top selling detachable, surpassing notable entries from Microsoft and other PC vendors."

"It's also important to note that the transition towards detachable tablets has presented positive opportunities for both Apple and Microsoft. However, Google's recent foray into this space has been rather lackluster as the Android platform will require a lot more refinement to achieve any measurable success."

"One of the biggest reasons why detachables are growing so fast is because end users are seeing those devices as PC replacements," said Jean Philippe Bouchard, Research Director, Tablets at IDC.

"We believe Apple sold just over two million iPad Pros while Microsoft sold around 1.6 million Surface devices, a majority of which were Surface Pro and not the more affordable Surface 3. With these results, it's clear that price is not the most important feature considered when acquiring a detachable – performance is."
B
Because it is a Personal Computer not a tablet. Can you even tell the difference ? Playing games is not the point. It is what you can do on it VS what you cannot do on it. What can you do on a iPad ? What ? Everything that a decent smartphone can...
?
Why would anyone buy a Surface Pro and play games on it LOL.
K
That guy just another apple Troll coming here and Trolling about Surface Pro 4. May be that guy not even use Windows in his Entire life.