The latest predictions from analysts IDC concerns the global smartphone shipments and they sound properly grim. Total shipments for 2020 are expected to reach 1.2 billion units which would be an 11.9% decline compared to 2019. The new estimate is based on the Q1 shipment results which saw the largest decline in smartphone sales in the history of IDC's Worldwide Quarterly Mobile Phone Tracker at -14.5%.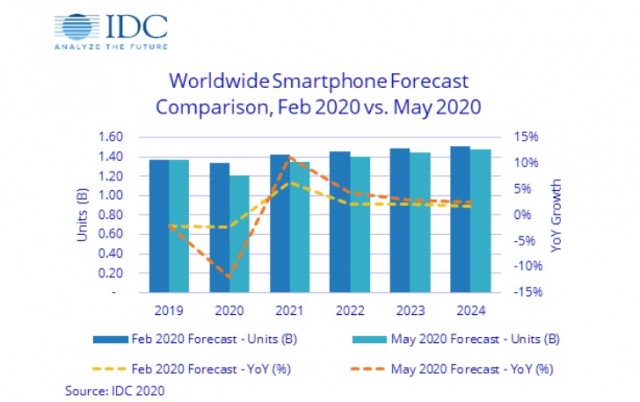 Looking at the first half of 2020, IDC predicts an 18.2% decline in shipments due to lowered consumer spending. According to IDC's Sangeetika Srivastava, the main issue now is a lack of demand on behalf of consumers.
On a more regional basis, the new report suggests that China will see a single-digit decline in shipments for the current year as COVID-19 restrictions have been lifted and demand is slowly recovering. The situation in Europe is more difficult as countries like Italy and Spain are still actively fighting the pandemic.
In the long-term, IDC expects the market to recover in 2021 fueled by demand for 5G phones. Further forecasts suggest a return to 10% yearly growth in shipments and a spiral down to the 5% range in the following years.
?
Well, Tim Cook was begging early this year for people to buy his Iphones, especially the new upcoming ones. Too bad they got looted and now disabled by Apple so they will now end in third party repairs as spare parts.
T
12% seems too little. More like 20-30% (maybe even 50%) considering the fact that this year is going to be a recession year.
C
Because is china rom release early but global rom very late to release why not release at same time china rom and global rom mybe can gain profit sme time