IDC: Google shipped 3.9 million Pixels in 2017, Essential Phone sales under 90,000
During its earnings call earlier this month, Google revealed that its device shipments doubled in 2017 compared to 2016, but as usual the company didn't give us any hard numbers. Thankfully, that hasn't stopped IDC, one of the big analyst houses, from releasing its estimates.
According to Francisco Jeronimo, IDC's Research Director, Google shipped 3.9 million Pixels last year. The analyst also confirms Google's own report saying that shipments have indeed doubled.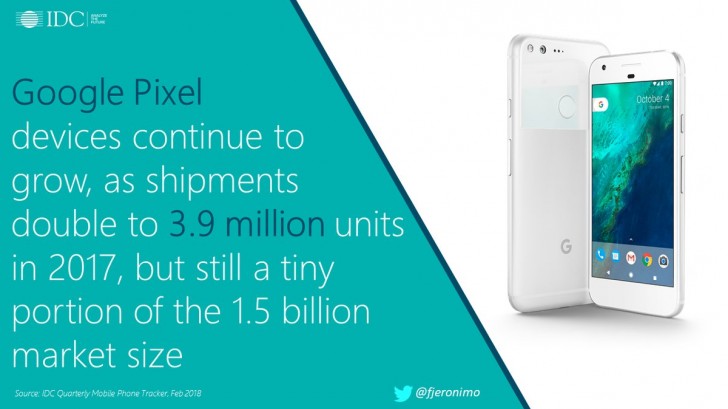 That said, Google is still very far from being anywhere near a market leader in this regard. Given that its distribution strategy for the Pixels blatantly ignores most of the world, we'd say the company is adamant about taking things slow in this hardware project.
Compared to Essential Phone shipments, Google's seem huge, however. Andy Rubin's name recognition can only apparently take you as far as 88,000 units shipped in 2017, according to the same source.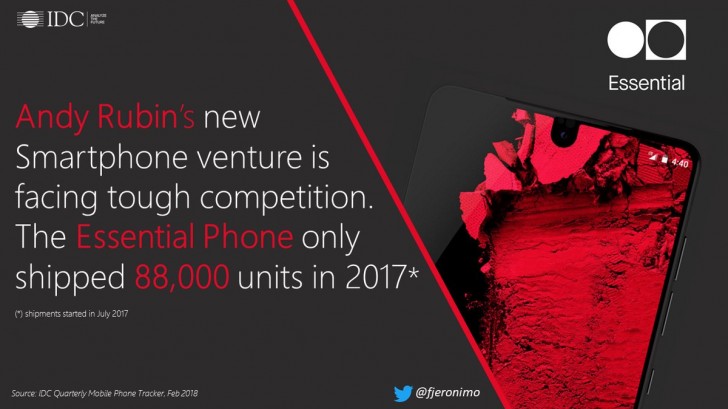 That's definitely nothing worth celebrating, but it helps to remember that Essential is basically a startup in this world and the PH-1 was its first product. Not only that, but it had its fair share of issues, which surely didn't help in the sales department. Hopefully its next effort will do better than this, though. Otherwise we're not sure Essential is going to be around in a few years.
s
Half of these shipments must be repeat orders replacing the buggy phones .. lmao .. they would have hardly sold 1 million units
ADVERTISEMENTS