In line with its prediction from November last year, IDC announced that more than a billion smartphones were shipped during 2013. According to the global market intelligence provider, smartphone vendors dispatched 1,004.2 million units worldwide last year – up 38.4% from 2012.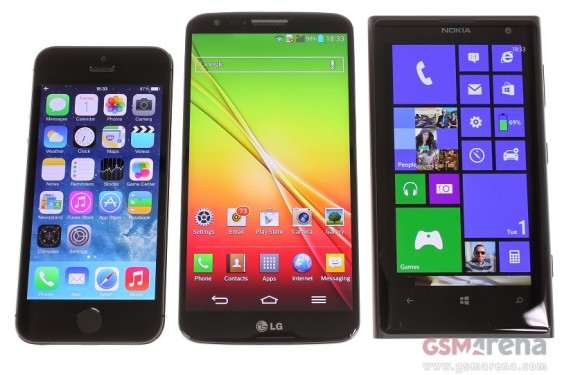 Demand for large-screen and low-cost smartphones were among the leading forces behind the staggering growth of the segment. Cheap devices were pointed as the key difference maker – they made huge part of the shipments in large markets such as India and China.
Samsung retained its double-digit leadership position among the smartphone vendors. Thanks to strong demand for its high-end models, as well as a wide selection of mid and low-tier devices, the Korean giant shipped 313.9 million units for a market share of 31.3%. However, IDC data shows that the company lost ground in Q4 last year to its rivals.
Apple came in as the second largest vendor, hot on the heels of its record-breaking fiscal Q1. Expansion of markets and healthy interest towards the latest iPhone lineup led the Cupertino giant to a 2013 market share of 15.3% with 153.4 million units shipped. The company had the lowest year-over-year increase among the vendors, but its official arrival on China Mobile gives it plenty of room for growth in 2014.
Huawei and Lenovo are ranked third and fourth respectively among the vendors. Huawei achieved the biggest increase on an annual basis, while Lenovo finished fourth despite its lack of presence in key markets such as North America and Western Europe.
LG took fifth place, barely edging ZTE on its way there. Thanks to a dramatically improved product portfolio, the Korean company posted growth rate which beat the market.
Overall, the market for mobile phones (including smartphones and feature phones) grew by 4.8% on its way to over 1.82 billion units.
X
Quantity doesn't matter for quality and innovative creators.
D
Sony is not sinking. they are in a steady position. They only require to upgrade their products. Same goes for LG.
D
Samsung will lose market in 2014( in spite of the release of galaxy S5). Nokia & LG will beat the market in growth rate. apple will also ship more smartphone based on their new lines of smartphones. I am a expert on market research & my calcu...