IDC Q1 2016: Oppo and vivo replace Lenovo and Xiaomi in top-5 smartphone vendors list
Well known Chinese smartphone manufacturers Lenovo and Xiaomi are out of the top five vendors list, and have been replaced by two other - and comparatively lesser known - Chinese firms Oppo and vivo. This was revealed by market research firm IDC in its recently released Q1 2016 numbers.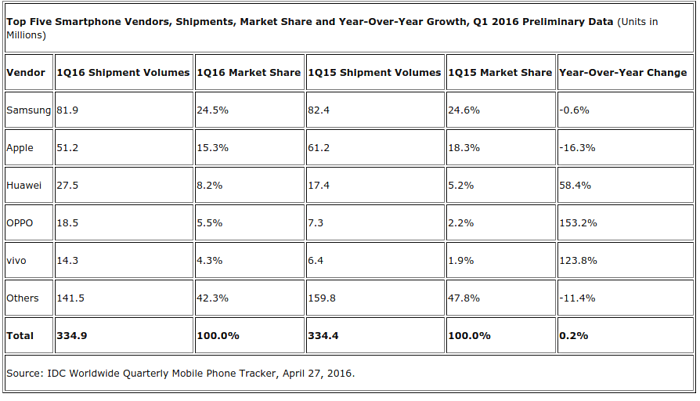 "Along China's maturing smartphone adoption curve, the companies most aligned with growth are those with products serving increasingly sophisticated consumers," said IDC's said Melissa Chau. "Lenovo benefited with ASPs below US$150 in 2013, and Xiaomi picked up the mantle with ASPs below US$200 in 2014 and 2015. Now Huawei, OPPO, and vivo, which play mainly in the sub-US$250 range, are positioned for a strong 2016."
There was, however, no change in the first three spots, which were still claimed by Samsung, Apple, and Huawei, respectively. While the Chinese company continued with its impressive performance, Apple saw saw its first-ever y-o-y decline in the first quarter as volumes slipped to 51.2 million units. Samsung also witnessed a slight decline in its shipments.
Overall, a total of 334.9 million smartphones were shipped in the quarter, a slight increase from the 334.3 million figure reported in the year-ago quarter.
D
oppo and vivo on a global level.....cant believe these shitty phones are up there with the biggies....i want to see nokia's name up there in couple of months from now...
?
instead of making too many products(like cycle,air purifier,hooverboard,lamp,tv, etc)...xiaomi should focus on releasing existing product in india also to take top 5..for example when they are going to release redmi 3 in india..it actually sucks
D
to be honest, I've never heard of one getting updated from my colleagues. You know how slow getting a new version of android is on a device (even large oems struggle), especially for the heavily skinned ones like Vivo (unless you're Xiaomi with the s...