Market research firm IDC has released its latest report for the Chinese smartphone market, revealing that Huawei was the leading vendor in the country with over 17% share in Q2 2016. The company shipped 19.1 million smartphones in the quarter, up from 16.6 million figure that was reported in the same quarter last year.
Oppo and vivo captured the second and the third spots with 16.2% and 13.2% share of the market, respectively. Oppo's shipment volume more than doubled compared to last year, while vivo grew by 75%.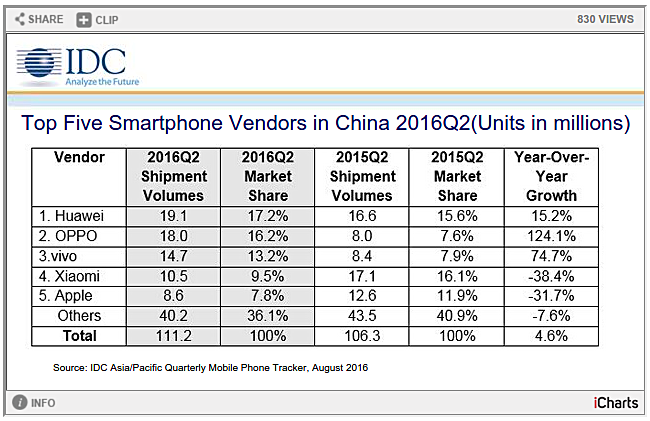 Xiaomi and Apple rounded off the top five, but with a year-on-year decline of 38.4% and 31.7%, respectively.
"The success of Huawei, OPPO, and vivo in the market can be attributed to their concerted effort to build their brand and aggressive marketing to attract the consumers, along with the focus on product differentiation," said IDC's Xiaohan Tay.
"In the past, Xiaomi started the trend of selling its phones online and other vendors soon followed suit and created their own online brand," Tay added. "After vendors witnessed OPPO's success with its R9, they also started riding on the trend of hiring celebrity endorsers to represent their brand and appeal more to the young crowd."
D
Huawei is one of the best smartphone maker today, no doubt they are thriving
D
Huawei are a good Android manufactor with a clear and winning strategy. But there are some new Chinese upcoming brands to. Just bought a Vernee Apollo Lite. Great build quality, and they also push out frequent updates to. Another device are in t...
ADVERTISEMENTS