IDC: Samsung retains leadership in smartphone shipments for both Q4 and 2015
Samsung was the top smartphone vendor worldwide last quarter, capturing 21.4% of the market, up from 20% it claimed last year, according to latest data revealed by market research firm IDC.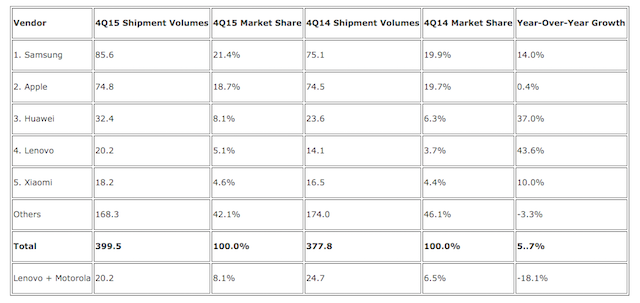 The South Korean company shipped a total of 85.6 million smartphones in Q4 2015, up from the 75.1 million figure it reported in the same quarter the year prior. On the other hand Apple, which retained its second spot, shipped 74.8 million iPhones last quarter, claiming 18.7% of the market. Huawei, Lenovo, and Xiaomi rounded up the top five with 8.1%, 5.1%, and 4.6% share, respectively.
Talking about 2015 as a whole, there wasn't any change in the rankings - Samsung was still at the top with around 325 million smartphone units shipped, followed by Apple, Huawei, Lenovo, and Xiaomi, shipping 231.5, 106.6, 74.0, and 70.8 million units, respectively.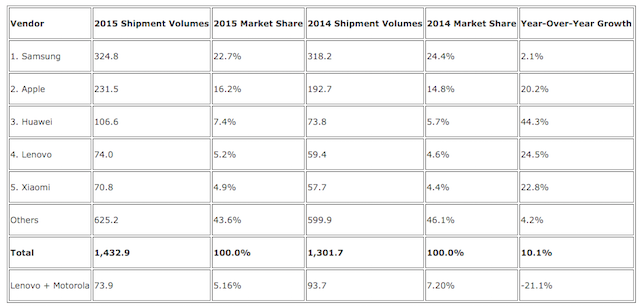 Chinese smartphone manufacturer Huawei reported the strongest year-on-year growth in the top five. "Usually the conversation in the smartphone market revolves around Samsung and Apple, but Huawei's strong showing for both the quarter and the year speak to how much it has grown as an international brand," said Melissa Chau, Senior Research Manager with IDC's Worldwide Quarterly Mobile Phone Tracker.
"While there is a lot of uncertainty around the economic slowdown in China, Huawei is one of the few brands from China that has successfully diversified worldwide, with almost half of its shipments going outside of China. Huawei is poised to be in a good position to hold onto a strong number 3 over the next year."
Total global smartphone shipments in 2015 stood at over 1.4 billion, up 10.1% compared to 2014.
D
How come Total Shipment is 1432.9 ( Q1 - 336.5, Q2 - 337.2, Q3 - 355.2, Q4-399.5 ). As per IDC. It should be 1428.4.
M
Samsung is turning things around in the mid range market, which helped grow samsung's market share despite high end s and note losing compared to the previous year. This is definitely where they should keep investing their efforts in.
T
I think it is you who is showing ignorance. Not all suppliers pays for products upfront, some pay only for the ones they do actually sell. For the ones that do not sell, they are shipped back and shipped out to another supplier that can sell them.