IDC published its yearly analysis of the smartphone shipments market. According to the company, manufacturers pushed 0.5% fewer devices in 2017, compared with 2016, or a total of 1.46 billion smartphones, almost all of them running either Android or iOS.
The analysts predict a compound 2.8% growth in the next five years, forecasting a volume of 1.68 billion units shipped in 2022.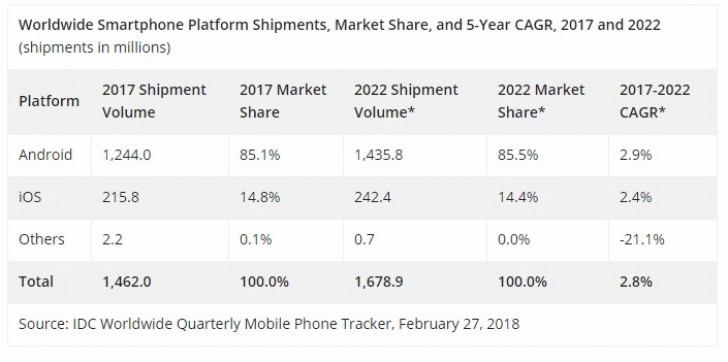 Ryan Reith, Program VP at IDC, said a considerable factor for global volumes was the China decline of 5% in 2017. EMEA also dropped 3.5%, while the US remained flat. Room for growth is present though, mostly in developing markets where the amount of first-time owners is growing. In the upcoming five years competition will continue to tighten and "consolidation is inevitable", Reith adds.
Expectations for 2018 are that phablets (phones with at least 5.5" display) will surpass smartphones, ending the race for bigger screens. Although companies are trying to distinguish from each other with build quality, display type and various specs and features, the average consumer will continue to struggle to understand the differences.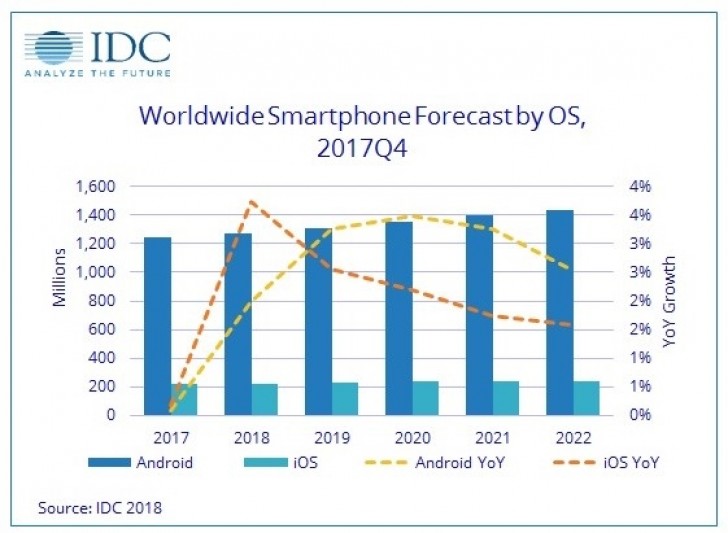 With 5G inevitably coming in 2019, as confirmed by Qualcomm and partners, by 2022 almost one-fifth of the smartphones will support gigabit speeds. Anthony Scarsella, Research Manager at IDC, said that improvements in speed, power and battery life would be crucial for users in driving market growth. Great significance will be delivering all the specs above without rising the price.
From an OS standpoint, Android phones shipped in 2017 accounted for 85.1%, while iOS sits at 14.8%. 2,2 million of all 1,46 billion devices were with another OS and IDC mercifully gave them 0.1% even if mathematically it is more like 0.001%.
?
It's going to drop even more in the upcoming years because we've hit the pinnacle of smartphone innovation, not much else OEM's can do to improve on what's already out there.
B
Well S9 is clone of S8, in design, so nothing new, or clone of A8 (2018) if you look only at fingerprint position.. Sad.